Other
Report Highlights Georgetown's Thought Leadership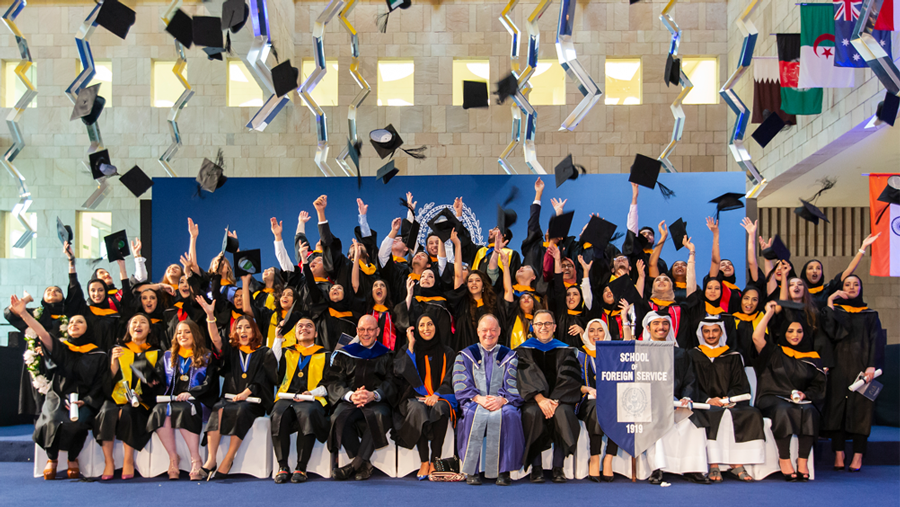 Georgetown University in Qatar's (GU-Q) efforts in creating opportunities for dialogue and community engagement were highlighted as a special feature in their recently released annual report for the 2017/2018 academic year. The year-long timeline of media appearances and campus events provided multiple platforms for the GU-Q event attendees and members of the public to engage with prominent Qatari figures in business and government, as well as GU-Q scholars and industry experts.
"Georgetown's Walsh School of Foreign Service was founded a century ago with the mission to promote peace and stability through an international affairs education and a commitment to community engagement," said the dean of GU-Q, Dr. Ahmad Dallal. "This year's annual report lists the outstanding academic, research, and service achievements of our school over the previous year, but also shows how we have lived up to those foundational values of fostering open dialogue and informed debate in a time of crisis. By leveraging our institutional resources, we hoped to make a contribution towards shaping the local, regional, and global conversation on the events as they unfolded."
Georgetown faculty, students and alumni were featured in print and broadcast media outlets more than 100 times in the immediate aftermath of the launch of the blockade, including The Washington Post, The New York Times, the BBC, Al Jazeera, France24, CNN, and major Arabic language outlets as well.
The university also organized more than a dozen public lectures, panels and events relevant to Qatar on their Education City campus. Topics covered the causes, consequences and prospects for the GCC crisis, the role and future of the GCC in light of the diplomatic disruption, the role of U.S. mediation, food security, and the role of social media in fueling global tensions in the information age.
Featured speakers included the chairman of Ooredoo and CEO of the Qatar Investment Authority, H.E. Sheikh Abdullah Bin Mohammed Bin Saud Al-Thani, who shared his insights into "The Ingredients of Qatar's Success Under the Blockade," exploring the factors that allowed Qatar to ensure public safety and stability, and to adapt to changing economic conditions.
Other highlights in the GU-Q annual report, which is available for download from the website, includes the launch of new classes, increased internship opportunities for career development, and the highest student recruitment numbers to date. More than 460 applicants sought placement in the Class of 2022, a milestone in the university's contribution to building Qatar's reputation as a global hub for world-class education, research and innovation.