GU-Q organizes faculty workshops that provide a platform for academics, activists, experts, and scholars from a variety of disciplines to discuss their research and offer insight on key issues. These workshops bring local and international scholars to the Georgetown campus in Education City to share their expertise with GU-Q students, faculty, and staff. Some of the themes of previous workshops include cyber security, inclusion of women theologians in the discourse on Islam and gender, and intelligence and national security.
Economy in the Middle East
Convener: Karine Walther
Guest speaker: Laleh Khalili
In this workshop, the guest speaker introduced her methodological approach and her research on political economy in the Middle East. Attending faculty gave insight into their own research. It followed a broader discussion with questions being raised about how certain issues can be addressed in different ways and from differing disciplinary fields.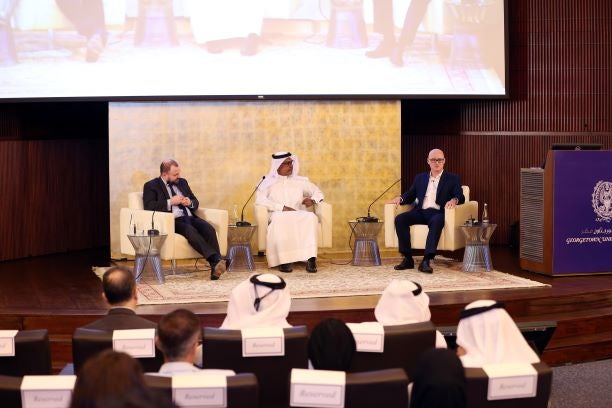 Cyber Security and National Security in a Small State
This launch event for the Cyber Security Research Group (CSRG), a joint initiative between GU-Q and the Community College of Qatar (CCQ), drew a large audience of security experts, scholars, and leaders from government and business to discuss "Cyber Security in a Small State: Protecting the Homeland." The event was sponsored by Commercial Bank of Qatar.
Exploring the Feminine Within Islam
Convener: Sohaira Siddiqui
The cooperative project "Exploring the Feminine within Islam" with the Center for Islamic Theology at the University of Tübingen, Germany, worked to enrich the discourse on Islam and gender with the voices of Muslim women theologians. In order to address theological concepts on "femininity in Islam," the project first laid a foundation for an international network.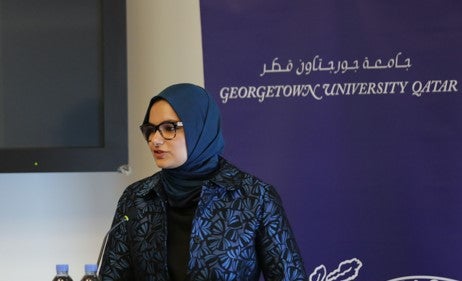 This research initiative and book series launch event for the Cambridge University Press Book Series on Intelligence and National Security in Africa and the Middle East brought together leading scholars working in the areas of intelligence and security research focused on Africa and the Middle East.
Marx and Lenin in Africa and Asia explored new angles on how communist and socialist legacies have shaped African and Asian societies and states domestically, as well as their international relations. This workshop comprehensively maped out the ways in which Marxism-Leninism challenged religious practices and institutions after decolonization, influenced foreign policy trajectories of even stalwart U.S. allies and continues to loom large in the historiography of war and genocide in South East Asia.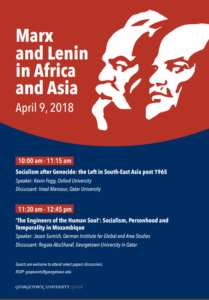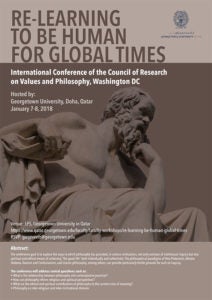 Within the general framework of the Council for Research in Values and Philosophy focus on "Re-Learning to be Human for Global Times: Challenges and Opportunities," the Doha conference explored the ways in which philosophy has provided, in various civilizations, not only avenues of intellectual inquiry but also spiritual and ethical means of achieving "the good life" both individually and collectively. The philosophical paradigms of Neo-Platonism, Advaita Vedānta, Daoism and Confucianism, and Islamic philosophy, among others, provide particularly fertile grounds for such an inquiry.
This symposium brought together scholars and activists to consider the predicament and promise around gender politics as grounded in cultures and societies from a variety of disciplines and international contexts, and reflected on the issues that have forced us to grapple with definitions, typologies, foundations of justice, cultural norms, tracing linkages, and circularities within different regimes of knowledge and legal practices among other debates circulating in neoliberal and development logic.