---
Self-Screening
GU-Q has adopted a community-oriented approach that relies on both individual and collective commitment to practicing health and safety measures that are informed by public health guidelines.
Students, faculty, and staff who are coming to campus are asked to submit daily wellness checks for COVID-19 through #CampusClear (an app developed by Ivy.ai in partnership with Creighton University and Stony Brook University) to help colleges and universities return to campus safely and make informed decisions about on-campus activity
#CampusClear Daily Survey
The app will ask about your symptoms, recent travel, and close contact with someone with a confirmed COVID-19 infection. The app was deliberately designed with privacy in mind, and as an additional precaution, the GU-Q daily self-screening survey does not require specific symptoms to be identified.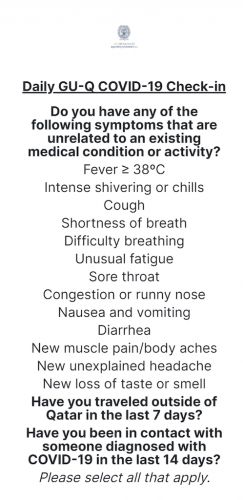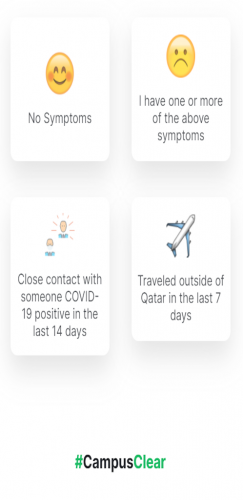 Based on your responses, you will receive one of the following results: Clear to Go to Campus; Pending Clearance; or Not Cleared.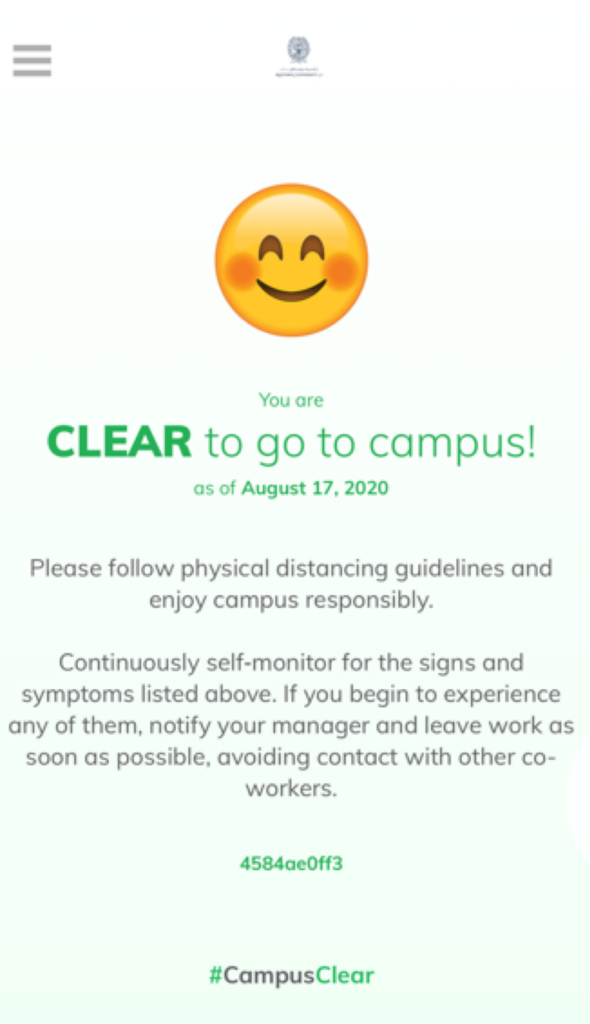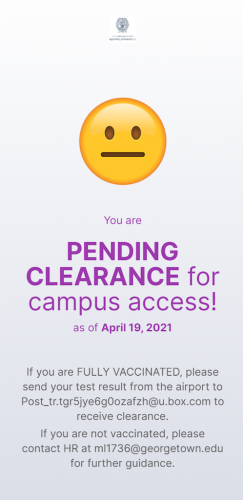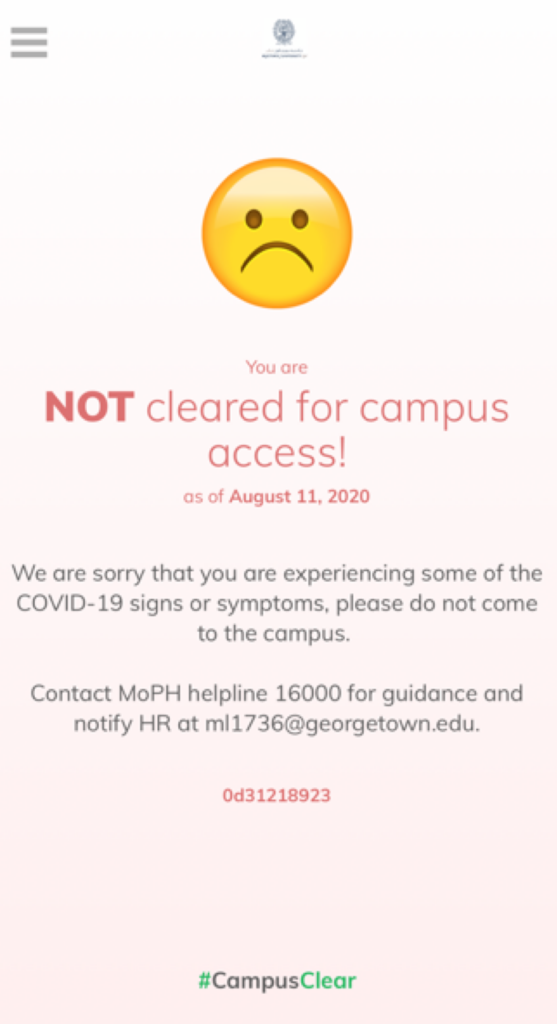 Self-Screening Process to Access Campus
Students, faculty, and staff must follow the process below to access campus:
Complete the daily COVID-19 self-screening each day you plan to access campus via the #CampusClear app and receive a "CLEAR to go to campus!" confirmation.
Get a temperature check at the GU-Q entrance
Show your Green Ehteraz badge and the "CLEAR to go to campus!" confirmation from #Campus Clear to the guard.
Please note that until further notice, visitors will be allowed at GU-Q with pre-approval only following this process.
How to use #CampusClear
Download the #CampusClear app from Apple App Store or Google Play. If you do not have a smartphone then you can use the Web Browser App.
Open the app and follow the prompts (you will only need to do this once).
Select Employee or Student then you must provide your Georgetown email address NetID@georgetown.edu.
The system will send you an email to confirm your email address. Press on 'Confirm Email' and return to the app.
You should now see the GU-Q CampusClear welcome screen.
Allow notifications if prompted. Now select Start, that's it. You are all set to complete the daily COVID-19 self-screening.
Also see the full instructions here.
App Notifications
Please make sure you enable notifications from #CampusClear on your phone so the app can remind to you answer the self-screening questions every weekday at 7:30 a.m. If you are coming to campus on a weekend, you should still use the app, however, notifications will only be scheduled for working days.
#CampusClear FAQ
Your GU email address is stored but encrypted. It is used to verify that you are affiliated with GU-Q. #CampusClear also stores your daily survey response and outcome: Clear to Go to Campus, Pending Clearance, or Not Cleared.
Yes. You can delete and purge your account at any time. Just navigate to the 'My Account' tab in the app and select 'Purge My Info & Delete My Account'. If you wish to reuse the app after deleting your account, you will need to re-register with the app (this only takes 15-20 seconds). Also, all data will be deleted when GU-Q discontinues use of the app.
No. The app does NOT collect names or any other personally identifiable information, and does not collect locations. The app does not use GPS or Bluetooth, and will not track your location.
Information submitted is encrypted and only HR (Gosia Ledwon or David Phongsavan) are authorized to decrypt information in order to follow up with anyone who received a "Pending Clearance" or "Not Cleared" outcome from the app. Data will not be shared or used for any purpose other than COVID-19 screening for campus access. The #CampusClear privacy policy in its entirety can be accessed here.
If the app tells you that you are pending clearance for campus access, please do not come to the GU-Q building. Contact HR at ml1736@georgetown.edu for further guidance.
No. The app is only for accessing campus.