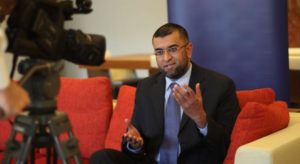 Who do I turn to in a communications related crisis?
Below is a process for engaging communications experts who can help in cases of difficult public relations or communications-related situations. Always start by contacting us first.
What is considered a crisis?
Any situation which has the potential to put Georgetown University, its name, its brand, reputation, or people at risk or in an adverse situation could become a crisis. What level is it? What should be done? From the start through the resolution of the situation everything can be discussed with the help of the communications team. We always appreciate hearing about all situations before they become challenges, even the potential may not become a problem because it provides an early opportunity for action.
Crisis Communications Support
Georgetown University in Qatar works very closely with the Office of Communications in Washington, DC for crisis support.
Contacts at Georgetown in Qatar
Contact us via email.
Moamer Qazafi, Chief Communications Officer +974 4457 8392.
Ruqiyyah Nu'Man, Associate Director for Strategic Communications: +974 4457 8302.
Waleed Khan, Associate Director for Marketing: +974 4457 8522.
Situation management process
1. Outreach & Brief
Discuss the situation with communications team and have all available information ready to be shared over the phone.
2. Recommendations with joint agreement on
Prioritization
Response timeframe
Course of action including roles and responsibilities.
3. Action/engagement
Development of content per agreed recommendations (i.e. no action, response format, reactive statement, PR, email, key messages, Q&A)
Complete any missing information.
Review and approve material.
Relay final documents and decisions to agency.
4. Follow up
Monitor Media
GU-Q to advise on any additional follow up required.
5. Closure and resolution
Debrief to assess response, impact and lessons learned.