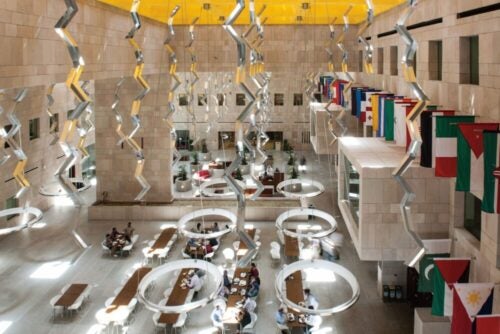 Find Your Home in GU-Q's Diverse Community
Georgetown University in Qatar's diverse student population represents more than 50 different nationalities and five continents. This enables each student to learn and experience different countries, cultures, and traditions to their own, both inside and outside the classroom.
History of Excellence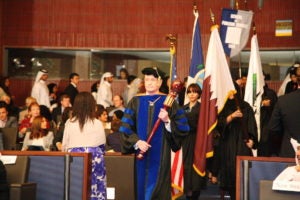 Georgetown University in Qatar builds on a prestigious 225-year history. The Georgetown University Edmund A. Walsh School of Foreign Service, founded in 1919, is the oldest and largest school of international affairs in the United States. The GU-Q SFS curriculum, both core and major, is identical to that followed by hundreds of successful SFS graduates of the Washington, D.C., campus. Our Bachelors of Science in Foreign Service degree offers strong global name recognition and guarantees a high quality education. At the successful completion of his or her program, the GU-Q graduate receives a Georgetown degree identical to those distributed to SFS students on Main Campus in Washington, DC.
A Transformative Education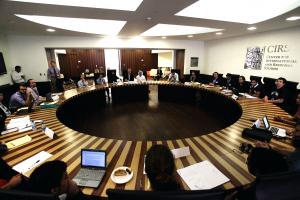 The liberal arts education at Georgetown University in Qatar offers students training in a wide range of subjects, along with the ability to specialize in key international affairs topics. The strength of and diversity of our education makes our graduates qualified and versatile. The skills we teach are highly valued in the many career fields that our graduates choose to follow.
True to Georgetown's Jesuit tradition of educating "men and women for others," GU-Q's commitment to service encourages students to participate in programs and activities that benefit others. From the volunteer Hoya English Language Program (HELP), which provides language instruction to workers in Education City, to the building of homes and schools for the less fortunate in other countries, GU-Q students help shape the community around them.
Experience Education City and Qatar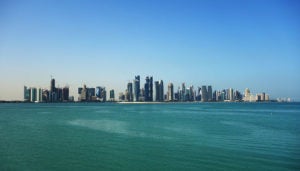 The proximity to the other top-tier universities in Education City provides unique opportunities to cross-register in courses and have student interactions that could not exist on the Main Campus in Washington, D.C. Students at GU-Q have the opportunity to enroll in business, design, language, communication, and science classes at universities specializing in those fields. Students from the other Education City universities also often cross-register Georgetown classes.
A particular advantage of Georgetown University's Qatar campus is its high faculty-to-student ratio, which leads to smaller classes, allows for more personal attention, and gives students the opportunity to develop close working relationships with their professors.
Alumni and Careers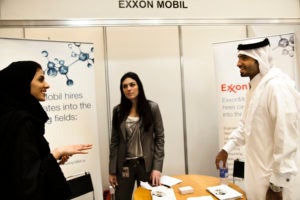 With the Georgetown degree and the marketable skills acquired through a GU-Q education, our students have excellent employment prospects. Governmental and international organizations, banks, NGOs, think tanks, and many other employers seek GU-Q students for internships and longer-term career tracks. A full-time career counselor works with students to assist them with finding appropriate internships and jobs.
Study Abroad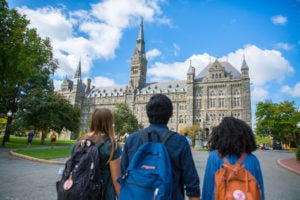 Study Abroad is an important component of the School of Foreign Service education. Third-year GU-Q students can choose to study for a semester or a year either on Main Campus in Washington, D.C., or at any of the more than 115 programs (in nearly 40 countries) with which Georgetown has formal arrangements.