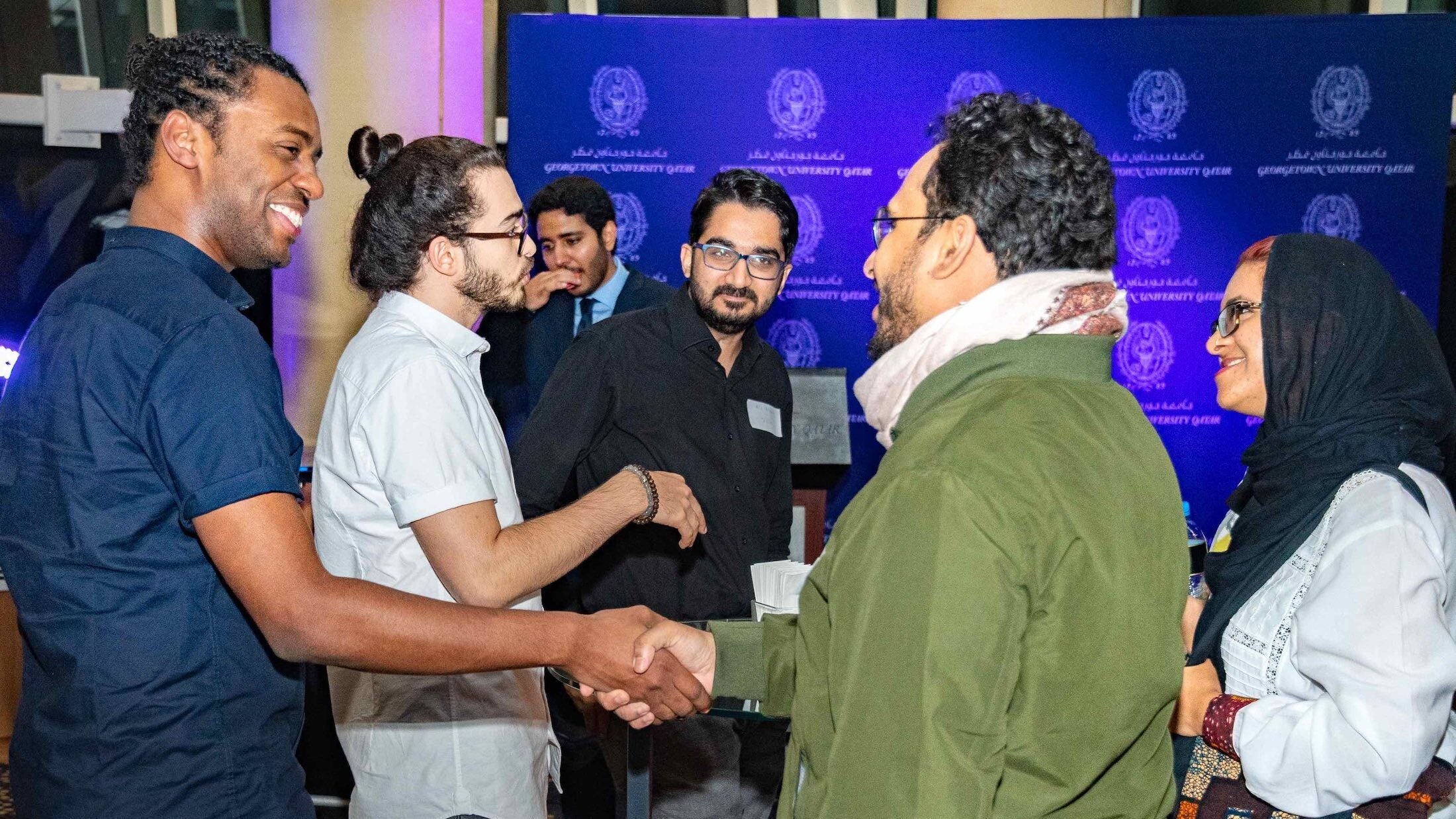 Life Beyond GU-Q
Since 2009, more than 600 students have graduated with the solid foundation of our world-leading Bachelor of Science in Foreign Service (BSFS) degree. Since then these impressive alumni have forged meaningful careers with local and global impact.
Career Pathways
What do GU-Q graduates do? They have started their own companies, work at some of the world's leading brands and service organizations, are enrolled in top graduate programs, and are providing research and support to help institutions meet their goals, navigate uncertainty, and generate ideas for a better future the world over. View a breakdown of where our alumni work by industry to get a better idea of where you can go once you graduate GU-Q.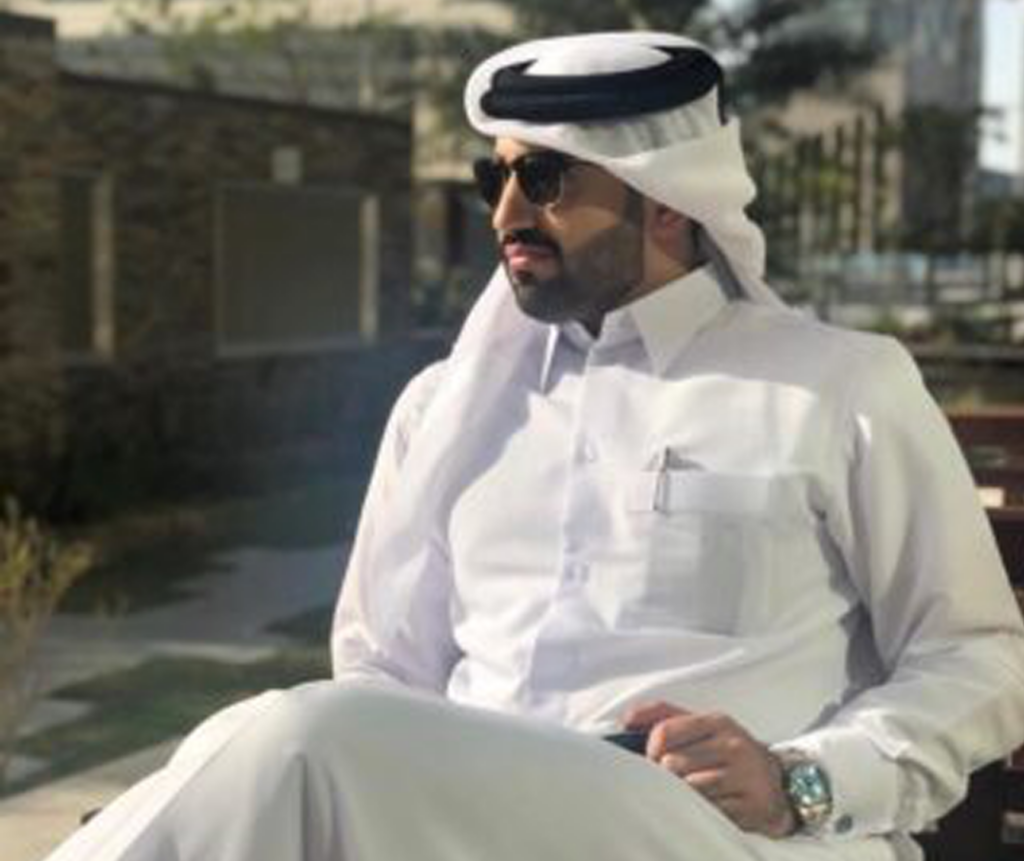 Ibrahim Al-Derbasti (SFS'10)
Born and raised in Qatar, Ibrahim Al-Derbasti was among the first students to attend GU-Q.  He translated his BSFS degree in International Politics into a career in service to his country.  He is currently Deputy General Manager of Contracts and Procurement at Shell, in charge of all company supply chain activities for the Pearl Gas To Liquid (GTL) Plant, the largest GTL plant in the world.

Georgetown has a history and tradition of educating world leaders.  And they are not only in politics – they are also world leaders in other areas of society such as business or non-governmental organizations. You have a tremendous amount of options at GU-Q. Ironically you probably take it for granted while you are going to school, but when you leave, you realize the scholar who wrote the book was your teacher. There is an amazing caliber of intellectual power there. You are able to learn directly from the professor, not a TA, direct from the professor, the guy who wrote the book. That close proximity really enhances the education. GU-Q is rigorous, has a high teacher to student ratio and everyone knows you by name. Classes are small and the quality of education in QF, at GU-Q, is second to none. Two of my siblings went to GU-Q, and my wife attended GU-Q as well. 
Attending GU-Q builds your confidence to unleash yourself onto this world. I remember this one thing Dean Reardon Anderson said: "we are educating you to become lifelong learners." I dismissed it at first, but it's real. The moment you leave the academic world and into the working world, you have a realization. At GU-Q, I graduated cum laude, I dominated conversations, I was very comfortable in class…. when you leave that and enter the professional world working with people with 30 years of experience, it's shocking how much more you have to learn.  I wondered how I would ever catch up to them and dominate conversations as I had before.  The answer was, to learn, be a lifelong learner. I had to close my knowledge gaps, become proactive, enable myself to excel in my organization. Then I realized with time and maturity, it's not about dominating the conversation, but about co-creating the conversation while still listening. Actively listening. 
At GU-Q, you realize most of our political drivers are hard wired on economics. In Qatar, the main driver is energy and natural gas. So I decided that I wanted to join the best gas company. At that time and still true today, that's Shell. 
And I thought coming from an international education, I'd thrive in an international company, learn best practices. This company has operations in 90 different countries over 100 years. The breadth and depth is phenomenal. And I decided, that's where I want to join. At first, I thought I'd do it for five years and move on. But there's so much to learn and grow.
I pursued knowledge for the sake of knowledge, and for my own self growth, and sense of fulfillment. I've always wanted to pursue an MBA because it compliments my role and education. At GU-Q I focused on how to run the public sector and government, so I thought I wanted to expand, and learn how to manage the business sector and administration side of things. 
When I came back to Shell, I got a team leadership role in contracts and procurement for logistics and corporate services for the company. To my surprise, we got hit by the blockade. It was a real test.  We had to remap and re-channel our entire supply chain because 90% was from inland. We were a peninsula but now we had to operate as an island. Everything had to be transported via sea and air, so we had to remap to move materials and people in and out of the country.
This was at the beginning of my new job. I took on the challenge as an opportunity. I believe I was successful. Despite needing to remap it all, there was zero disruption to our operations. I'm very proud of that outcome. But it wasn't just an individual effort, it took a team and collaboration with Qatar Petroleum, GAS, and leveraging each other's strengths and resources. So no plant in Qatar had a disruption due to this blockade. 
After surviving the blockade, I got promoted again, with an increase of scope.  I am currently the deputy general manager of procurement.  I manage procurement related to Gas to Liquid (GTL) with zero disruptions.  I manage costs to preserve value for QP and Qatar, and maintain the reliable production of GTL.  My portfolio also now includes offshore wells, and additional projects, and my role is to enhance the value of the existing production facility. 
When I first became deputy general manager, I knew that if I wanted to become a plant manager for the supply chain for all the plants, I needed to be based in Ras Laffan. And I've been here for the past three years. I never got used to the hour and a half commute,  but the value I got, the experience, seeing the challenges faced by engineers on-site, has been incalculable.
First, as a manager, work smart, not hard and understand that the work world is a meritocracy.
Second, when you graduate from GU-Q, you come out with a tremendous drive to do extraordinary things, and sometimes you have no idea where to go. The dilemma I had came from the fact that people used to tell me to do something that I like. To be honest, I found this confusing because that meant I would be playing football forever. 
But then you realize you don't know what you like. You're young, in your 20s, and you don't have enough experience in life to know what you like. So my advice is whatever company you go into, bring that passion to make things happen. Don't let that fire burn out. Be your own coach. Don't wait to find anyone to say "good job." Unleash yourself. I learned this in my first five years.
Also, when you enter a role, you may find the tasks annoying, boring, or difficult.  Do them anyway. Once you've developed role competency, then you may realize you actually like the role. Then you become someone who has something to say, and can add knowledge to the room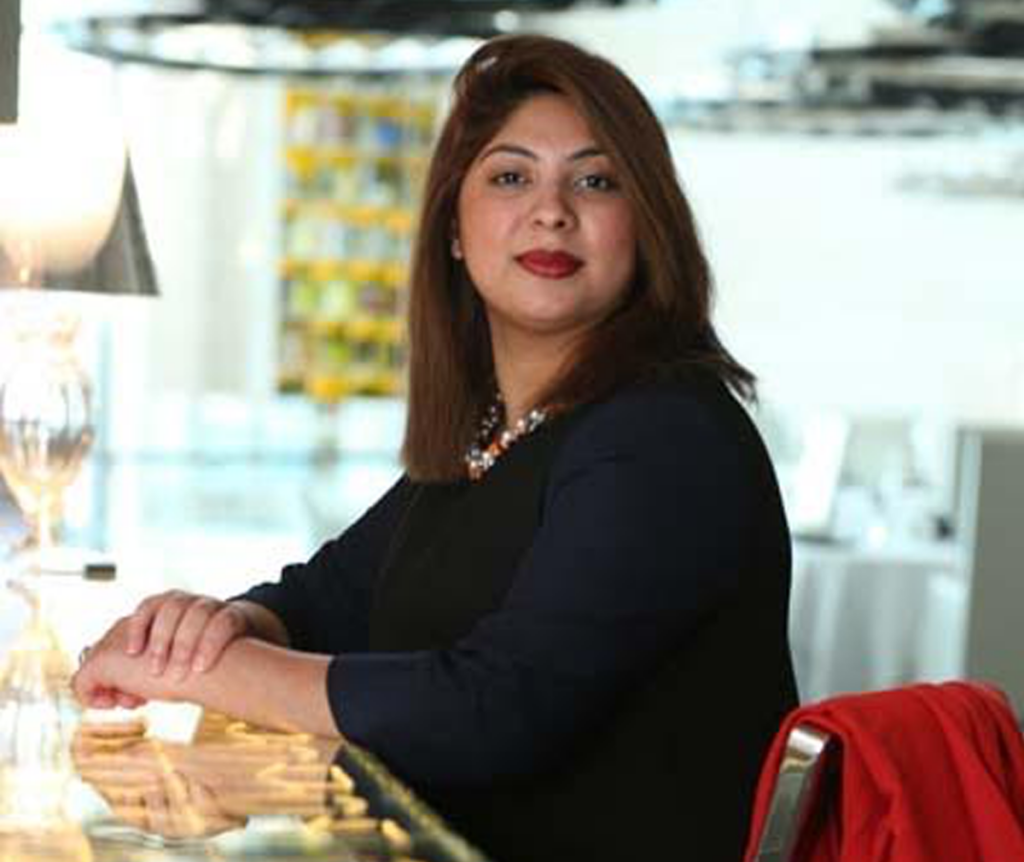 Safa Arshad (SFS'12)
Safa Arshad graduated in 2012 with a BSFS degree in Culture and Politics. She went on to obtain a Master of Arts in Museum and Gallery Practice from University College London, Qatar, and went on to work for the Museum of Islamic Art and then Msheireb Museums. She currently works as the manager of audiences and community outreach for the Media Majlis at Northwestern University in Qatar.
As an expat child, born and brought up in the Middle East, I wanted to pick a place that would allow me to stay close to my family but at the same time give me access to a vast spectrum of subjects. The Georgetown curriculum and the out-of-class student engagement opportunities at that time was a package that I felt I was lucky to have stumbled across.
The Georgetown ethos has induced in me a strong passion for working towards being a just and honest citizen of the universal society; conscious of the plight of other marginalized individuals/ sections of the society, in an attempt to truly mold my life after the glorious principle, "Women and Men in the Service of Others." I strive even in my work environment to create opportunities for underprivileged segments of the local social fabric, so that they may be able to benefit from and enjoy the wide spectrum of educational programming available at the museum.
Now I have fully grasped why Georgetown has an extensive core curricula. Having the ability to talk about Nietzsche, Freud or Michel Foucault's discursive formations, utilitarianism, or understanding different notions of gender dynamics under various contexts are all worthwhile skills. Public speaking and presentation skills are crucial to triumphantly accomplishing your designated tasks daily. Rarely in any organization will you not be required to effectively communicate your ideas and be able to skillfully propel your point of view forward. The intensive reading and writing skills that I was able to hone during my Georgetown days has indeed helped me come a long way.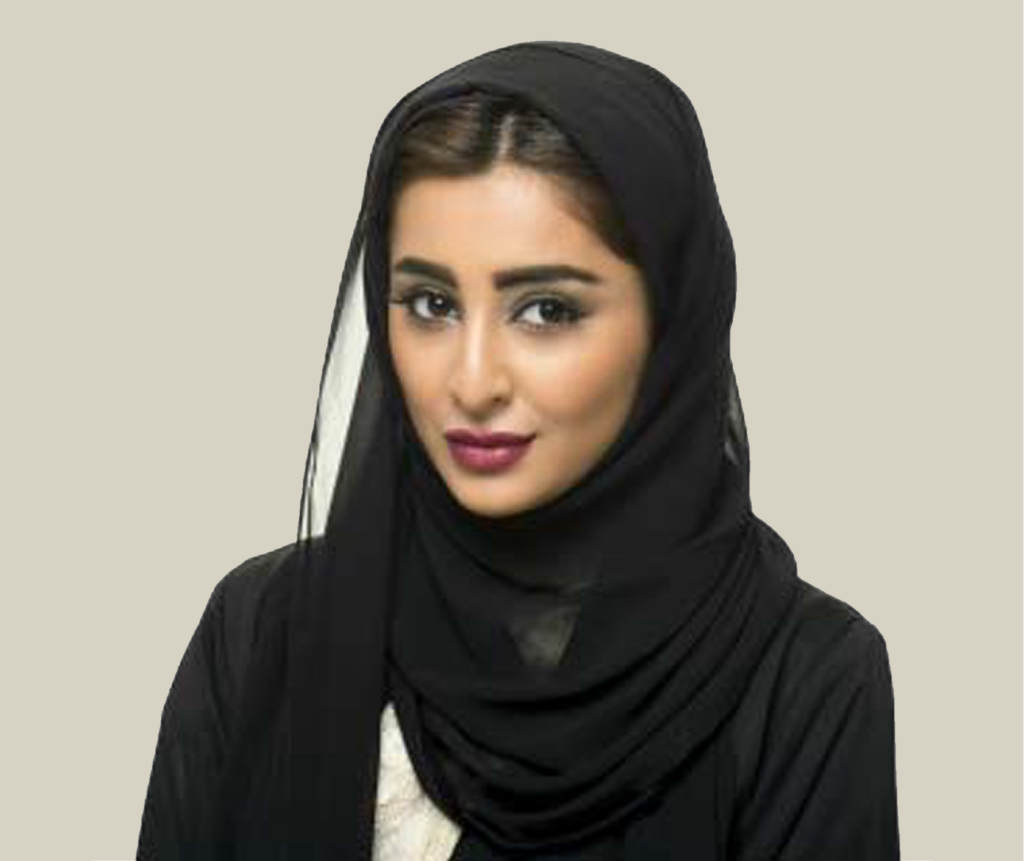 Al Jazi Hasan (SFS'10)
A 2010 graduate of GU-Q with a BSFS degree in Culture and Politics, Al Jazi went on to get a Master's degree in Development Studies from London South Bank University and has a successful career in the nonprofit sector. She's worked for Katara, UNESCO, the Office of Her Highness Sheikha Moza bint Nasser, and currently is an external & international affairs specialist at Education Above All Foundation.
When it was time for me to choose a university, I did not want to leave my hometown as I had my family and friends, whom I consider my extended family, right over here. I had even applied to Boston University and secured admission there, but then I heard about Georgetown University in Qatar. I was very excited to learn that one of the top-ranked universities in the world was right here in Qatar and that I could receive an education of such quality in my home country.
At Georgetown, so much of the education happens outside the classroom. It is about debating your ideas and thinking outside of the box. I watched many of my classmates transform from being very quiet to being confident and vocal in discussions on important matters. The ability to articulate and discuss ideas is very important in my job where I interact with many different people. Georgetown University has definitely influenced us for the better.
Working on the Educate A Child program. This is one of the most successful programs of Education Above All  and had a target of enrolling 10 million kids in schools by 2016. 
Everyday more children are in school because of me, and that is a great feeling. Being able to witness this work firsthand is so touching. I firmly believe that education is the backbone for everything, and providing that to these children is truly rewarding for me.
The best career advice that I have received is that you should do what you love. You won't be able to wake up in the morning unless you love what you do and feel that you are working towards a larger goal.
Make sure you enjoy the university experience. Appreciate university life and the education that you are receiving at Georgetown. These days will be some of the best days of your life.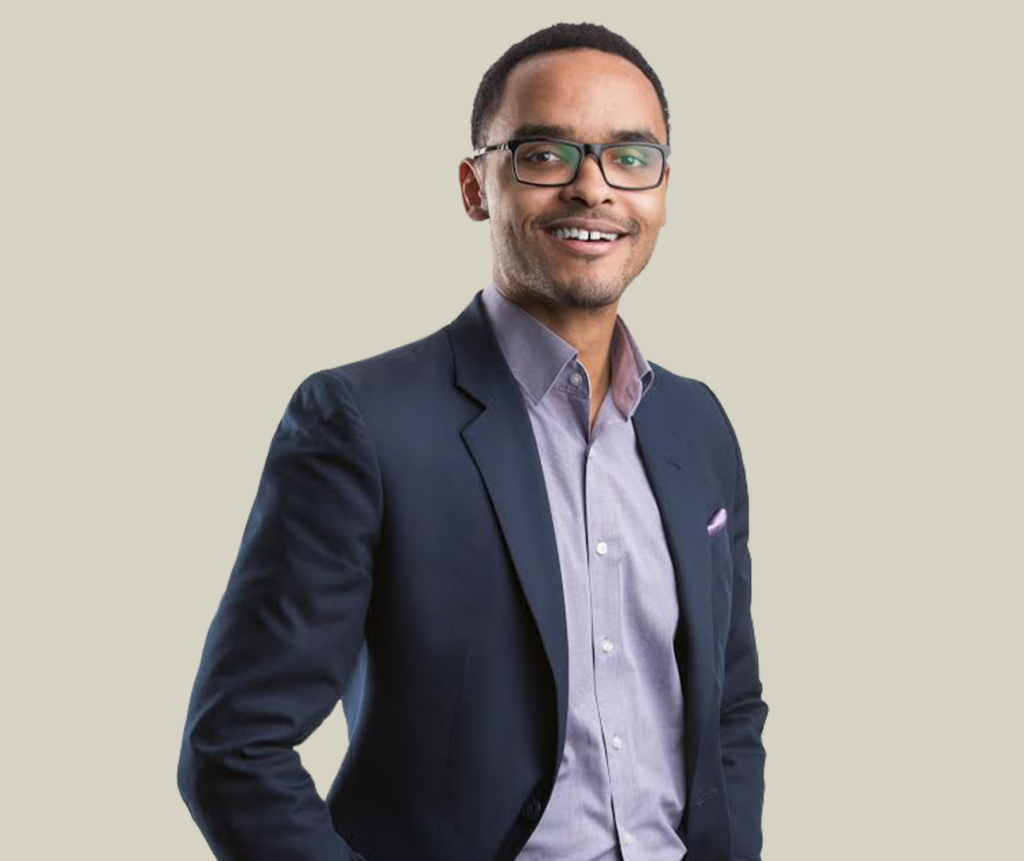 Alexander M. Wegner (SFS'14)
Alexander is a 2014 graduate with a BSFS degree in International Politics. He went on to get a Master's degree in Political Theory from the University of Chicago. His first job was for the public relations firm Weber Shandwick, then he went on to make technology partnerships for Richard Attias & Associates before working for APCO Worldwide. His current role is account director advising public sector clients in Saudi Arabia and the Arabian Gulf region on maximizing returns on their communications.
I started working full-time two days after graduation, having begun the job search a year in advance, with interviews in the spring prior to graduation. For just over two years, I worked at the Doha office of Weber Shandwick, a leading global public relations firm. What kept me going was a focus on the medium-term: pursuing graduate studies. Involvement outside of work also factored in, including involvement in the Doha hub of the World Economic Forum, and a commitment to reading, writing, and online courses.
GU-Q provided me with a breadth of knowledge, broadening my interests and strengthening my ability to think and work across fields. GU-Q, in particular, is unique in terms of diversity, resources and access to faculty. Its size also results in a considerable workload that, if taken seriously, can serve as a strong preparation for some of the more academically demanding graduate schools/ programs.
Professor Nada Eissa once said something along the lines of: take yourself seriously, and take your colleagues seriously; I think this is exactly right. You will get few, if any other chances, to learn so much, and do so full-time. Give it your best, find out what captivates you, and then pursue that to the best of your abilities. Be willing to listen to your peers, and learn from your professors. Prioritize work but engage in the community, and invest in your friends and network. Be prepared to challenge and be challenged; set your goals high!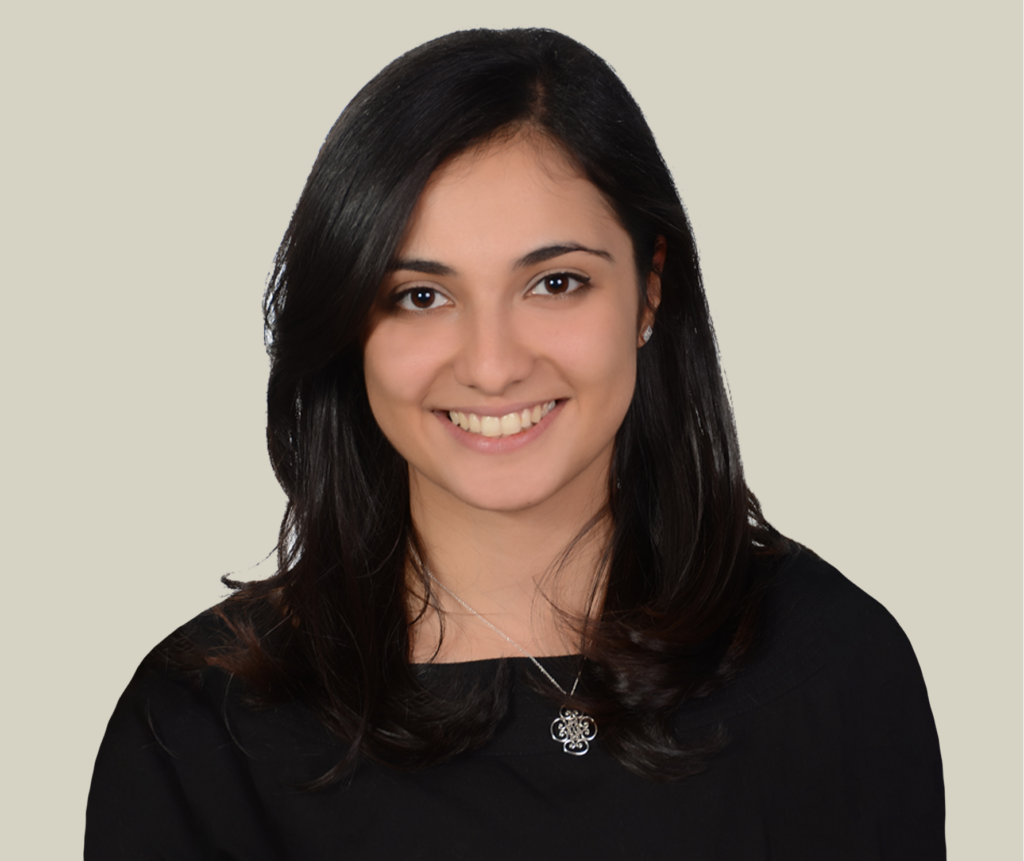 Dana Qarout (SFS'15)

Dana graduated GU-Q with a BSFS degree in Culture and Politics. She went on to work as a Senior Research and Program Development Officer at the Queen Rania Foundation for Education and Development before getting her Master's in Public Policy from the University of Oxford. She currently is a Research and Policy Manager at the University of Oxford's Blavatnik School of Government, and is consulting for the World Bank's Mind, Behavior, and Development unit.
I was hired within three months of graduating. I had started applying two months after graduating, so it technically took one month to find a job. My first job was in Amman at the Queen Rania Foundation.
Some of the best experiences at GU-Q that prepared me for the professional world included writing my honors thesis (which equipped me with high quality analytical, research, and writing skills) and participating in extracurricular activities. GU-Q gave us the opportunities to be leaders in clubs, providing us with various experiences in managing people, coordinating with other departments/clubs, planning events, and implementing programs.
I work in the Mind, Behaviour, and Development unit, providing research support to projects in the Middle East promoting social cohesion, youth and women social, economic and political participation, and other socioeconomic outcomes for refugees and marginalised communities.
Managing a UK Department of International Development grant to evaluate the impact of delivery approaches in education across five developing countries. The project aims to build evidence around various delivery approaches in education, providing policymakers and civil servants answers to questions around how to effectively deliver quality educational services to citizens.
Do not bury your heads in books all the time. Participate in extracurricular activities. Interpersonal and leadership skills are just as (if not more) important than academic achievement. Knowing how to navigate office politics, make executive decisions, and reflect leadership in your work place will stem from your experience as club leaders and active members of the GU-Q community.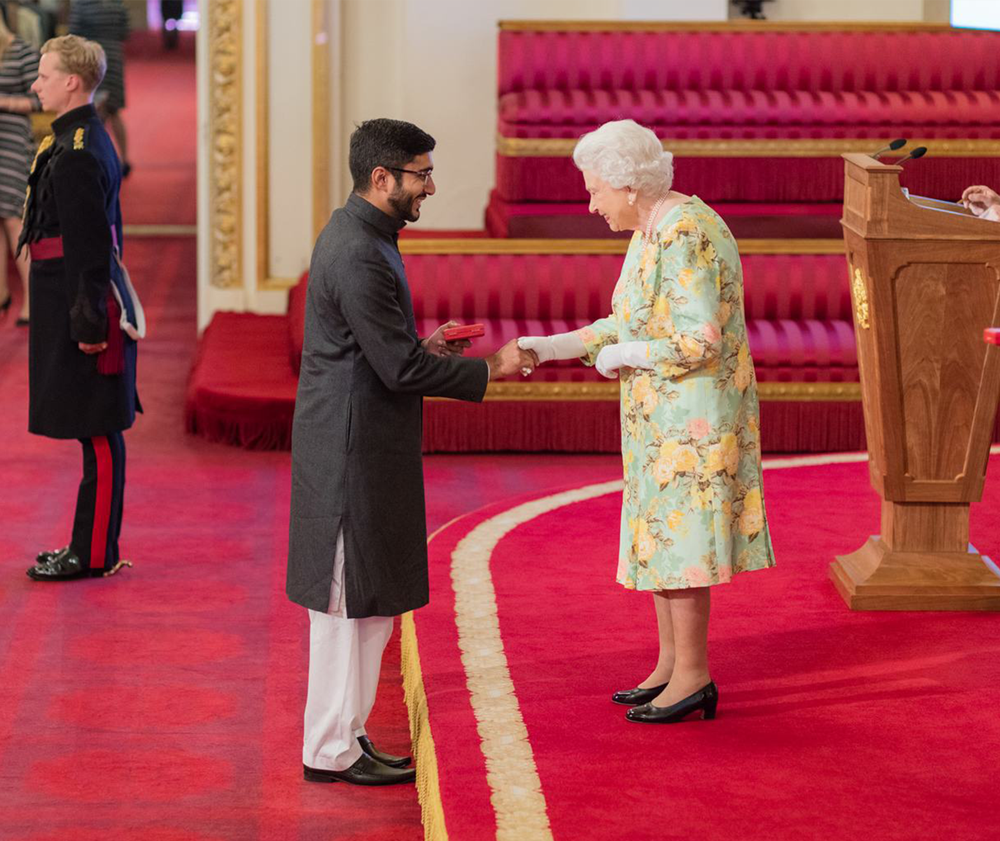 Haroon Yasin (SFS'16)
Haroon is a rising social entrepreneur taking the Pakistan education scene by storm. His digital education program that began as a student project at GU-Q has steadily grown, with his learning app Taleemabad receiving thousands of downloads, and hitting full stride in 2020 when its content became part of a nationally broadcast TV channel in Pakistan launched by Prime Minister Imran Khan to support students impacted by pandemic school closures. He is now expanding his curriculum to low cost private schools in Pakistan. His recognitions include the 2021 WISE award, becoming a part of the Pakistan Prime Minister's Youth Cabinet, being named a Forbes Asia 30 under 30 in 2020, and winning the 2020 Waislitz Global Citizen Award, a $100,000 cash prize that honors the excellence of individuals working to end extreme poverty.
The channel is called Teleschool, and it is available nationwide, broadcast daily to provide online education for grades one through twelve. For the primary education level programming, they asked my educational organization Orenda to provide content based off of the cartoon characters in our digital app Taleemabad. Taleemabad is Urdu for "Education City" and offers a fun learning opportunity for children in Pakistan who are underperforming or unable to attend school. While the power of the internet has unleashed countless educational resources, Taleemabad is uniquely tailored to the region's needs. The series is mapped out to the Pakistan education curriculum. But more than that, young learners can see themselves in the identities of the characters who look, dress, and speak like them too.
With one of the highest youth populations and a struggling education sector, the stakes couldn't be higher. Before the pandemic, under enrollment and underperformance was already a problem. The pandemic has introduced a new danger: the likelihood that students would be progressed to the next grade without establishing foundational concepts. But with this national TV project, we have the ability to close those gaps, and to convince kids that learning can be fun, too.
We are also working with specialists to build in age-appropriate lessons around the pandemic, including a new character: the coronavirus. There is so much emphasis on the morbidity of the virus. But children have very different kinds of questions. They want to know why they can't go out, why they can't see their friends.
It is turning Taleemabad into a full-fledged animated series. The new TV format will still see the original five characters that so many children have come to love in our app, taking students on a learning journey to teach lessons in phonics, math, and science. A recent survey shows that 8 million students are tuning in weekly to the television version of our learning series. Even before becoming part of the new teleschool channel, the Taleemabad app recently saw a massive jump in downloads, adding 20,000 new users in March alone, with almost 500,000 users accessing the cartoon-based format that incorporates assessments developed by a team of education professionals. Assessing our students so rigorously allows us to identify learning deficits, keep them on track, and help them to become better learners. We have also secured financing to expand users to one million students by the end of 2020.
We're just getting started! In the next five years we are expanding aggressively into the schools market, using the power of our nationwide brand to reform how schools impart learning to students at the bottom of the pyramid. This is an exciting phase, with the ultimate vision that a combination of teacher training, broadcast media for children, learning apps, textbooks and school design will deliver a complete ecosystem that enables quality learning at a fraction of the cost, using technology to deliver efficiency at scale. Through these multiple verticles, our goal is to get to 20 million students by 2025.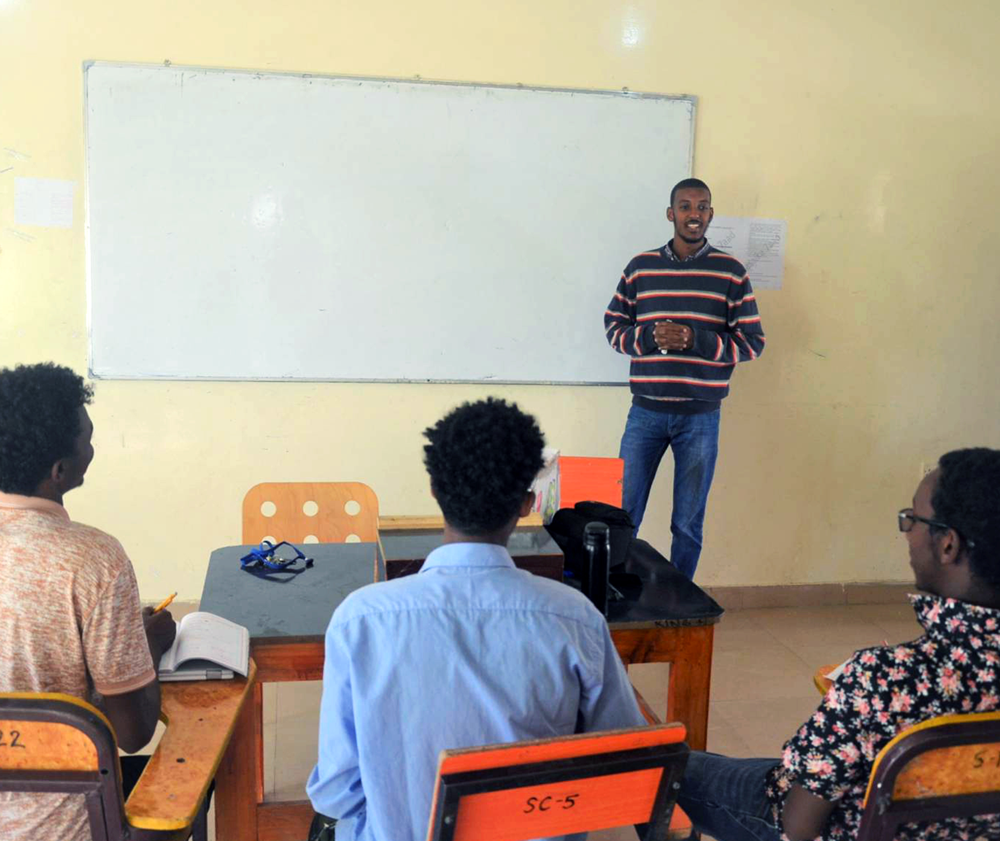 Najib Ahmad (SFS'17)

For Somaliland native Najib Ahmad (SFS'17) attending a top international university was part of a plan to give back to his nation.  Now a Researcher and Sexual and Gender Based Violence Program Coordinator with a nonprofit, Najib is determined to use his BSFS degree to help those who need it most.
It was extremely difficult. I was 17 at that time and it was my first time living abroad and alone. The weather was extreme (Doha summer), the dorms were really nice, but isolating, and I lost all of my luggage on the way here. I remained without my luggage for over a month. In addition, I was 3 weeks late because of visa and passport issues. I remember the first time I left Hargeisa I was deported back to Hargeisa by Djibout because I had a special visa, but my passport was an old Somali passport I bought from the Hargeisa market for $90. Back then, Somalia had no central authority which distributed passports.
If it weren't for my family, and especially my siblings, I probably would have given up. I wanted to lead by example and have them work hard to achieve what they wanted in life. But I had a difficult first year in Qatar due to many issues and I remember deciding to take a gap year half way through the year. The issue wasn't academic. It was social. The culture shock and the homesickness were too much to bear. Thankfully, my family, friends, former teachers, and the Georgetown community (especially  Director of Admissions Joseph Hernandez) made me feel comfortable and talked me out of making a bad decision.
Georgetown taught me a lot. One of the most important things I've learned at GU-Q is the true meaning of "Women and Men for Others." I received help and support time and time again by so many people when they didn't have to. I continue to pay the debt I owe so many people forward.
I'm now a Researcher and a Sexual and Gender Based Violence Program Coordinator with a nonprofit based in Hargeisa Somaliland. In that capacity I have worked as a consultant helping to draft two bills, the rape bill which increases the maximum sentence for rape, and a bill that tackles human smuggling. I also helped coordinate the Sexual and Gender Based Violence program which oversaw practical  assistance offered to hundreds of victims in court cases, with my findings used to improve justice efforts. I have also led research efforts around irregular migration and the Somaliland government's response, the social media landscape and its role in addressing social issues.
One of the biggest challenges for students in Somaliland is the idea of returning to their country if they have the opportunity to work and live abroad. Returning is a sacrifice not many are willing to make. Being amongst the first cohort of students at Abaarso, my success abroad was as crucial as my return to Somaliland. If I hadn't returned, over a hundred of Somaliland's top young minds would not have considered returning upon graduation. I originally returned to work at my high school, Abaarso School of Science and Technology in Somaliland, as dean of the Faculty of Social Sciences and Economics and curriculum design specialist.
Participate, participate, participate! There are so many opportunities, so many events, speeches, clubs, etc. Participate as much as you can. You learn so much about yourself and others if you participate.