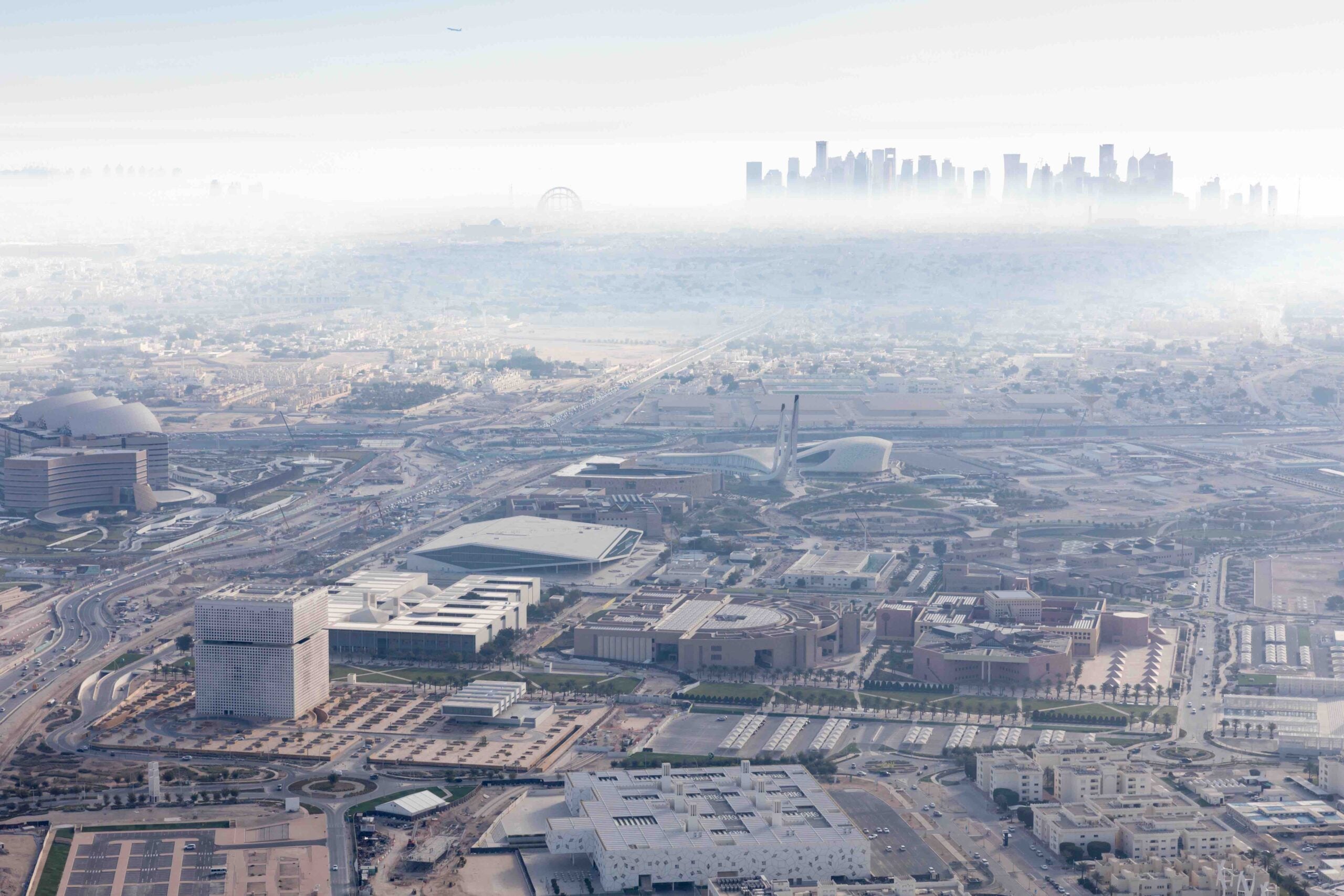 Strategic Partners
We are proud to have partnerships and ongoing collaborations with a number of educational institutions, government bodies, and civil society organizations across Qatar.
"
The establishment of GU-Q helped us become a truly global university – a university that appreciates the needs of a diverse global community"
President John J. DeGioia, Georgetown University
Qatar Foundation
Since 2005, we have been working with our flagship partner Qatar Foundation to achieve the Qatar National Vision 2030 by helping to develop Qatar's knowledge economy.  The campus was developed under the visionary leadership of His Highness the Father Emir Sheik Hamad bin Khalifa Al Thani and Her Highness Sheikha Moza bint Nasser.
The campus has helped further the aims of the university as a whole by expanding the mission beyond Washington, DC, engaging with the Middle East in a more substantive and productive way.  In return, Qatar strengthened its human capacity development system and research and knowledge infrastructure.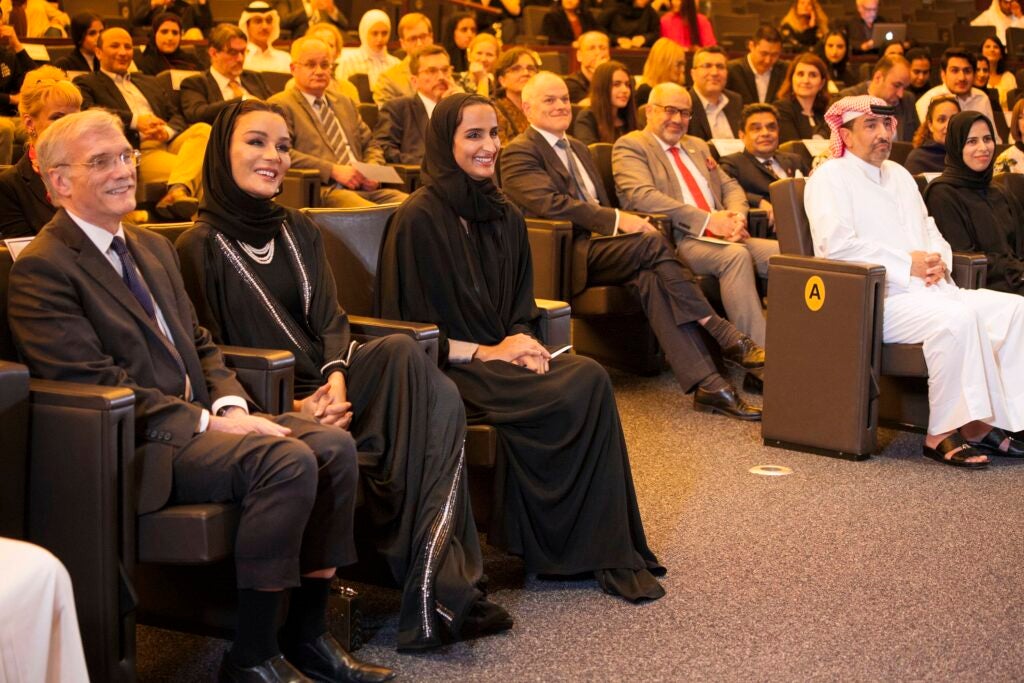 Education City Multiversity Partnerships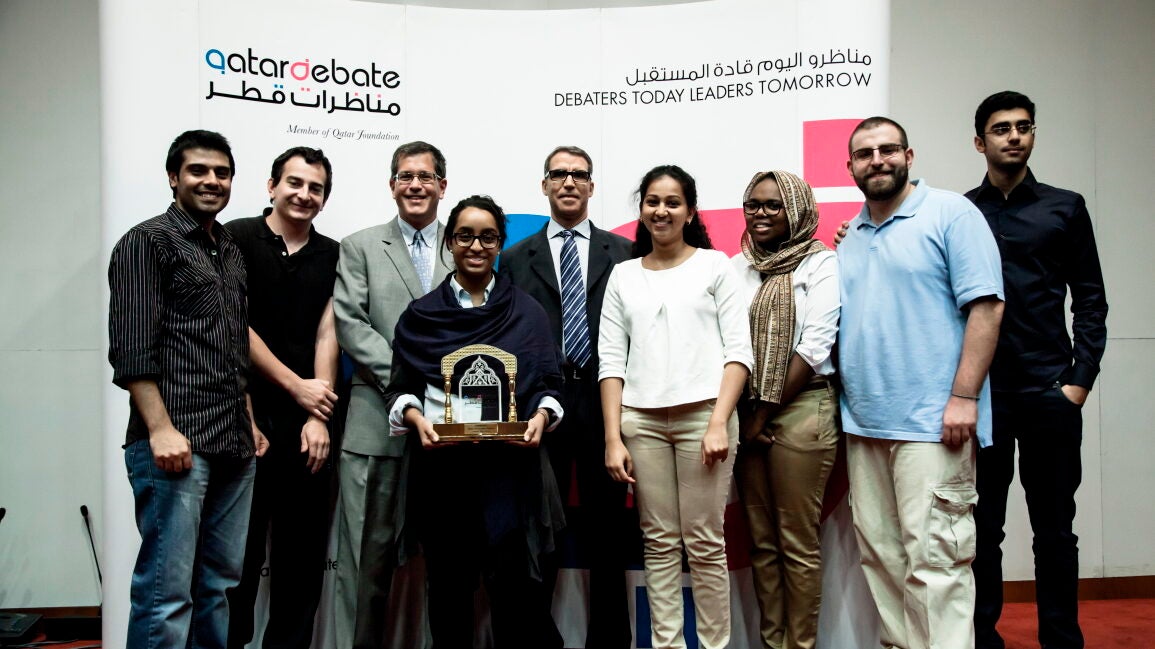 Doha Debates
GU-Q has one of the best debate teams in Qatar and an active debate community. It works with Doha Debates to provide platforms for live broadcasts of their events, and hosted the 2019 Arabic Debating tournament.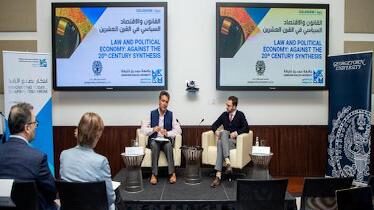 Hamad Bin Khalifa University
We have an academic partnership with Hamad Bin Khalifa University (HBKU), particularly the College of Law, and the College of Humanities and Social Sciences. We have held a number of events jointly, and we collaborate on several research projects, including the Cross Course Readings Multiversity Grant. Our faculty sit on thesis review committees across the university.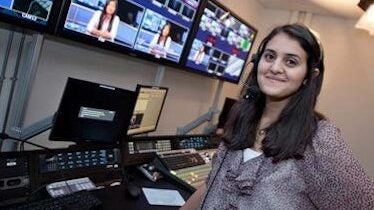 Northwestern University in Qatar
We offer a jointly taught and mutually recognized Certificate in Media and Politics drawing from the unique strengths of Georgetown's Walsh School of Foreign Service, and Northwestern's Medill School of Journalism. We also offer a joint minor in Africana studies and collaborate on jointly taught classes, collaborative events, and cross-registration.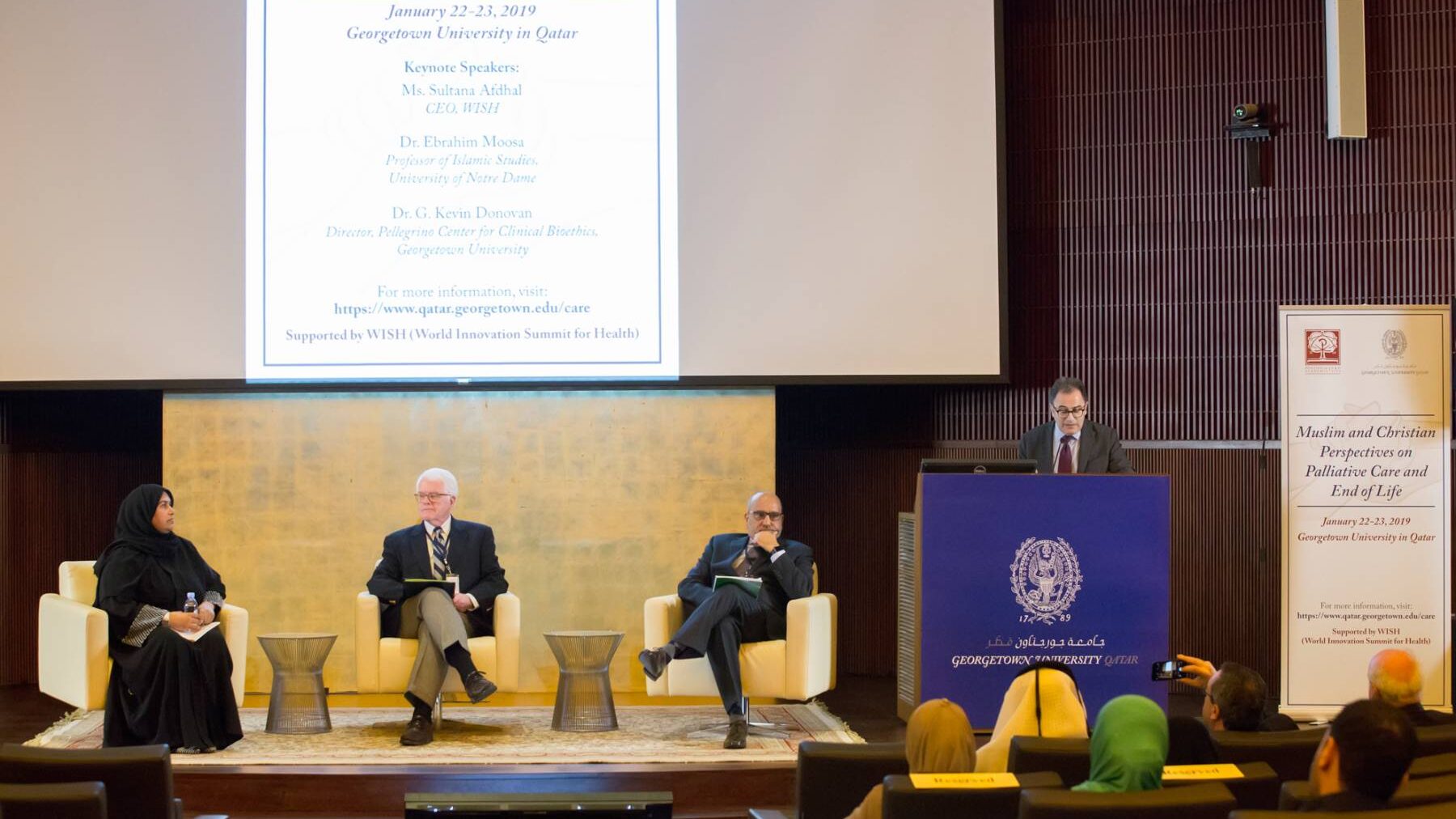 WISH
Research collaboration between our Center for International and Regional Studies (CIRS) and World Innovation Summit on Health (WISH) resulted in a policy paper on Migrant Labor Health in Qatar, and GU-Q facilitated an agreement between the Pontifical Academy for Life (PAL) and WISH regarding end of life care, an outcome of the GU-Q conference on Christian and Muslim Perspectives on Palliative Care and End of Life Conference.
Qatar Government Partnerships
Ministry of Foreign Affairs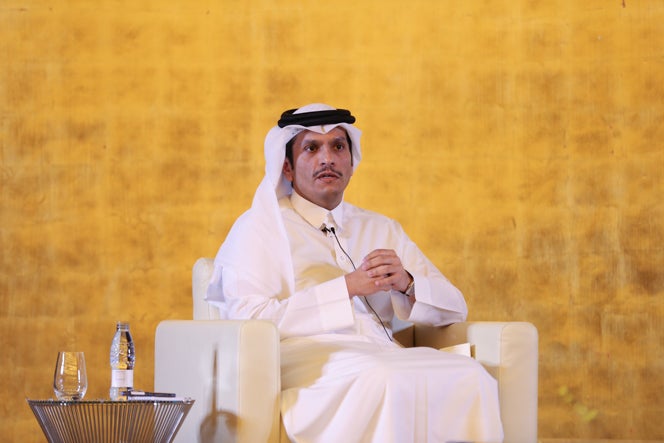 The Ministry offers our students a number of internship opportunities every year. In addition, we offer Executive and Professional education courses through MOFA's Diplomatic Institute, and key leadership in the Ministry, including the Minister, have spoken at our public events.
Qatar Leadership Center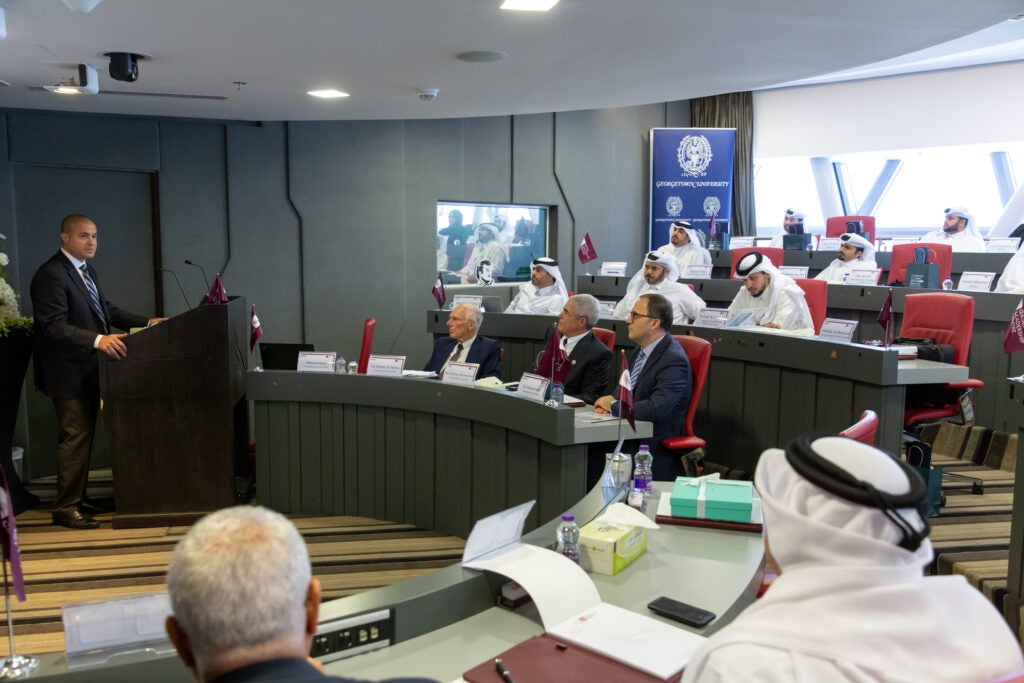 Through a partnership with Georgetown University's McDonough School of Business, QLC offers an Executive Master's in Leadership for which Qatar campus faculty have also taught courses. 
Qatar National Library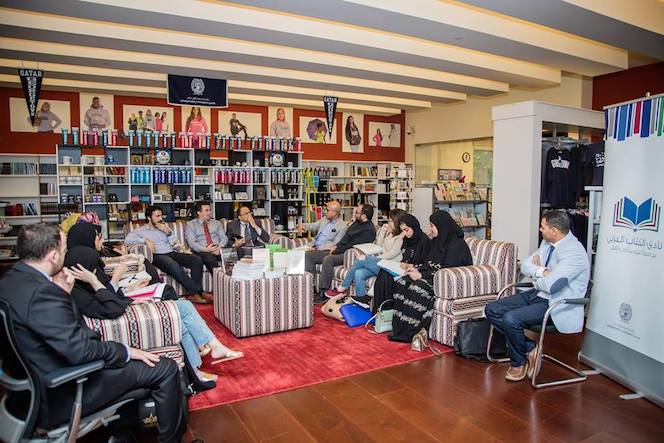 Our Arabic Book Club has entered into a partnership with QNL to support Arabic literacy in Qatar.  In addition, a QNL exhibition on the Indian Ocean featured prominently in the 2020 Annual Faculty Conference.
Non Governmental Organizations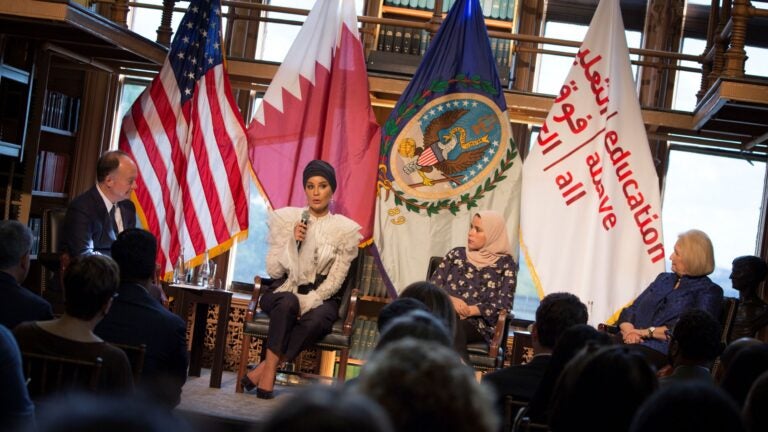 Education Above All Foundation
Our robust partnership with EAA includes a Memorandum of Understanding, a collaboratively developed credit bearing course on Education in Conflict, a number of for credit internships, the publication of an outcomes paper for a joint Georgetown University and EAA event featuring HH Sheikha Moza bint Nasser, Alaa Murabit and Melanne Verveer on "Protecting Education in Times of Conflict," and participation by our students as Education Above All Youth Advocates.
Teach for Qatar
Our students regularly conduct for credit and not-for-credit internships with Teach for Qatar, and recently we hosted a Teach for Qatar workshop at our Education City campus.
U.S.-Qatar Business Council
We signed a Memorandum of Understanding with USQBC to develop a collaborative educational partnership and to promote and facilitate cooperation in cultural and research endeavors between the two institutions
Educational Institutions in Qatar
Community College of Qatar
Our collaborative Cyber Security Research Group draws together faculty expertise in the technical aspects of cybersecurity from CCQ, and GU-Q's expertise in national security and policy to develop important insights into maintaining the Cybersecurity of Qatar and the Region.  The launch event for this research group was sponsored by Commercial Bank.
Qatar University
Our longstanding relationship with Qatar University includes an annual Faculty Fellow position offered for a QU Professor through CIRS, and recently a Joint Conference on Teaching and Learning Pedagogy, participation in joint research projects, and facilitating a strategic retreat for the QU leadership team.
Research Institutes
Middle East Council on Global Affairs
Our students regularly intern at the Middle East Council on Global Affairs (formerly Brookings Doha Center), and over the years we have had a number of MECGA Fellows act as Visiting Professors and speakers at GU-Q.
Doha Institute
Doha Institute regularly contributes to the CIRS working groups, and our Arabic Book Club has entered into a partnership with Doha Institute to support Arabic literacy in Qatar.