Experiential Learning
Experiential learning means that we learn through experience — and especially by reflecting on the experience.
At Georgetown we believe it is important for students to have the opportunity apply the ideas and theories that they learn in their classes to real-world situations and to actively reflect on that experience as part of the learning process. To that end, students are offered several co-curricular opportunities, both with and without academic credit, to complement and enhance their learning.
See what you can do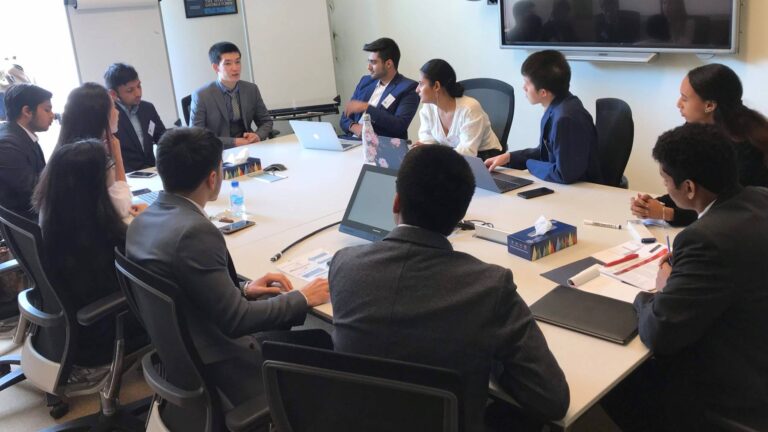 International Negotiation and Crisis Simulation
The International Negotiation Simulation Exercise in conjunction with Georgetown University's Institute for the Study of Diplomacy (ISD) and GU-Qatar, trains students at campuses in Washington, D.C. and Doha in negotiations, decision-making and crisis management. This one-day simulation offers students the hands-on opportunity to practice diplomacy through complex international negotiations and real time crisis decision making activities.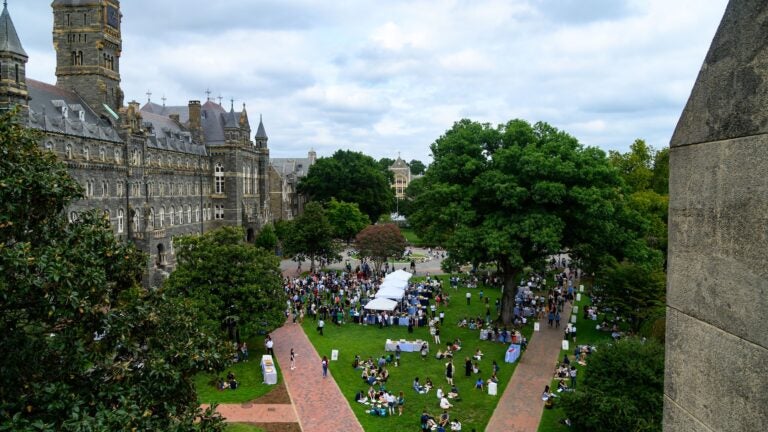 Study Abroad
All GU-Q students are encouraged to study abroad at some point during their academic career. In so doing, they are exposed to new ideas and perspectives, as well as to peoples, cultures, and values that are different from their own. Given GU-Q's curricular focus on international affairs, we believe that such experiences are a valuable component of the Bachelor of Science in Foreign Service degree.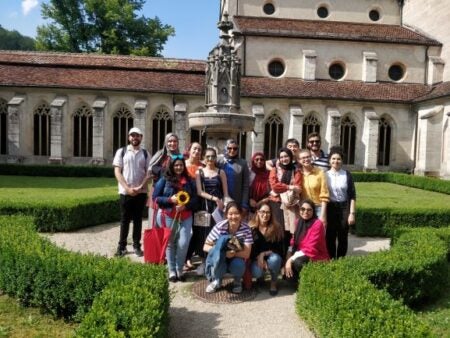 Zones of Conflict, Zones of Peace
This is an academic-credit course with a trip component offered in the spring semester. Zones focuses on conflict management, conflict resolution, and on the processes that underlie both. The aim is to contextualize the theoretical learning done in the classroom — to see the human dimension of the conflict students read about.
Discover more courses:
Academic Internships (one-credit course INAF 335)
Georgetown University's School of Foreign Service in Qatar partners with organizations in Doha to provide academic internship programs for our students. These internships offer academic oversight and one academic credit, which differentiates them from a regular internship experience. The aims behind these internships and the one-credit course components are to:
Provide professional mentorship and oversight of the internship experience,
Connect the experiential learning process (internship) to the curriculum while giving students substantive professional experience, and
Provide a students space for structured reflection and narrative development, which they can use to more critically focus their studies and professional goals.
Current partners include Brookings Doha Center, United States Embassy in Doha, Qatar, Teach for Qatar, Qatar Foundation (QF) Headquarters, Qatar Foundation's Qatar Green Building Council (QGBC), and Qatar Reads at Qatar Foundation's Community Development.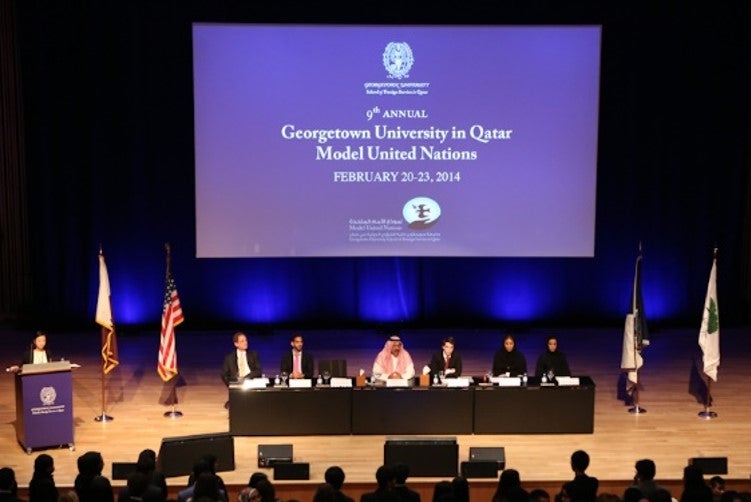 Model United Nations
Georgetown University School of Foreign Service in Qatar's annual Model United Nations (MUN) conference is a forum for engaged high school students to debate current global issues and gain insight into the world of international politics and policy-making. The MUN conference is governed by the MUN Student Board. Each year we welcome over 350 students from schools in Qatar and around the world to Doha for four days of MUN committee sessions and cultural experiences. Interested schools may apply to bring a team of 6 student delegates to the conference.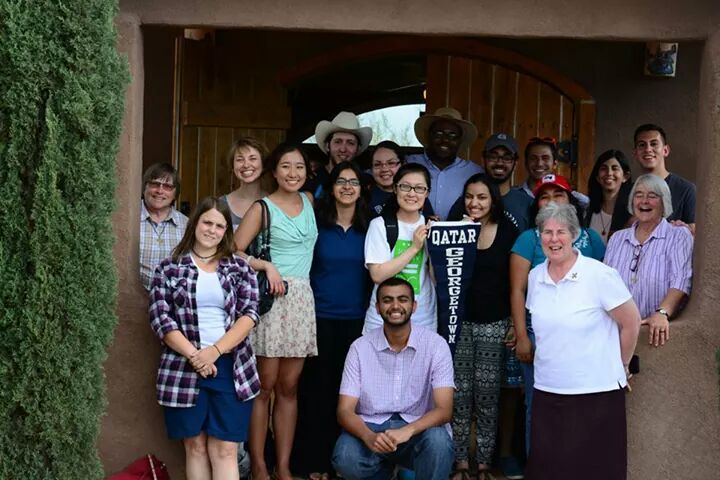 Community Engagement
Service Learning merges academic learning with the needs of the broader community, with the aim of instilling participant with a sense of the rights and responsibilities of national and global citizenship. In the spirit of Georgetown's Jesuit values, especially Contemplation in Action, service learning emphasizes critical reflection through personal, experience-based and analytical writing and discussion. Moreover, it helps students develop an understanding of the world as an interdependent system and increases global awareness and concern.
Georgetown Leadership Track
The Georgetown Leadership Track is a four-year program that is designed to channel the leader in you, which is based on the Georgetown values of: Ad Majorem Dei Gloriam, Contemplation in Action, Academic Excellence, Education the Whole Person, Cura Personalis, Faith and Justice, People for Others, Interreligious Understanding and Community in Diversity.
The Track focuses on students' leadership development over the four years through Awareness, Self-Management and Connections.
Through workshop attendance and active participation on campus, students will advance through the multiple tiers of the program.
Students must demonstrate learning and advancement at each level, progressing through Copper, Bronze, Silver, Gold or Platinum levels throughout their years at Georgetown.