Students
Annual GU-Q Crisis Simulation Tackles Crisis in Libya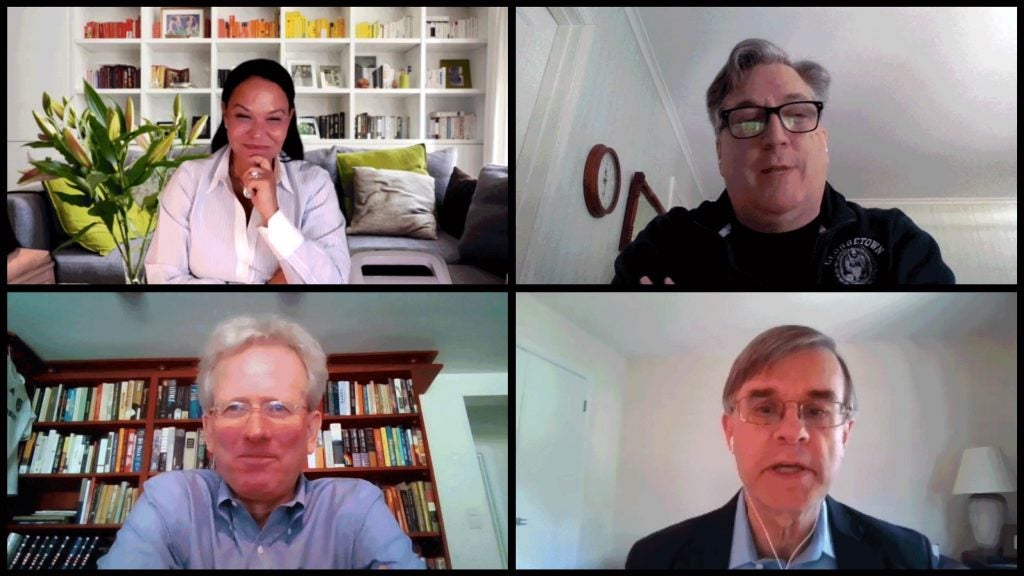 At QF partner Georgetown University in Qatar (GU-Q), 35 students took part in the annual Crisis Simulation diplomacy exercise, which allows participants to practice the intensive, multi-party negotiations required to reach an international agreement on how to resolve current issues facing the world today. This year's scenario was a UN-led peace talk aimed at solving the ongoing conflict in Libya that has cost lives and created national and regional instability.
Negotiation simulations prompt students to engage in collaborative problem solving and teach valuable negotiation skills, said Dr. Christine Schiwietz, GU-Q Assistant Dean for Academic Affairs and program organizer. "The simulation has students step into the shoes of key players facing a real diplomatic challenge, an unparalleled hands-on experiential learning activity. Students learn how to build coalitions in a multilateral context and learn the critical role mediators can play in global policy negotiations."
The exercise is co-organized by James Seevers, Director of Studies at the Institute for the Study of Diplomacy (ISD) at Georgetown University in Washington, DC. Reflecting on this year's first-ever virtual simulation with GU-Q, he said: "With a few modifications, we successfully adapted ISD's negotiation simulations online. This change ensured a continuation of Georgetown's diplomatic training activities, and is a reflection of the new demands facing diplomats in a pandemic, with global leaders also conducting some of their critical diplomatic work online."
Set in the year 2022, this year's scenario involved a United Nations Support Mission in Libya (UNSMIL) hosting another peace conference in an attempt to secure a long-term deal between the two main rival parties. Student teams representing the United States, Russia, Turkey, the United Arab Emirates, and the European Union also took on roles in the talks.
Students were given detailed information about the situation and their roles, and advisors with significant professional diplomatic experience provided expert guidance on how to determine national interests and negotiate for best possible outcomes.
For International Politics major Alak Raad (GU-Q'23), the experience drove home the complexity of compromise. "I learned that coming up with solutions through diplomacy is something that takes time. The voices involved seek to integrate their self-interested goals in this process, thereby neglecting the bigger picture of saving lives."
The former U.S. Ambassador to Tunisia Gordon Gray took on the role of the UN Special Representative. Expert advisors also included former U.S. Ambassador to the People's Democratic Republic of Algeria John Desrocher, and the Director of the Brookings Doha Center Dr.Tarik Yousef.
ISD State Department Rusk Fellow Hammad Hammad, ISD Case Studies and Publications Editor Alistair Somerville, and ISD Research Assistant Jonas Heering created the simulation materials and coordinated the exercise.
Mr. Somerville said "This was a fantastic way to test out ISD's new simulation materials on Libya with an engaged and enthusiastic group of students. They tackled the negotiation with a great deal of flexibility and creativity. We now look forward to preparing the materials for publication in our online case studies library so that instructors around the world can also run this exercise with their students."
The final module on the last day of the simulation saw student participants and organizers gather to discuss the outcome of the negotiations and to share lessons learned.