The SFS-Qatar Hoya Men's Football team highlighted the Fall 2012 semester with a second-place league finish and a tournament title.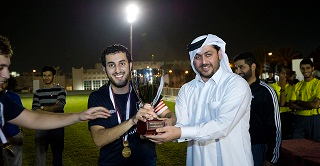 The Hoyas completed Hamad Bin Khalifa University Football League (HBKUFL) play with a 6-1 record, good for second place overall and only a point off the top spot. The Hoyas followed that strong showing by winning the ensuing HBKU Fall Football. Tournament championship, defeating Texas A&M in the final by a margin of 2-0.
With the victory on 6 December 2012, the Hoyas avenged their only loss of the season, concluded the semester with 9 wins, and secured the tournament's first place trophy in front of a vocal Georgetown fan base of students, alumni, faculty, and staff alike. Second-half goals by Mohamed Abouzied (SFS '13) and Souleyman Mana SFS '14) highlighted a team effort marked by great defense and persistent midfield play.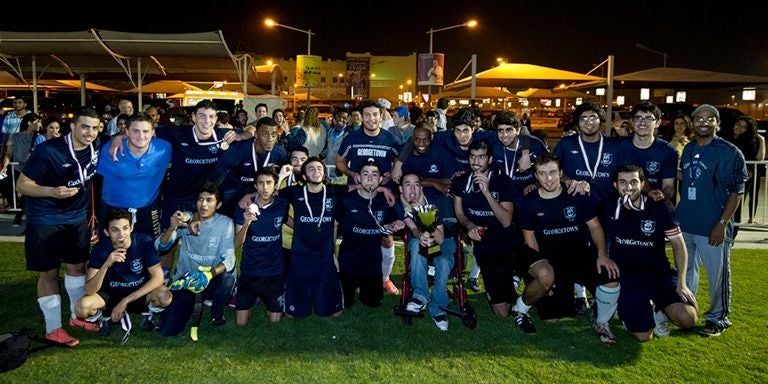 The Fall 2012 SFS-Qatar Hoya Men's Football roster included Mohamed Abouzied Abdullah Ahmad, Shadi Al Shebli, Ali Al-Hashmi, Majed Al-Maadeed, Saleh Al-Mana, Hazim Ali, Malik Habayeb, Islam Hassan, Emad Hassan, Owais Khan, Salar Khan, Salman Khan, Souleyman Mana, Burhan Mahmoud, Haroon Yasin, Sarim Zia, and Sherif Elgindi (statistician). Head Coach Chris Wilson worked with Assistant Coach John Ngurugwe and Manager Kevin Gomes.