Changing Lives, Building Futures. Meet Members of the Class of 2023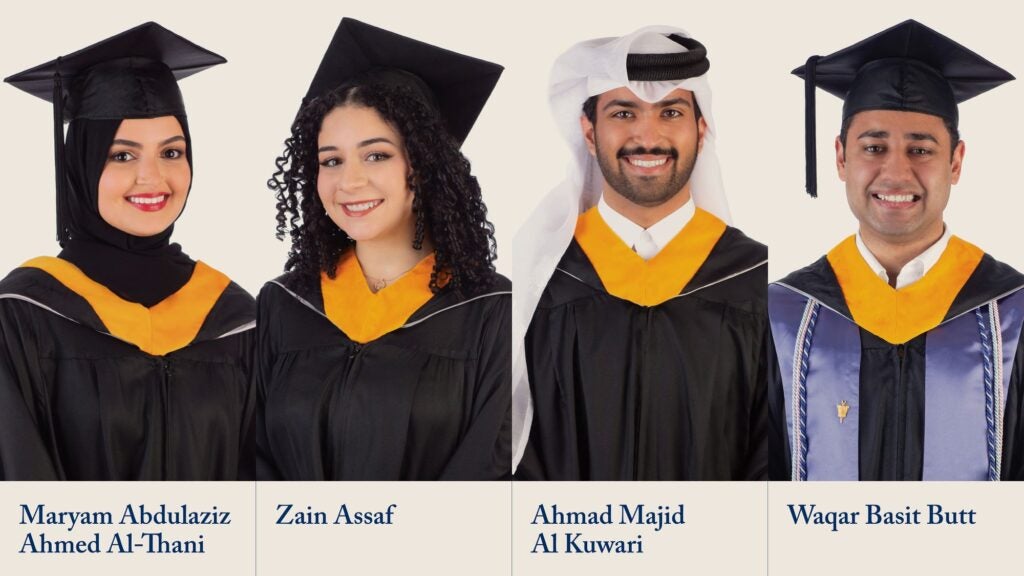 Each graduating senior in the Class of 2023 has a unique story to tell, full of personal achievements, academic accomplishments, and impactful community engagement projects. These four exceptional individuals have dedicated their time at Georgetown to exploring their passions, building their skills, and making a difference in the world. Learn about their journey at GU-Q, as they prepare to begin a new chapter in their lives.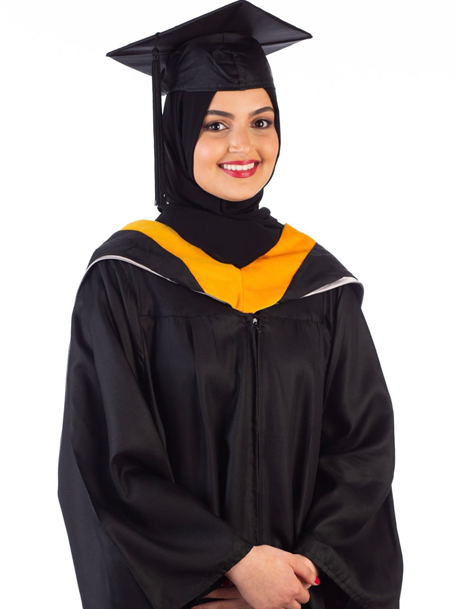 Maryam Abdulaziz Al-Thani (SFS'23)
Major: Culture and Politics
Maryam Abdulaziz Al-Thani has risen to prominence on the global stage through her experiences at GU-Q. As a compassionate ambassador and advocate, diligent researcher, and true global citizen, Maryam has embraced every opportunity to make a positive impact, both locally and internationally.
Majoring in Culture and Politics and serving as the president of the GU-Q Ambassador Society, Maryam has undertaken various public roles, representing her university, culture, and country. She moderated a session at the U.N. Office of Counter-Terrorism Global Youth Town Hall, volunteered at the Fifth U.N. Conference on the Least Developed Countries hosted in Qatar, and moderated a panel of women scholars for Qatar Foundation on International Women's Day, among other efforts.
Maryam's dedication to fostering dialogue and promoting inclusivity is further exemplified through her internship with the Qatari Ministry of Foreign Affairs (MOFA) Permanent Committee for Organizing Conferences in 2023. In this role, she contributed to promoting Qatar's diplomatic initiatives and facilitating global collaboration.
Maryam's commitment to her community extends beyond her public engagements. At the Doha International Family Institute (DIFI), she is involved in an ongoing project that explores the experiences of women within Qatar's legal framework. Another ongoing project is her research on women's experiences in marriage and divorce which sheds light on crucial societal issues.
In addition to her academic pursuits and leadership roles, Maryam actively participated in co-curricular activities at GU-Q. She chaired the Specialized Historical Committee at the GU-Q Model United Nations conference and took part in the hands-on experience of crisis simulations, honing her critical thinking, diplomatic skills, and ability to navigate complex issues. Her involvement also included mentoring high school students, providing guidance as they embark on their own higher education journey.
At Tropaia, her efforts in the classroom and beyond were recognized with a Georgetown Leadership Award and induction into Phi Alpha Theta, the National History Honor Society. She will leave an indelible imprint on the campus community she served with an inspiring and selfless dedication.
Zain Assaf (SFS'23)
Major: Culture and Politics
Zain Assaf's time at GU-Q has been marked by a deep commitment to exploring the intersection of culture, politics, and media. With her dedication to advocacy, her insightful research, and her efforts to amplify marginalized voices, Zain exemplifies the Hoya spirit of meaningful engagement, social justice, and academic excellence.
Through her major in Culture and Politics, and minor in History, Zain delved into the ways culture, knowledge, and power interlink with politics. Her background as a Palestinian further ignited her interest in understanding how power is perpetuated in the context of the Palestinian cause.
In addition to her major, Zain successfully pursued a Certificate in Media and Politics, offered jointly by GU-Q and Northwestern University in Qatar, and offering a comprehensive understanding of the role of media in shaping political narratives and perceptions. Zain's outstanding work in this field was recognized with the Best Certificate Thesis award for her research on the mainstream media's framing of the killing of journalist Shireen Abu Akleh.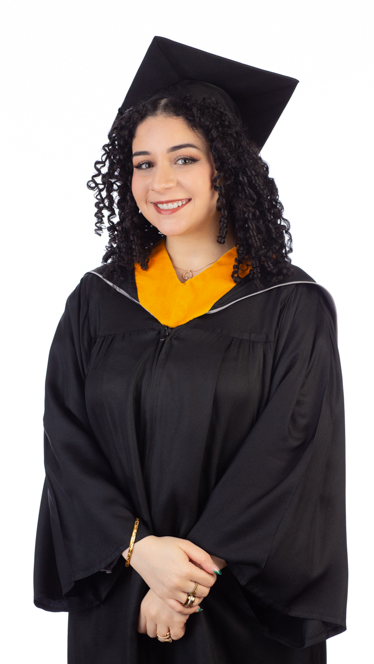 Her remarkable achievements were recognized at Tropaia, where she swept the awards. Zain was selected for the Culture and Politics Outstanding Student Award for demonstrating excellent performance through written work, cumulative grade point average, leadership, and other markers of academic success. She also won the Certificate in Media and Politics Award for an outstanding thesis. She shared the stage with co-winners for the Georgetown Leadership Award and the Community in Diversity Award, and was inducted in Phi Alpha Theta, the National History Honor Society.Outside the classroom, Zain's impact at GU-Q is exemplified by her leadership role in the Students for Justice in Palestine (SJP) club. As a first year student, she took the initiative to re-establish the club, and created an inclusive space for discussions on important topics surrounding Palestine.  
Zain's passion for advocacy and justice extended beyond the campus. She was one of five writers of Palestinian heritage selected by the Institute for Palestinian Studies to participate in a virtual workshop to produce and publish personal stories about Palestinian resistance, displacement, love, family, sacrifice, and identity.
She currently works as a part-time Assistant Engagement Producer at Al Jazeera English, contributing to the creation of meaningful and impactful content. Her writings have also been published by Palestine Square and Doha News, further amplifying her voice and insights.
But if you ask Zain about the most transformative experience she had during her time at Georgetown, she will tell you the Zones of Conflict, Zones of Peace service trip to Nepal. The immersive experience exposed her to a region she had not previously explored, broadening her horizons and deepening her understanding of global dynamics in a way that no classroom can recreate.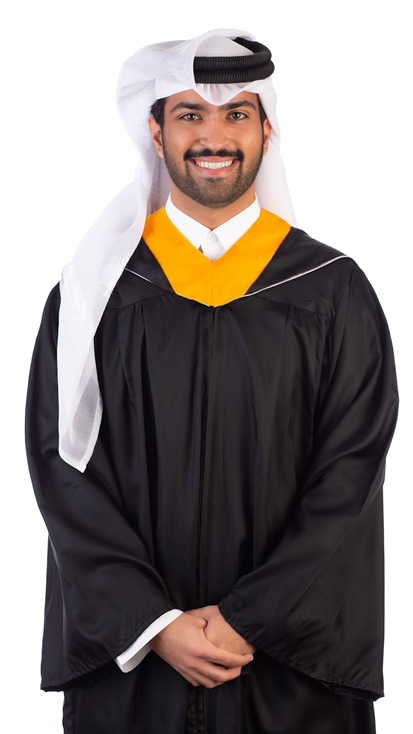 Ahmad Majid Al Kuwari (SFS'23)
Major: Culture and Politics
Minors: Arabic, Government
Ahmad Majid Al Kuwari pursued an education at GU-Q driven by a passion for the field of international affairs and diplomacy, and an ambition and dedication to understanding and contributing to Qatar's role in global affairs. 
As an Officer Cadet at the Ministry of Defense's National Service Academy in Doha, Ahmad applied his skills in discipline, teamwork, and strategic thinking to his academic studies in his major, Culture and Politics, as well as to his community service projects. With a particular interest in Qatar's foreign policy, his minor degrees in Arabic and Government offered him an added path to further explore his interest in Qatar's regional mediation efforts and their relevance to the defense strategy of the country 
Ahmad embraced Georgetown's  intellectually challenging environment as an opportunity to learn new methods of research, writing, and creative thinking, gaining essential skills to excel in his future personal and professional pursuits.
Beyond the classroom, Ahmad actively engaged in an impressive range of extracurricular activities that included serving as a volunteer at admissions events, as a Model United Nations conference mentor to high school students seeking to develop their own skills in negotiation and diplomacy, and as a participant in the Doyle Faculty Fellow Program, supporting faculty's efforts in exploring issues of diversity and difference within the classroom setting.
An ambassador of both the university and Qatar, Ahmad was an active member of the Al-Liwan Qatari student association, highlighting his commitment to fostering a vibrant community on campus, engaging in cultural exchange, and promoting inclusivity and diversity. His service to the GU-Q community and contributions to intercultural dialogue and promoting Georgetown's values and mission were recognized at Tropaia, and leave behind an inspiring profile of a dedicated student, scholar, and citizen.
Waqar Basit Butt (SFS'23)
Major: International Economics
With a deep interest in regional economic and social policy, Waqar Basit Butt found in Georgetown the perfect university to pursue his passions and create a foundation for continued career development and growth. That dedication to academic excellence earned him a place on the Dean's Honors List and recognition through prestigious awards such as the Qatar Foundation 100% Merit Scholarship, induction into Alpha Sigma Nu, the National Jesuit Honor Society, Phi Beta Kappa, the National Academic Honor Society, and graduating magna cum laude.
During his studies, Waqar had the invaluable opportunity to expand his horizons through a study abroad program at the London School of Economics and Political Science (LSE). With a diverse range of internships, Waqar gained valuable professional experience in growing fields. At Qinvest in Qatar, he worked as an investment banking analyst intern, conducting valuation analysis, and preparing corporate profiles. At the Middle East Council on Global Affairs, he co-designed a workshop for Qatari government officials. 
At Boston Consulting Group (BCG), Butt participated in the Himam workshop where he worked on a telecommunications case, proposed cost-saving strategies, and his team won first prize in the case competition. And in Islamabad, Pakistan, he assessed market penetration of fin-tech firms and developed a policy recommendation for capturing unbanked populations at the Sustainable Development Policy Institute.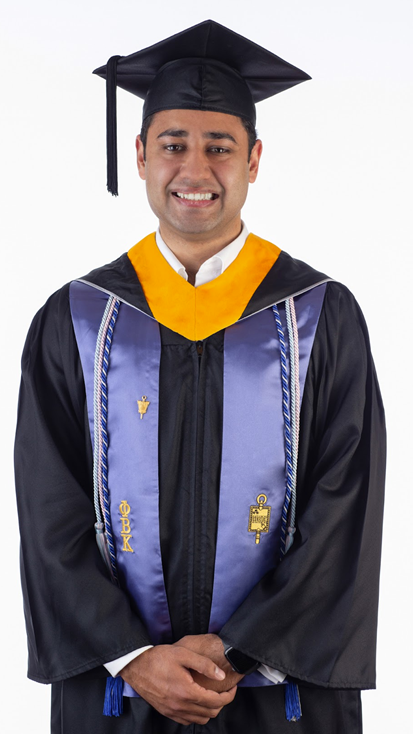 Balancing personal and professional priorities, Waqar also served as the founding president of the Mental Health Society, which played a crucial role in supporting the student community during the pandemic. A global citizen with a deep respect and sense of social responsibility for the local communities he is a part of, Waqar leaves behind a legacy of living his values and being a person for others, in all that he does.