Launch of Georgetown's First Mosque in Washington, DC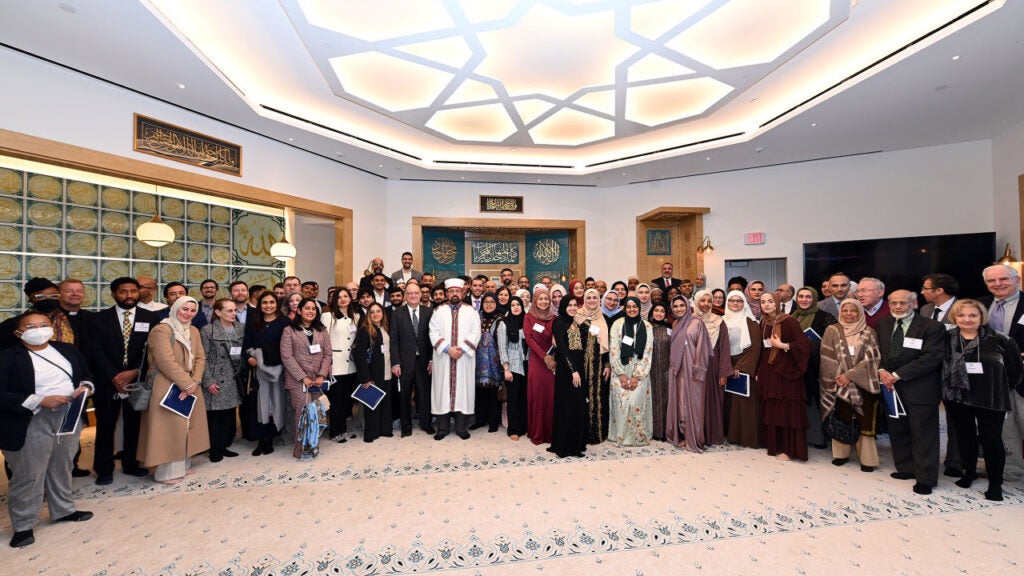 Professor Maurice Jackson, who regularly serves as a visiting scholar at GU-Q, played a key role in the March 18 ceremony dedicating the first mosque to open at Georgetown University in Washington, DC. The dedication marked a historic moment for the university's commitment to religious diversity and further strengthened the connections between the DC and Doha campuses.
The result of seven years of planning, the new mosque was named in honor of Yarrow Mamout, a Muslim enslaved man from present day Guinea who became a successful businessman and property owner after gaining his freedom in the late 18th century. It will offer a place for worship and prayer, ablution stations, and a halal kitchen, the first such mosque on a US college campus.
Dr. Jackson, a scholar of history and African American Studies on both the Doha and DC campuses of the university, was one of the keynote speakers at the dinner that followed the dedication ceremony for the Yarrow Mamout Masjid, where he shared his insights on Mamout's life and legacy, and the significance of the mosque in his honor.
"Yarrow Mamout, like most people of African descent, came here as a slave and was brought here on the ship the Elijah. Then in 1796 or so, he was able to purchase his freedom," he explained, adding that Mamout's story is a powerful reminder of the resilience and strength of the human spirit. "Here was this man in this city who was able to keep his religion, his faith, his language, his hopes for the future."
Dr. Jackson also wrote the story of Yarrow Mamout that was included in the printed program for the dedication ceremony. His scholarship helped to bring Mamout's story to life and to provide a deeper understanding of the impact of his life and legacy on American history. "In the fall, I will teach a course on Black Americans, Islam and the Wider World, and hope to teach a similar course in Qatar soon," he said. And he is writing about Yarrow Mamout in his upcoming book Halfway to Freedom: The Struggles and Strivings of Black Folk in Washington, DC.
Georgetown University President John J. DeGioia spoke at the ceremony and emphasized the university's commitment to inclusivity and respect for all faiths. "The masjid is a space for prayer and reflection, where members of our Muslim community can engage with one another and strengthen their sense of belonging, identity, and purpose."
"This is the first institution that offers a full masjid, with the wudhu area for the ablution, prayer hall, and the lecture hall and a kitchen," said Iman Saymeh, Residential Minister at Georgetown.
"Coming to these different places, being invited by other students to come to the masjid, whether you're Muslim or not, allows us to explore the very deep richness that Georgetown has in its faith traditions," said Mark Bosco, S.J., Vice President for Mission and Ministry
Georgetown was also the first U.S. university to hire a full-time Muslim chaplain over two decades ago, Imam Yahya Hendi, who continues serving the Muslim community as the Director of Muslim Life on the DC campus. "The naming of the masjid Yarrow Mamout reminds us American Muslims that we are a part of the fabric of the United States of America," he said. "We have always been here. We will continue to be here, contributing."