Dr. Norman Finkelstein Draws Crowds to GU-Q for Talk on Gaza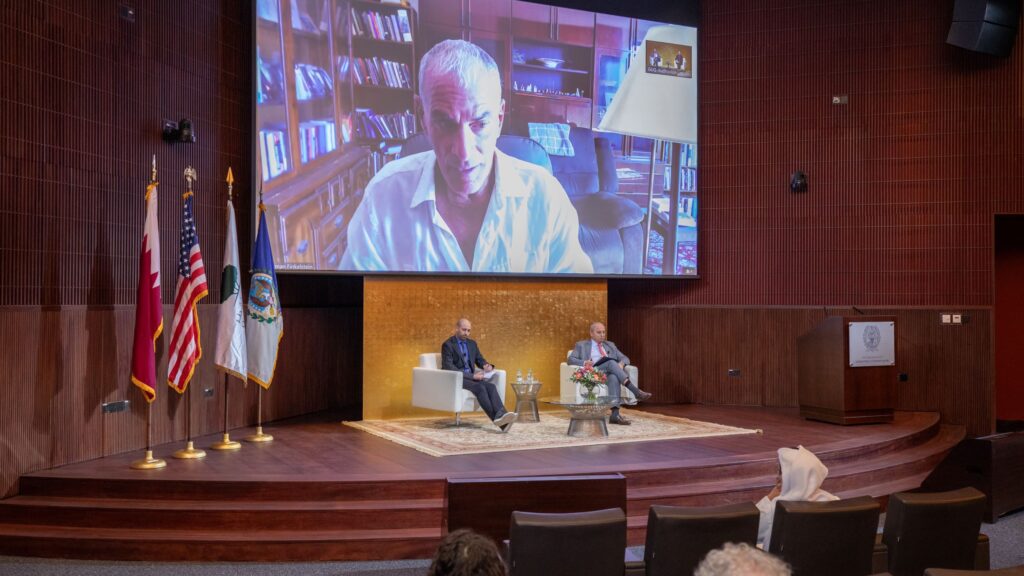 Georgetown University in Qatar (GU-Q) hosted a public talk featuring Jewish-American political scientist and activist Dr. Norman Finkelstein. Speaking virtually at a live event in Doha, Dr. Finkelstein discussed "Gaza After October 7: One or Two Turning Points?" with the dean of GU-Q, Dr. Safwan Masri, and Associate Professor of History at GU-Q, Dr. Abdullah Al-Arian.
Dean Masri opened the event, highlighting the importance of knowledge sharing and open discussion during times of crisis, saying: "We are delighted to host Professor Norman Finkelstein, one of the most daring and independent academics of his time, a tireless advocate of the Palestinian cause against ferocious hostility and opposition. I admire his courage and integrity, and am deeply grateful to him for addressing us at GU-Q via a live broadcast from New York."
Dr. Finkelstein, a direct descendant of Holocaust survivors, presented an overview of critical developments in the Israel-Palestine conflict, beginning with the 19th-century inequalities and discrimination facing Jews in Europe which led to the Zionist movement. He described how the global turmoil of the two world wars laid the groundwork for policies and a political environment that facilitated Jewish migration to Palestine. His analysis further explored the expansionist ideology of Zionism, the impact of United Nations resolutions on the region, and the strategic political and military factors underpinning US support and recognition of the state of Israel.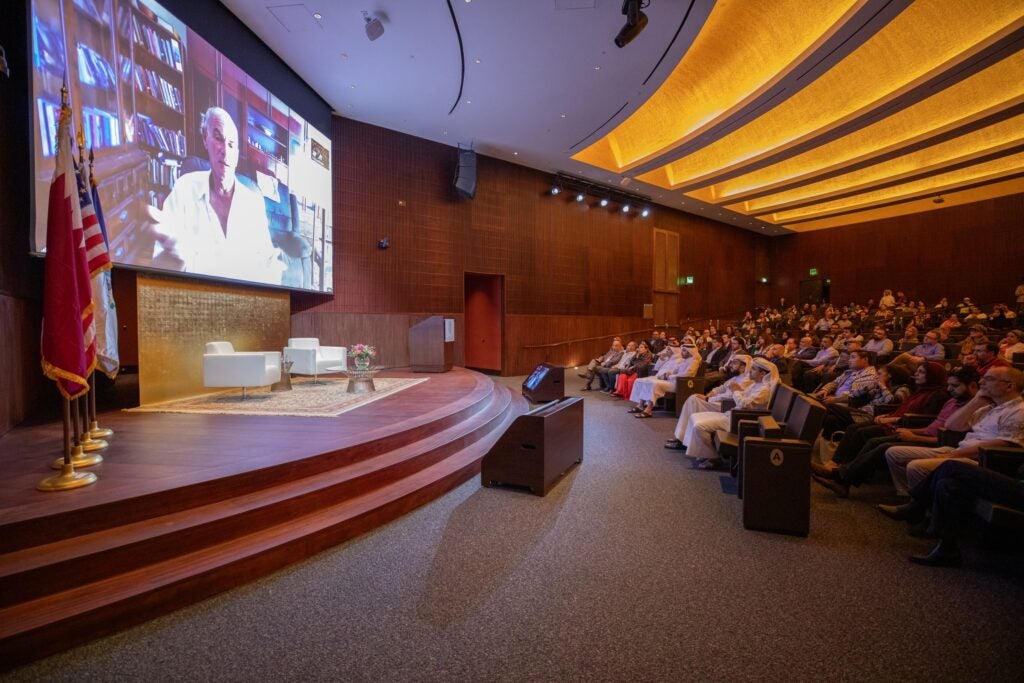 Based on his historical reading, Dr. Finkelstein noted: "It can be said that Israel has passed a new threshold in the modern world…it has legitimized something which up until this moment in October 7 was an absolute red line and taboo in international politics: the targeting of hospitals."
He concluded with a clear call to action, emphasizing the urgency of the current crisis, saying: "In my mind, there has to be three slogans at the current political moment: 'ceasefire now,' 'end the blockade,' and 'stop the ethnic cleansing in the West Bank.' And we should focus on that."
As moderators of the event, Professor Al-Arian and Dean Masri engaged Dr. Finkelstein in a dialogue on his four decades of teaching and research on the Palestine-Israel issue. The discussion encompassed a range of topics, including contemporary Jewish youth movements, evolving global perceptions of Israel, and strategies to address historical injustices, promote reconciliation, and lay the foundation for a lasting peace.
About the Speaker
Norman Finkelstein is an American political scientist and activist. His primary fields of research are the Israeli-Palestinian conflict, Zionism, and the politics of the Holocaust. He is a graduate of Binghamton University and received his PhD in political science from Princeton University. Finklestein has held faculty positions at Brooklyn College, Rutgers University, Hunter College, New York University, and DePaul University. After leaving DePaul, Finkelstein returned to Brooklyn, where he continues to publish and speak on the Middle East. He is the author of many books that have been translated into 60 foreign editions, including "Gaza: An Inquest into its Martyrdom" (2018).