Islamic Etiquette on Disability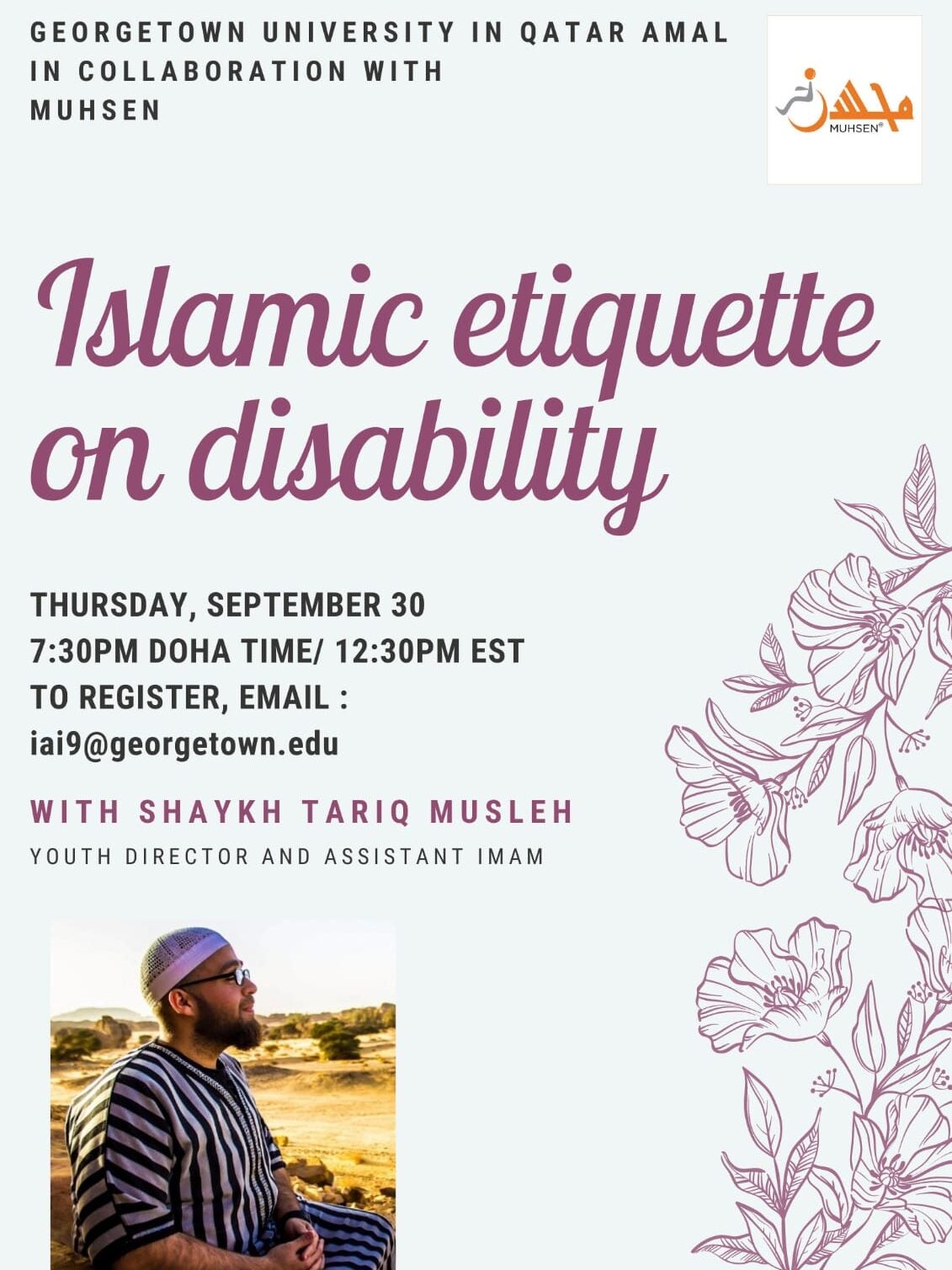 In much of the Muslim world, it is often taboo to discuss or recognize disabilities and physical impairments, but this has drastically limited the opportunities and accessibilities available to persons with disabilities. Despite this reality, the Islamic religious tradition, from both the Qur'an and the Sunnah, recognizes and addresses disability and urges all Muslims to act with kindness, empathy, and respect when addressing this facet of human diversity. As Khansa Maria (GU-Q '21) once said, disability is simply "another example of human diversity which we can celebrate and respect". It is with this spirit that the GU-Q Amal club in collaboration with Muhsen presents our very first event of the academic year: "The Islamic Etiquette on Disability" presented by Sheikh Tariq Musleh, with additional contributions from Khansa Maria (GU-Q '21) and Sherif Elgingi (GUQ '16). We will delve into the approach towards disability and inclusivity which is deeply entrenched in the Islamic tradition as a stepping stone to encourage active advocacy for and with all people with disabilities.
About the Speaker:
Sheikh Tariq Musleh is a Youth Director for the Islamic Center of Naperville in Chicago and a Youth Director and Assistant Imam of the Mecca Center in Illinois. He serves as the Umrah Leader and Spiritual Guide with MUHSEN, a US-based organization dedicated to establishing an inclusive and accessible environment for persons with disabilities. He completed his memorization of the Qur'an at the age of 13 and is a graduate of Madinah University where he earned an Associate Degree in Arabic and a Bachelor's Degree from the College of Sharia.
If you would like to participate in this discussion, kindly send an email to iai9@georgetown.edu to receive a link.