Sohaira Siddiqui
Associate Professor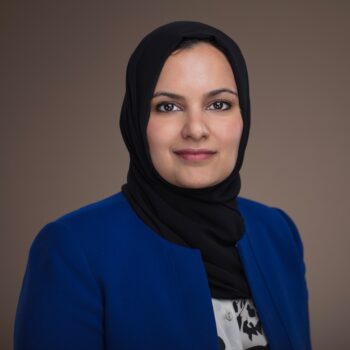 Culture and Politics (Theology)
Room Number
1D32
Contact
Sohaira Siddiqui is Associate Professor of Islamic Studies at Georgetown University in Qatar. Her research interests include classical Islamic legal theory and political thought, Islamic law under colonialism, contemporary Islamic family law, and issues of gender, authority, and participation.
Her first monograph, Law and Politics Under the Abbasids (Cambridge University Press, 2019), analyzes the work of the 11th century jurist and theologian Abu Ma'ali al-Juwayni through a close reading of his legal, political, and theological treatises. She recently completed her third book, Fractured Modernities: Contesting Islamic Law in Colonial India (University of California Press, 2024), which focuses on the juridical thought of the first Muslim judges to serve on the high courts in British India. The project analyzes the changing dynamics of the Hanafi school of jurisprudence after the promulgation of Anglo-Muhammadan law and the participation of Muslims in the adjudicative process. She has published numerous articles in Islamic Law and Society, Journal of Islamic Studies, Journal of the American Oriental Society, and Middle East Law and Governance.
Professor Siddiqui is the editor of Locating the Shari'a: Legal Fluidity in Theory, History and Practice (Brill, 2019). She is a series editor for Sapientia Islamica, a guest editor for Harvard Series in Islamic Law blog, and an associate editor for the Journal of Islamic Law and Society. She is also editing The Cambridge Companion to Islamic Law (Cambridge University Press, 2025).
Prior to joining GU-Q, Professor Siddiqui taught courses at the University of Saskatchewan and has held fellowships at Cambridge University, Tubingen University, Harvard Law School, and Stanford University.
Professor Siddiqui received her Ph.D. in religious studies from the University of California, Santa Barbara.