Alumni
Georgetown Alumnus Utilizes Technology to Fight Obesity In the Arab World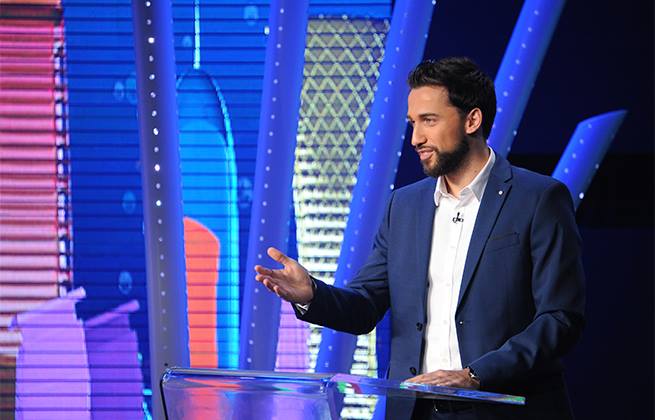 In an attempt to address obesity in the Arab world and improve public health across the region, Nadim Rifai, a Georgetown University in Qatar (GU-Q) graduate, has developed FitTastic, a unique device that innovatively blends technology, gaming, and health to encourage people to become more active and fit.
Nadim's invention secured him a spot as one of the 12 final contestants on the Middle East's leading scientific reality TV show, Stars of Science. The show, sponsored by Qatar Foundation for Education Science and Community development, provides valuable support and mentorship to participants through a network of experienced engineers, designers and business leaders.
Comprised of a portable motion tracking sensor and an interactive smartphone application, FitTastic allows users to go beyond simply recording their workout progress with features such as live games, challenges, rewards, and real-time online multiplayer competitions.
"People like to be challenged. This is why we enjoy games, we want to compete with ourselves and others and be our best at something. FitTastic merges this concept with fitness to get people off the couch and become more active," explained Nadim.
Nadim began his career in Qatar working at a local cafe striving to support his bid to enroll at one of Qatar's various world-class universities. In 2008, GU-Q recognized his potential and offered him a scholarship to begin his academic career majoring in International Politics.
Commenting on how studying at GU-Q has enabled him to succeed, Nadim said:" Georgetown offers much more than a high caliber academic program. In addition to learning about global issues and world affairs, it instills within you the desire to be a productive member of your community and to contribute to the development of society. In the spirit of the GU ethos of 'men and women for others', I found a way to utilize my passion for fitness, health, and technology in a way to make a meaningful impact to an important regional issue."
Basil Mahfouz, the president of Georgetown's Alumni Club in the GCC commented: "we are proud to have fellow alumni and club members continue with the Georgetown traditions by finding innovative ways to make an improvement in the lives of others."
Currently, Nadim works at Doha-based Silatech, a social initiative dedicated to addressing the massive youth unemployment challenge in the region.
"Having learned about how talented young men and women in the region have difficulty securing meaningful employment, I decided to dedicate my career to provide them with similar opportunities that I benefited from while living in Qatar."
Nadim intends to continue developing FitTastic, an invention which he says has the potential to revolutionize the fitness culture in the Arab world.