Georgetown and Community College Cyber Security Research Group Launches with Support of Commercial Bank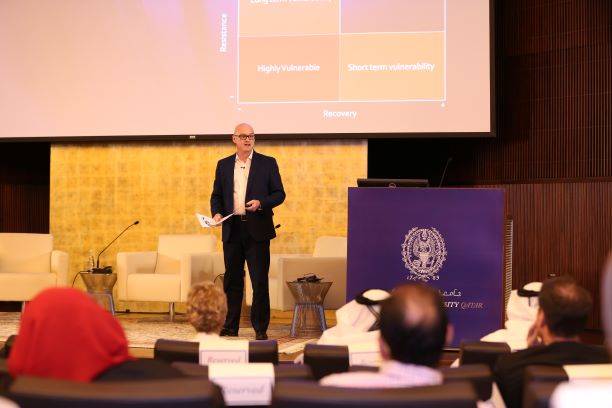 The inaugural launch of the Cyber Security Research Group (CSRG), a joint initiative between Georgetown University in Qatar and the Community College of Qatar (CCQ), drew a large audience of security experts, scholars, and leaders from government and business to discuss "Cyber Security in a Small State: Protecting the Homeland." Sponsored by Commercial Bank of Qatar and featuring Will Wilson as a keynote speaker, the event delivered the important message that cyber security is one of the most vital issues facing individuals, institutions, and nation states today, and set the stage for future collaboration on the critical issue of security risks and strategies.
"What is really needed is for us to not only re-imagine ways to meet these novel threats but to do so before they occur so we can be ahead of them," said co-convener and panelist Dr. Rory Miller, a professor of government at GU-Q. Thanking the keynote speaker, security expert Wil Wilson, Dr. Miller said: "In the future, we hope to organize more public talks like tonight's on topical issues and featuring more distinguished speakers. I am very grateful to Commercial Bank of Qatar for making it possible for him to do so by sponsoring tonight's event." The event was launched with welcome remarks from Dr. Ahmad Dallal, dean of GU-Q, and Dr. Mohamed Al-Naemi, President of CCQ.
Dr. Mohammed Al-Dorani, Professor of Cyber Security & Networking and Chair of the Information Technology Department at CCQ, also was a panelist and group co-convener. He stressed the critical role of the research group, citing the security issue as an essential priority of His Highness Sheikh Tamim bin Hamad Al Thani. "The research aims to fulfill the cyber security aspect of Qatar Vision 2030 which constitutes a beacon that guides economic, social, human and environmental development of the state of Qatar in the coming decades, so that it is inclusive and helpful to the citizens and residents of the state of Qatar in various aspects of life," he said.
Dr. Miller also touched on the benefits of organizing a cyber research group that capitalizes on the complementary strengths of each partner university. Noting how CCQ trains Qatari engineers and cyber security experts and GU-Q trains their students to understand and respond to the rapidly changing and complex geo-strategic environment, he said: "Dr. Al- Dorani and his colleagues provide the know-how, and we here in Georgetown try to provide the know-why. We complement each other."
Dr. Leonie Lethbridge, Chief Operating Officer and Executive General Manager of Commercial Bank, remarked: "Excellent Cyber Security is key to economic development and to the prosperity of us all. Commercial Bank is very pleased to be able to support this important initiative of Georgetown University Qatar and Community College Qatar that increases Qatar's cyber awareness and capability."
The founding of the partnership between the two universities comes at a time of increased turbulence in regional and international affairs, and in a digital landscape that is constantly evolving, requiring an understanding of security policies in order to adopt new measures to tackle emerging threats. The group plans to host an array of international experts to discuss these concerns across different sectors, including business, banking, and the military, but its main focus will be on bringing together Doha-based experts in a Cyber Research Group at regular intervals to initiate cutting-edge projects that focus on key issues in the cyber realm that are of relevance to local stakeholders and Qatar.