Research
Georgetown and Northwestern Qatar Multiversity Seminar Reveals the Hidden History of Qatar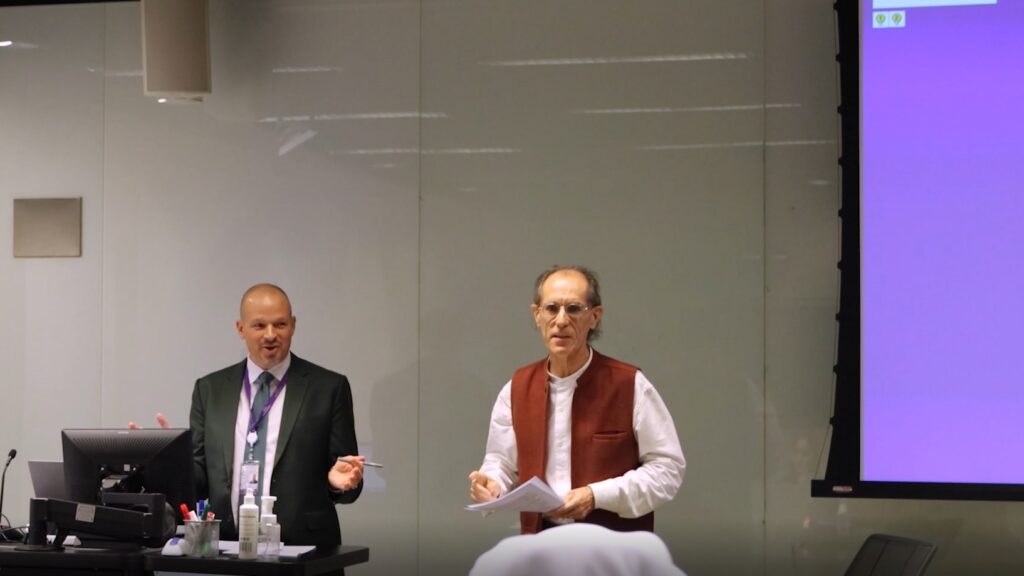 Qatar's rich religious heritage is the subject of a unique multiversity seminar offered jointly by GU-Q and Northwestern Qatar titled "Metaphysics in the Desert and City, Comparative Mysticism in an Arab Gulf Microcosm." The course introduces students from both schools to the connections between Islamic thought, philosophy, and practice in the region.
Taught by professor of African and Islamic history at Northwestern Qatar Dr. Zachary Wright and professor of religious studies at GU-Q Dr. Patrick Laude, the collaborative course capitalizes on the combined expertise of both instructors to examine the philosophical and spiritual traditions in the Middle East from a comparative perspective, with particular reference to Qatar as a cultural resource.
"The story of Qatar, or the story of the Gulf, in general, has been simply reduced to these sorts of symbols of camels, pearls, or oil. And we want to move beyond that narrative," explained Dr. Wright. Moving beyond conceptions in popular culture reveals the complexity of Qatari identity and allows for exploration of the differences between life in the desert versus life in Doha, and examples of interfaith dialogue in the ongoing evolution of the region's spiritual and religious practices.
While both universities offer programs in the social sciences and humanities, explained Dr. Laude, their respective focus on media and journalism and international affairs offer the opportunity for fruitful dialogue and exchange. "From the point of view of collaboration, what I find most interesting about this course is that you learn [from each other]: first of all, in terms of content, but also in terms of pedagogy, style, student engagement, and raising questions."
"As an international student, I was really interested in learning more about both Qatar and Islamic history," said GU-Q student Sagar Rathi. "I was also drawn to the opportunity to share the perspectives of Northwestern students and to hear from diverse professors and experts on the topic."
To offer a comparative approach to understanding Islamic practice, the seminar also features guest speakers including Suzanne Mirghani from GU-Q's Center for International and Regional Studies, and Dr. Akel Kahera, distinguished professor of architecture at HBKU College of Islamic Studies. Students will also study the work of contemporary figures including Yasser Al Mulla, an artist and Qatari agricultural engineer tasked with preparing grass pitches for the 2022 World Cup.
Northwestern Qatar student Areesha Khan Lodhi noted that the seminar is unique among offerings by the universities. "The network that these professors bring in, and then the learning that comes with those guest speakers is a one-of-a-kind experience." The semester isn't over yet, but Areesha said the seminar has already had an impact. "I've understood that there are still a lot of diversities and differences, especially in terms of the history of Qatar, the religious history."
This is the fourth year that the Doha Seminar has been taught jointly by Northwestern Qatar and GU-Q. Launched by Northwestern Qatar in 2014, the seminar serves as a model for collaboration between partner universities in Education City and contributes to the fulfillment of Qatar Foundation's multiversity vision.