Faculty, Research
Georgetown Arabic Program Launches Qatari Phrasebook App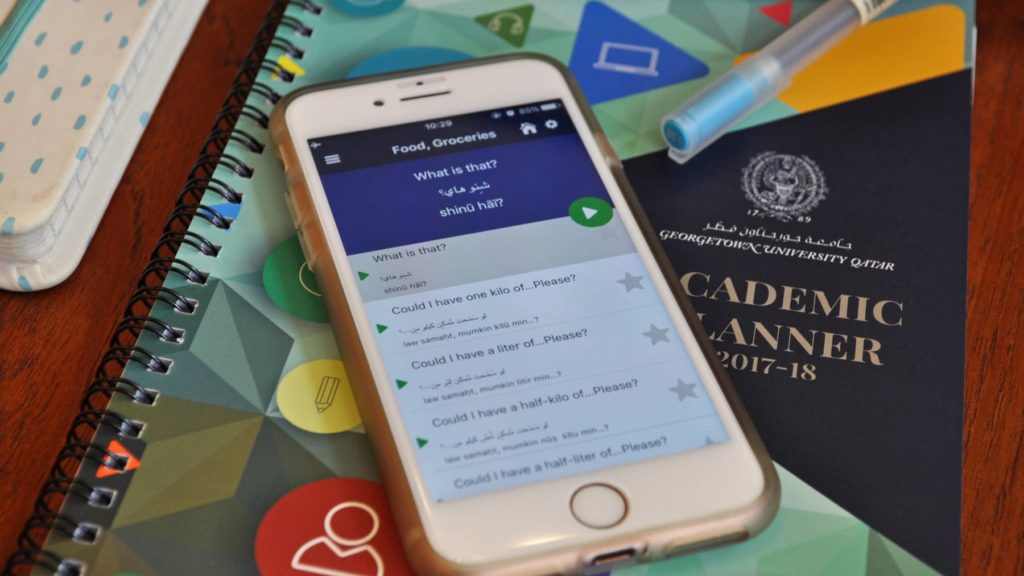 A new free app from Georgetown University in Qatar's (GU-Q) Arabic language program aims to make it easier for expatriates and tourists to strike up conversations with locals in Qatar. The Qatari Phrasebook app is a quick reference guide that provides users with both the written and spoken form of more than 1500 common Arabic words and phrases, as well as pronunciation tips.
The app, which is available for Android and iOS devices, specifically focuses on the dialect spoken in Qatar. Its creator, mobile learning specialist Hany Fazza, came up with the idea after hearing from Qatar residents who wanted to learn conversational Arabic but couldn't attend formal classes.
"I thought, 'They are non-native speakers, they are working here, and they don't have time to go to evening school. What about if I create something that is cheap and easy to use?'" said Fazza, an Arabic language instructor at GU-Q. "The common mobile applications we have are for Modern Standard Arabic – you will find very few applications that have something to do with the dialects."
The Qatari Phrasebook app is divided into different sections (including greetings, shopping, transportation, weather, and finance) and provides users with the Arabic text, spoken pronunciation, and phonetic spelling of each term. By using the phrases in the app, English speakers will be able to order food, ask for directions, and interact with shopkeepers, among others. The phrasebook works offline, allows users to star favorite phrases for quick access, and is easily searchable.
The app, which took two years to develop, was funded by a GU-Q faculty research grant and features the voices of five GU-Q students. The students, who are native speakers, gave their time to record the pronunciation of popular phrases and helped identify commonly used terms. 
Fazza is currently working on a number of e-learning projects, including an app to teach Arabic speakers prepositions, and an e-book for beginners to learn to read and write the Arabic alphabet. He has also previously taught a GU-Q community class to enable teachers to create engaging lessons using tablets and mobile phones, and presented at conferences such as the AppsEvents Qatar Summit featuring Google for Education.
The Qatari Phrasebook app is available for free in the Apple App Store and Google Play.