Georgetown Brings World Cup Fever to Washington, DC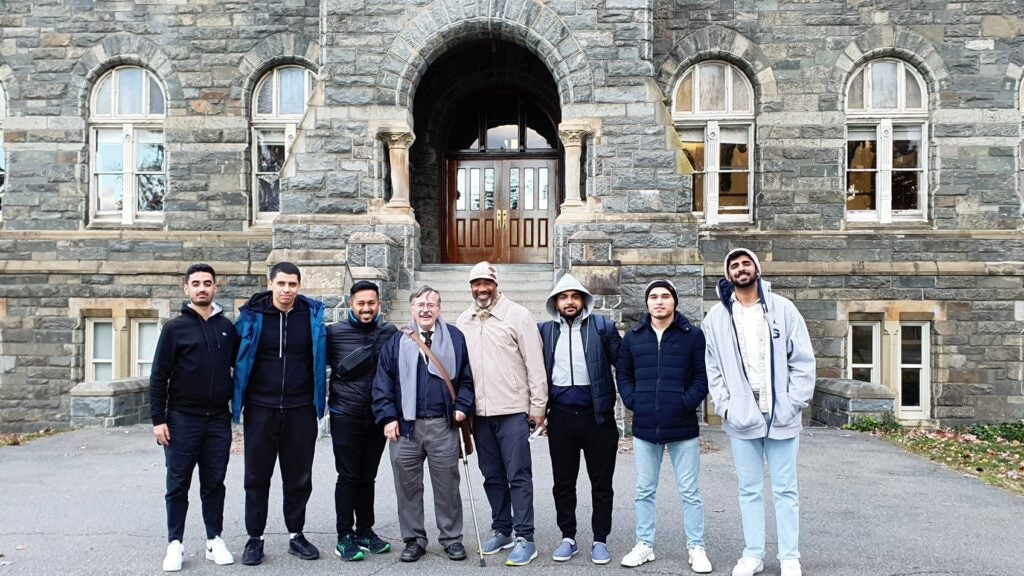 As sports fans from across the globe began streaming into Doha, GU-Q brought a range of student athlete activities, academic lectures, and World Cup kickoff celebrations to Georgetown University in Washington, DC, aimed at strengthening the bonds between both campuses.
The week-long series of events included the DC-Doha Dialogue initiative for GU-Q student athletes, who learned about the community development initiatives of a local NGO, visited sporting facilities in DC, and cheered at a Washington Wizards NBA basketball game. And at a sit-down meeting with Executive Director Fatima Al-Dosari of the Qatar America Institute for Culture (QAIC), they learned about the non-profit's work in strengthening cultural understanding between the two nations.
Dialogue participants were also invited to a special lunch hosted by GU-Q dean, Dr. Safwan Masri. "Breaking bread with GU-Q students and alumni taking part in the DC-Doha Dialogue and their Georgetown University peers was a wonderful opportunity to enjoy an excellent meal while building and strengthening connections within our GU-Q community and across both of our campuses," noted Dean Masri.
While in DC, the dean offered opening remarks at lectures featuring GU-Q and international sports scholars covering Qatar's historic role as host of the World Cup and the experiences of being both sports scholars and sports enthusiasts. The dean also hosted an exciting and widely-attended FIFA World Cup kickoff party and invited everyone to attend match viewings organized on the DC campus in the weeks ahead.
International Politics major Abdul Hannan, who traveled to DC as part of the initiative, said meeting local athletes and sports and civil society advocates will have a lasting impact: "I felt inspired by their work ethic, passion, and perseverance in their respective fields. I hope to create a structure within our Track and Field Club at GU-Q that promotes and cultivates similar values in our students in Education City."
Students also gained insight into the history of Georgetown and its partnership with Qatar Foundation. On a tour of Georgetown's historic campus, 40-year veteran of the university John Q. Pierce shared Georgetown's role in a newly independent United States, saying that the founders of both the U.S. and Qatar "had an insight that if you were going to have a successful country you needed educated citizens." He also drew parallels between the highest ideals of the university and its international character, "which is very significant in relation to what we do in Qatar."
International Economics junior Shokhrukhbek Nurmatov said the week of events aligned with his passion for sports, introduced him to strategies for strengthening the sporting culture in Education City, and highlighted the critical impact of sport on individuals and communities. "It is the sense of belonging, a sense of identity to a particular group they support. And that all helps unite us together."