Research
Georgetown Brings an International Affairs Education into the Metaverse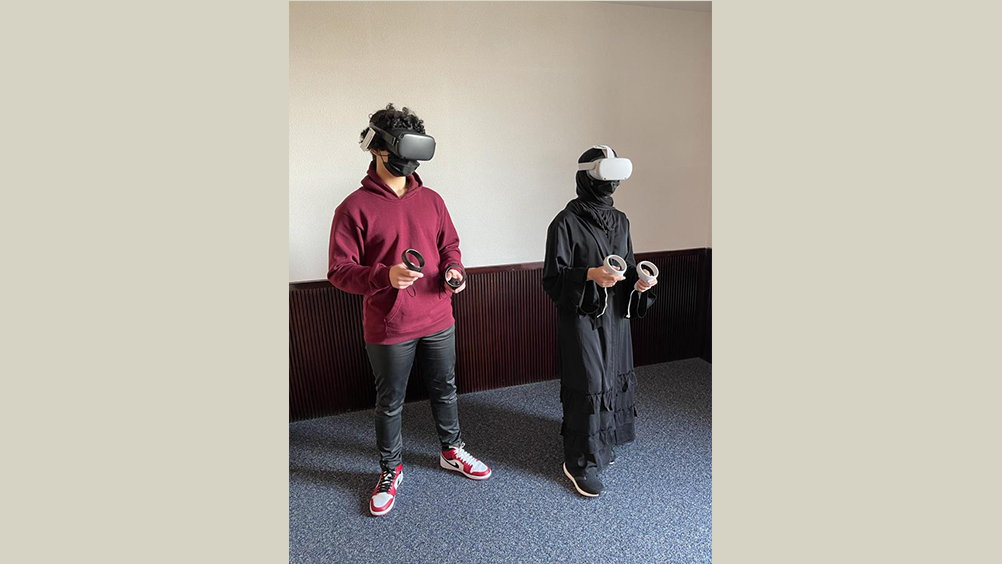 With the use of immersive, hands-on virtual reality (VR) technology, GU-Q students explored a social justice initiative while learning how digital innovations have transformed society and the future of education.
The course, titled Sociological Imagination of the 21st Century, was taught by Dr. Christine Schiwietz, and consisted of lectures and seminar-style class discussions brought to life with the use of Oculus Quest VR Headsets.
The virtual reality component of the course involved the translation of a documentary film into a VR space and experience about the GU272 Slavery, Memory, and Reconciliation initiative on Georgetown's campus in Washington, DC.
The VR experience was followed by classroom discussions on the ongoing efforts to understand and respond to the university's role in the injustice of Black slavery and segregation in the history of the U.S.
Technical support came from academic librarian Robert Laws, who developed the design, conceptualization, and data visualization components of the virtual viewing. The project included 3-D views along the GU slavery archive walking tour, as well as interviews with scholars, historical artifacts from the GU archives, music from famous African American composers, and videos.
"We thought this course was a great opportunity to integrate our passion for VR and teaching to offer a unique experience involving Georgetown's Slavery Memory and Reconciliation initiative," said Dr. Schiwietz. "By creating a VR documentary, we were able to help students at GU-Q feel more connected to Georgetown's campus in Washington, DC, as they explored the initiative and the social justice values that are driving it."
To capture the VR footage, Laws traveled to Washington with 360 degree cameras and equipment, and returned to GU-Q to produce it into VR content using special software. For Laws, the project was an exciting look into the possibilities of an emerging technical space, particularly for education.
"This tech is developing across disciplines, from the natural sciences to the social sciences and humanities, and is almost at a tipping point in terms of being more widely adopted and more a part of our day to day experience. As VR headsets improve and become increasingly affordable and 5G becomes more prevalent, I think we could be seeing big changes on the near horizon," said Laws.
Dr. Schiwietz also recently co-authored a chapter on the important role internationalized higher education institutions play in shaping and transforming societies through experiential global learning. "Virtual reality takes experiential learning to a whole level, and it is only a matter of time before the technology becomes standard in school curriculums. The future of education is already here, and we've only begun to identify what it offers."
The innovative course was one of GU-Q's proseminars, small interdisciplinary courses required for first year students. They explore new ideas, create student connections, prepare students for the rigors of university academics, and teach critical approaches to the study of global issues.