Other
Georgetown Concludes Pre-Summer College Program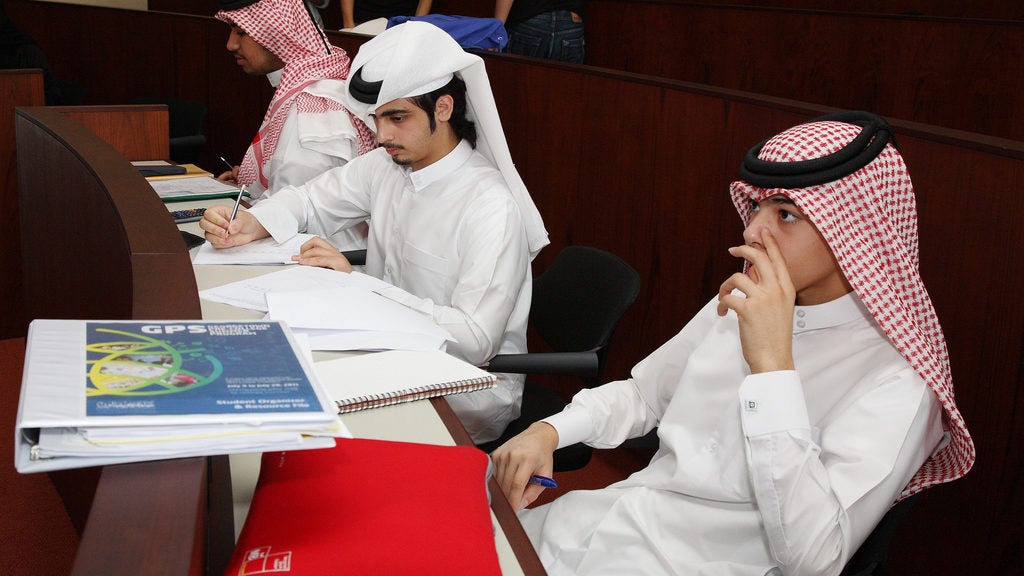 Forty high school students participated in the Georgetown University School of Foreign Service in Qatar's third annual Pre-College Summer Program (GPS), which concluded today. The full-time, three-week long program began on the 9th of July and involved classes in a variety of academic subjects designed to train students in skills necessary for university admittance and university life.
Two students traveled a considerable distance from the United States to Qatar in order to participate in GPS this year. "I have always been very interested in the Middle East and am aiming to study at SFSQ in the future; this program is a perfect way for me to discover how university life in SFSQ will be and to give me an idea of what life in Qatar is like," said Adam Coll, who traveled from Boston to attend the program.
His fellow American student Maximillion Harris from Chicago, added, "I find the program dynamic and interesting, I am learning a lot and I hope to use these skills in my application to Georgetown and other universities."
In addition to English language classes that aim to develop students' reading, writing, note-taking, research, and presentation skills, the program offers two levels of math classes, with a focus on applying mathematical knowledge to solve economics problems. GPS also incorporates preparation courses for the SAT standardized test, which is a requirement for admission to many universities including Georgetown SFSQ. During the program, students also participated in supplementary practical workshops aimed at training them in library research skills, admissions and career topics such as CV writing and interview skills, and general wellness and time management techniques.
The GPS program also allows high school students to get a taste of a Georgetown SFSQ education through sampling courses in international affairs in a series of classes conducted by the Georgetown faculty. These classes introduce students to the majors offered at Georgetown SFSQ: International Politics, International Economics, and Culture and Politics. Dr. Daniel Westbrook, an assistant professor at Georgetown University, commented; "I enjoy taking part in these programs because I want these young students to have an accurate idea of what we offer here at Georgetown. This helps them make a more informed decision while simultaneously preparing them with skills they need to succeed in an institution such as Georgetown."
This year's program attracted a variety of students from 24 different schools, including nine different Qatari independent high schools; ten of the forty GPS participants were from Omar Bin Al Khattab independent secondary school for boys.
Qatari student Khalid Al Khulaifi returned for a second summer at GPS, and joined Adam and Maximillion in their enthusiasm for the program. Khalid's passion is politics and debate. "Life is all about politics" he said, describing the GPS program as a "perfect combination of both my passions" because it allowed him to practice debate and presentation skills in global and regional topics of his interest. He was particularly enthusiastic about the MUN activities offered during the three-week program.
Speaking on his participation in the GPS writing workshops, which focused on college application essays, Khalid said: "I know I am a confident speaker and presenter because of my experience on the national debate team at my high school, but GPS has also helped me express myself just as confidently in my writing."Khalid is keen on graduating high school next year in order to pursue his university degree in International Politics at Georgetown University in Qatar.