Other
Georgetown Graduates Plan for an Impactful Future in International Affairs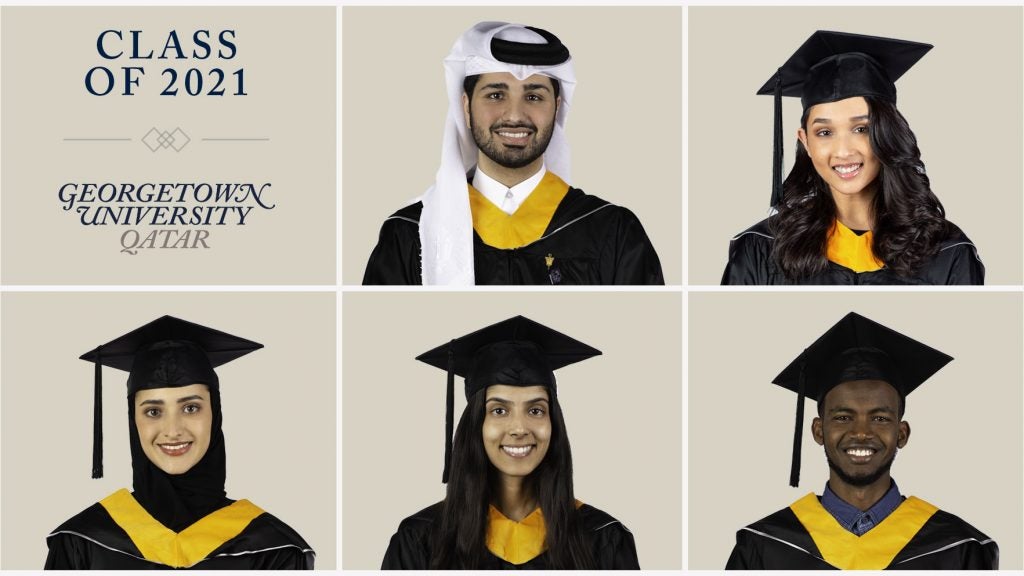 The Class of 2021 at QF partner Georgetown University in Qatar (GU-Q) is preparing to take the next steps on the education journey. Making a lasting impact in the classroom and beyond, these graduating seniors successfully faced the challenge to achieve academic excellence while engaging with their communities, and garnered recognition for their accomplishments along the way.
Saoud Al-Ahmad developed an interest in foreign affairs in high school, saying: "Studying international affairs made sense and I knew I wanted to go to Georgetown." At GU-Q, he delved into Qatar's rich cultural heritage through a degree in Culture and Politics, conducting research for an Honors thesis on Qatari identity, and promoting the Arabic language through various campus clubs.
Saoud credits one guiding principle for his academic success. "I only pursued topics that interested me. Having a passion for what you study makes a difference." That included an internship at the Qatar Financial Centre Regulatory Authority to expand his skill set. "A Georgetown education prepares you for so many career paths. You can fit anywhere. I can't think of any other degree that gives you that level of flexibility."
GU-Q presented International Politics major and National Political Science Honor Society member Amna Salatt the opportunity to attain a competitive degree at a prestigious university close to home, while also offering study abroad options on Georgetown's Washington, DC, campus. Amna visited public and private schools as an Akhlaquna Award Ambassador, a QF initiative designed to provide support for students developing community-based projects.
Through the Qatari Embassy in DC, Amna represented Qatar as a Points of Light and Qatar Civic Century Fellow, taking part in a virtual conference centered around public engagement. She also volunteered with the HELP organization, a student-led initiative that organizes tutoring sessions for the university's service providers.
Putting her Arabic language skills honed through GU-Q's Arabic program for native speakers to the test, Amna took on the challenge of working with complex case files as a litigation intern at Al Tamimi law firm, and has plans to apply to law school in the future. "It was a great experience to apply my abilities to a challenge, and to learn more about Qatar's legal system."
International Economics major Mustafe Axmed plans on using the skills he gained at Georgetown to give back to his pastoral farming community in Somaliland. "Families are always on the move, following the grazing herds of livestock. So it's difficult for many young people to access education," he said. He shared stories of those challenges at a joint GU-Q and Education Above All panel discussion on the impact of displacement on education. He also won $10,000 in funding from Davis Projects for Peace for his "Think and Share" campaign to engage Somali youth in peacebuilding across tribes.
In the classroom, Mustafe earned membership into the National Economics Honor Society, with plans to continue his studies in Islamic finance in order to contribute to Somaliland's economic development. "My aunt would often tell me you are one of the few in the family who got this opportunity. There are others who need you and your effort. So don't waste it."
Phi Beta Kappa Honor Society member, accomplished violinist, and International Politics major Adithi Sanjay has advice for the incoming class: keep an open mind. "I know it's cliché, but it's something I've learned from personal experience." Adithi began her undergraduate career at Georgetown's Washington, DC campus and transferred to GU-Q in 2020. In DC, Adithi was part of Georgetown Global Consulting (GGC), a student-run organization that consults for NGOs and MFIs in developing countries. As a three-time Project Manager at GGC, Adithi leveraged her knowledge of politics, economics, and business to make an impact in the developing world.
Adithi has also made waves in Qatar, winning the CIRS 2020 Paper Competition and the GU-Q Summer 2020 Research Competition. In September, Adithi will begin an MSc Management program at Imperial College London, in order to launch a career in management consulting and further explore the nexus between business and international development.
International Politics major Fatima Al-Naimi spent her early years in London before returning home to Qatar, where she has contributed to shaping Qatar's future. Her writing for a dedicated website called Women of Qatar shared stories of their achievements, and her work at Education Above All focused on making education accessible in refugee camps. She also contributed to a QF policy report on accessibility.
Through a Certificate in Media and Politics, a program GU-Q offers in partnership with Northwestern University in Qatar, she won Best E-Portfolio for her research on the role of social media in women's rights campaigns. She also tackled the far right's anti-immigration influence in British politics through an Honors thesis. "My time at GU-Q was more than just an academic experience. It shaped me as a person."
Irene Promodh's college career has been defined by an unshakable belief in the power of community activism and an impressive research outcome. In her very first year, the International Politics major joined the HELP tutoring program for service providers, working her way to the role of president by her third year. Working with a core team of students, she helped introduce major changes to the program. "There was a change in the company that provides service on campus, which meant we had a new cohort of service providers with very different expectations and needs. So we introduced curriculum changes including more advanced classes in computer literacy and writing to cater to the new service providers' skills and needs."
She is also the founder of the Beyond Limitations music program for disabled children, reaching out to local special needs schools to explore opportunities for positive and constructive engagement with Hoyas on campus.
As part of her Certificate in Media and Politics, Irene conducted an ethnographic study of the role of FM radio in Qatar's South Asian community, work that was published by the peer-reviewed Journal of Ethnic and Migration Studies, marking an impressive scholarly achievement that is usually reserved for graduate students or established scholars. She was also a student research fellow at GU-Q's Center for International and Regional Studies (CIRS). "My time at CIRS helped me develop the skills to read, research, and write academically about regional matters and concerns."
Her exceptional scholarship at GU-Q made an impact, and she's been admitted into the Ph.D. program in socio-cultural anthropology at the University of Michigan."I discovered my passion for Indian Ocean studies at GU-Q. It was never something I even thought of very much before I came here. I'm indebted to my faculty mentors for this reason."
Students at GU-Q earn the same globally recognized Bachelor of Science in Foreign Service (BSFS) degree offered on Georgetown's Washington, DC, campus. This year's graduates will be joining a growing network of 190,000 Georgetown alumni, which provides lifelong career development and worldwide networking opportunities at all stages of career development across diverse industries including oil and gas, governance, media and communications, education, and finance.