Other, Research
Georgetown Hosts High Level UN Officials at Public Event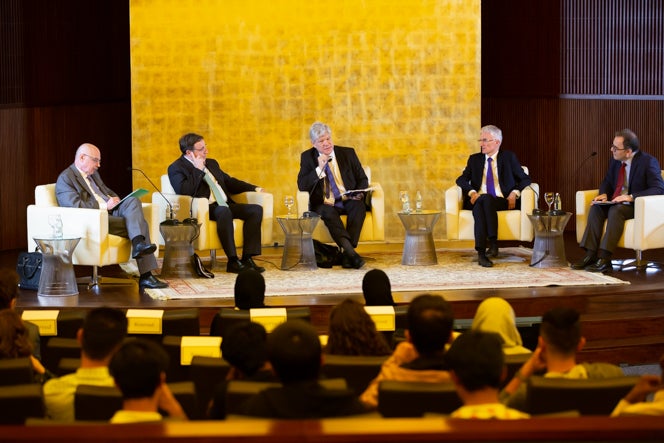 United Nations (UN) Under-Secretary-Generals and other high level UN officials recently convened at Georgetown University in Qatar (GU-Q) for a panel discussion titled "United Nations at a Crossroad: Issues, Challenges, and Opportunities." The panelists discussed the future of the organization as it prepares to turn 75, and addressed current global issues including terrorism, displacement, disruptive technologies, inequality, and sustainable development in times of conflict.
The event, which was facilitated and attended by H.E. Ambassador Sheikha Alya Ahmed bin Saif Al-Thani, permanent representative of the State of Qatar to the UN, was also open to the public and attended by government officials and members of the diplomatic community. A question and answer session capped off the discussion, with topics ranging from gender equality, to relief efforts in Yemen, to the UN's role in the blockade against Qatar.
The dean of GU-Q, Dr. Ahmad Dallal, gave the opening address, where he said: "As a school of foreign service, our faculty, staff and students have a great interest in the activities of the UN, and know that the greatest knowledge comes from the lived experience of those who are seated at the tables of global diplomacy."
In his remarks, panelist Achim Steiner, UNDP Administrator and Vice-Chair of the UN Sustainable Development Group, stressed the importance of having a forum that gives every country a right to be heard as a necessary foundation for reducing conflict. Regardless of rising divisions, he added, it is more important than ever for nations to work together to resolve globally linked crises.
Vladimir Voronkov, Under-Secretary-General of the UN Office of Counter-Terrorism, said that trust and confidence are key aspects of successful multilateral international diplomacy, and pointed to climate change and migration as two of the most pressing issues facing the world today, a view shared by several panelists.
Fabrizio Hochschild Drummond, Special Adviser of the UN Secretary-General on the Preparations for the Commemoration of the UN's 75th Anniversary, identified an upsurge in insular national policies, a loss of faith in the international order, and "multilateral fatigue" as the major challenges faced by the organization today. The solution, he explained, is to make the process more inclusive, boosting the role of smaller states and bringing non-state stakeholders to the negotiating table.
Recapping the themes of the evening talk, panelist Mark Lowcock, UN Under-Secretary -General and Emergency Relief Coordinator, stressed that the humanitarian crises in the world are symptoms of underlying causes that require direct action in order to promote development and establish peace and security.