Students
Record-breaking MUN Conference for 500 Local Students at GU-Q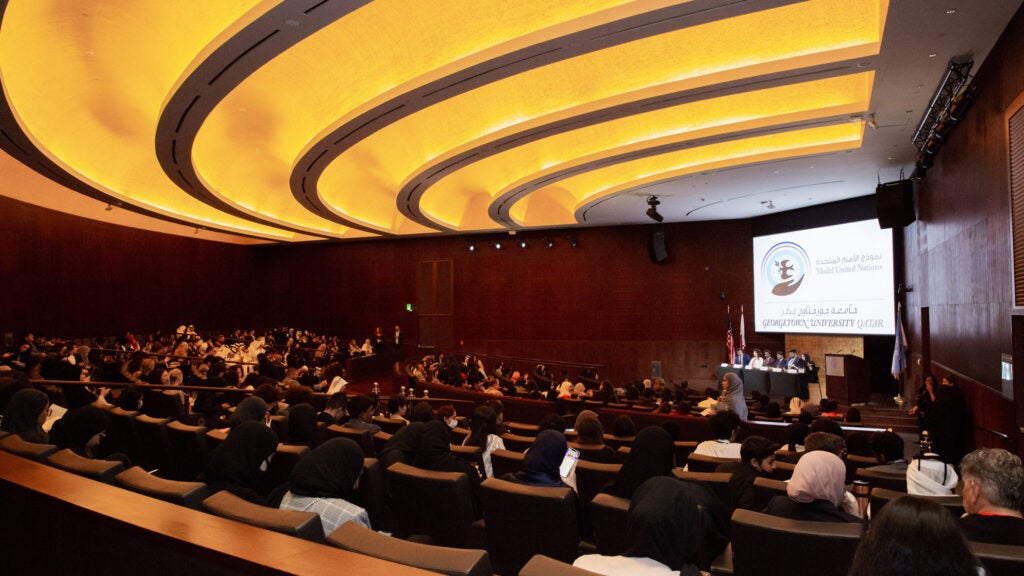 More than 500 high school students in Qatar took part in the recent Model United Nations (MUN) conference hosted by Georgetown University in Qatar (GU-Q), making it the most highly attended MUN program in GU-Q history. Held under the theme "Diversity and Integration in a World of Conflict," this year's Fall MUN drew participants from 45 local schools and boasted 75 GU-Q student volunteers and 50 high school counselors, turning the university's building in Education City into a buzzing scene of international dialogue, diplomacy, and global citizenship. 
Topics covered in committees are taken from the agenda of the real United Nations, including water and food security in a post COVID-19 world, girls' education in conflict zones, the threat of terrorism, corporate social responsibility, the persecution of Muslim minorities, and political stability in post-Arab Spring countries.
International History major and this year's MUN Secretary General Benjamin Kurian believes the program plays an important role in developing future leaders who will have to grapple with these crises. "We live in a world filled with conflicts," he said, adding that many of these conflicts require direct dialogue and diplomacy to resolve. "MUN trains the students for that," he said.
Samantha Isabel Facun (SFS'25) is now a Culture and Politics major, but was introduced to GU-Q as a high school MUN delegate. "It was both enriching and challenging to participate in meaningful discourse regarding global relations and issues. And now as a GU-Q student, I want to be a part of the people who help students realize their talents and skills in diplomacy, debate, research, and critical thinking."
As mentors, university students have a lot to offer participants as they build their skills through the experience, says John Carlos Burog (SFS'25), a Culture and Politics major and the MUN's Chair of the Arab League. "I believe that these skills will make them successful in their future college lives and careers." But the benefits work both ways, he added. International Politics major Emilia Pacheco De Larrea (SFS'25), agrees. "As a member of the MUN faculty, there are many opportunities that involve leadership, communication, creativity, and working under stressful situations."
Jibin Koshy, Educational Enrichment Manager at GU-Q and program organizer, said "The Fall MUN is one of two engaging and immersive MUN conferences we host for high school students, and is easily the largest experiential learning program we offer to hone students' skills in critical thinking, negotiation, research, writing, and public speaking. It was wonderful to see this level of engagement, and we hope to see a similar spike at our flagship conference we hold each spring for both local and international students who fly into Doha for the experience." The conference is also a chance to learn more about the university and Education City, as well as to meet a diverse group of students and to create lifelong friendships. In other MUN firsts for the university, GU-Q recently hosted the first Education City-wide Model United Nations (MUN) conference for college students and has plans for a full Arabic-language MUN conference soon.