Georgetown Student Club Hosts Mama Baba Ganoush for a Lesson in Sustainability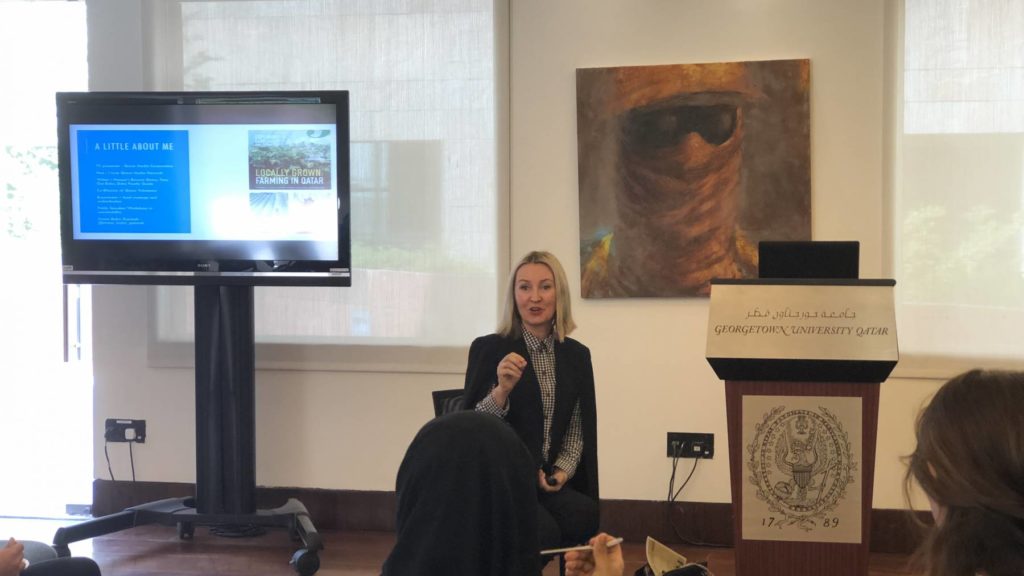 Well-known Doha personality, food writer and public speaker, Kim Wyatt, was the guest speaker at a recent sustainability awareness event sponsored by the Sustainability Club at Georgetown University in Qatar (GU-Q), titled "In Conversation with Kim Wyatt: Sustainable Businesses in Qatar."
Affectionately known as "Mama Baba Ganoush" in the Doha community, Kim Wyatt's discussion on the fertile market for green businesses in Qatar was part of the Sustainability Club's Lunch and Learn Series, part of the student club's efforts to educate and raise awareness of issues relating to sustainability at GU-Q, Education City, and the broader community which also includes providing zero waste alternatives to disposable products and leading trips to sustainable businesses in Qatar.
Kim Wyatt noted that she feels "very strongly about sharing knowledge and information with people. So it's especially important for me to reach out to students so they can feel empowered to make positive and proactive choices. Speaking to the GU-Q students was a fantastic experience and I hope that they feel inspired and encouraged to step into the flourishing world of sustainable entrepreneurship."
Ms. Wyatt identified the food and fashion sectors as the largest producers of waste in Qatar, noting that one third of food produced for consumption is wasted, mostly by the hotel and service industry. As a solution, she urged an expansion of environmentally conscious businesses and the important role of future entrepreneurs in making that change.
Salma Hassan, a GU-Q senior and the president of the Sustainability Club, expressed her appreciation for Wyatt's presentation, describing her as a "pioneer of sustainable businesses in Qatar. She provided our students with valuable information on starting green businesses."
This event is closely aligned with Georgetown University in Qatar's commitment to Sustainability, says Thameena Hussien, Sustainability Lead at GU-Q. "The university aspires to minimise its impact on our environment and maximize the effective use of resources. We strive to achieve this by increasing communication and awareness of our efforts in accordance with this policy and fostering responsible environmental behaviour among faculty, staff, students, volunteers, and users at all levels."
GU-Q has also been involved in ground breaking research on food waste in Qatar under the project SAFE-Q which was funded by the Qatar National Research Fund under the National Priorities Research Program.
Kim Wyatt is a Qatar based blogger who has started multiple green businesses and describes herself as an "Ecopreneur." She is a strong advocate for lifestyle changes that lead to a more sustainable life.