Students
Georgetown Student Leaders Host Inspirational Workshops at Qatar Youth Power Conference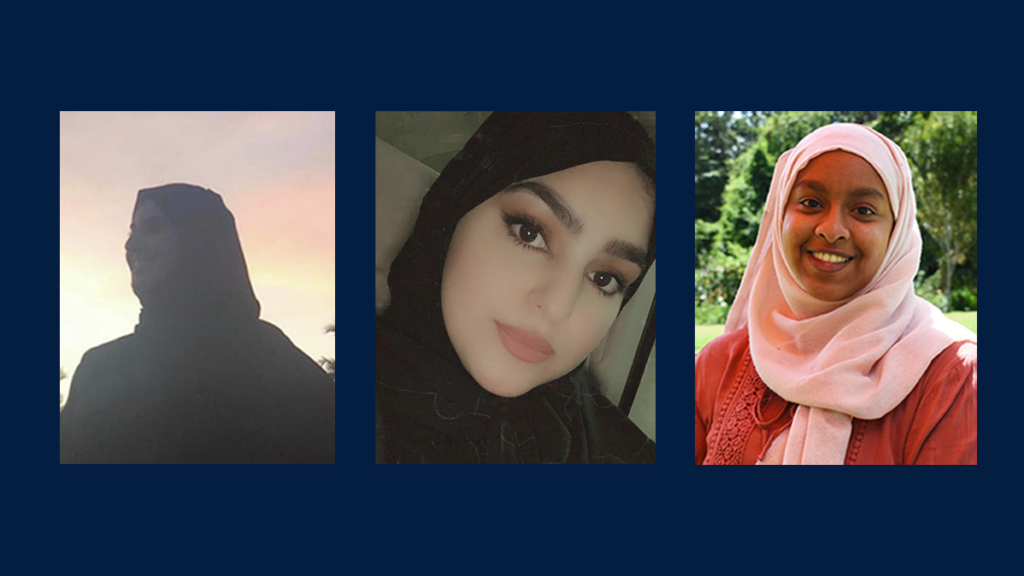 Demonstrating the Georgetown values of Cura Personalis and Contemplation in Action, students at QF partner GU-Q Iman Ismail (SFS'22), Jawaher Al-Shamari (SFS'22), and Mae Al Shebani (SFS'22), served as inspiring role models by hosting workshops during the 2021 Qatar Youth Power (QYP) Conference that took place virtually in partnership with Maker Majlis, a platform under the College of Islamic Studies (CIS) at Hamad Bin Khalifa University (HBKU). 
With the aim of providing opportunities for mentorship from Qatar's emerging community leaders, the conference welcomed young people aged 11 to 25 years old with an array of interactive workshops, keynotes, and panel discussions ranging from sports, entrepreneurship, art, environment, social media, with a focus on self-awareness and self-development.
Hoyas representing The Future is Female (FIF) student group, an initiative focused on empowering women in the region and increasing their participation in the public sphere, offered an inspiring Fireside Chat on the second day of the conference. The panel discussion titled "Reach for the Stars" featured Culture and Politics major Jawaher Al-Shamari, President of FIF, and International Politics major Mae Al Shebani, who works as Head of Outreach at FIF to encourage university and school students to take initiative in their communities. The Qatar Youth Power Conference was founded by Natalie Magness, a high school student and a Future is Female Ambassador.
The panel encouraged participants of all ages to become engaged citizens, to gain awareness of the surrounding circumstances of their respectful societies, and provided a safe space for participants to gain exposure to different perspectives and opportunities to aid in the movement towards a better and brighter future.
"Through our workshop, we aimed to deliver FIF's vision and encourage the youth to aim high as they embark on their journey. We were very proud of the youths' energy and ended the workshop and discussion knowing that our future is in good hands," said Jawaher. "It was wonderful and refreshing knowing the youth are committed to doing better and giving back to their communities."
A second workshop titled "#Faith: Youth on Social Media" featured Hoya Iman Ismail and co-panelist Bayan Khaled, Research Assistant at the Hamad Bin Khalifa University College of Islamic Studies, for a discussion on the way social media has restructured the way we think about ourselves, our belief systems, and our spiritual worlds.
"It was a great opportunity to share some of the research Bayan and I have been doing at the intersection of faith and social media, in particular, on how the youth utilize social media for religious education and development."
That research interest began early in the pandemic, when Iman began working on a GU-Q summer research paper on the ways Muslim communities used social media to cope during COVID-19, a project she eventually pursued under the mentorship of the organizer of Maker Majlis, Dr. M. Evren Tok, Associate Professor of Islam and Global Affairs at HBKU. This is also how she connected with Bayan, Research Assistant to Dr. Evren, on their shared research interests.
"So much has come out of our collaboration, because there are so many knowledge gaps when it comes to understanding how Muslim communities are engaging online." That collaboration included co-organizing a two-day panel at HBKU titled "#IslamGenZ" on Islam, social media, and COVID-19, featuring a Syrian poet and scholars from Rice University, Texas A&M University, and Wayne State University Law School, with future plans to partner on a social media platform called "Inheriting Islam" which Iman cofounded.
Maker Majlis activities are related to the United Nations (UN) Sustainable Development Goals (SDGs). Anyone who has the drive to make the world more just, equitable, and inclusive, is eligible and encouraged to participate in Maker Majlis activities.