Students
Georgetown Students Explore Legacy of Nuclear War in Japan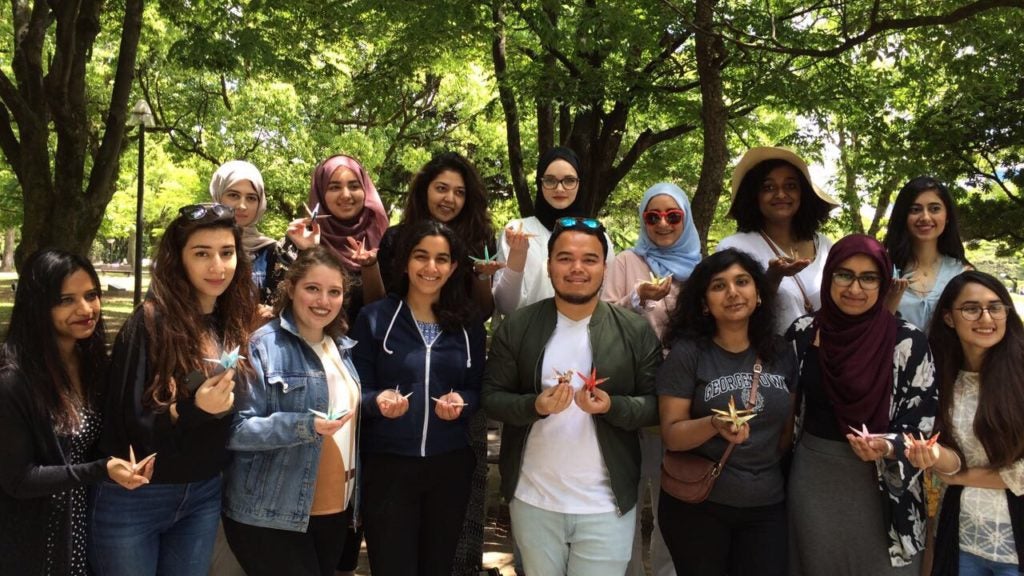 Fifteen Georgetown University in Qatar (GU-Q) students recently returned from a 10 day trip to Japan to study the causes, legacy, and memorialization of the atomic bombing of Nagasaki and Hiroshima by United States forces during World War II. The 1945 event, which killed an estimated 200 000 people, remains the only instance of nuclear warfare in history. 
The students were there as part of GU-Q's unique Zones of Conflict, Zones of Peace program, which takes students to sites of ethnic, political, social, and religious conflict. It aims to provide participants with a greater understanding of the cause of the conflict and the complicated process of reconciliation that follows in its wake.
Interest in the topic of this year's trip resulted in a highly competitive application process, with over 40 students applying for the 15 spots. Those who were selected completed 20 hours of study in the months leading up to the trip, which involved intensive readings, lectures, and class discussions with nuclear researcher and GU-Q faculty member Dr. Kai-Henrik Barth.
"I've been teaching international politics for 20 years, and I always noticed that students don't have a clear understanding of nuclear weapons," said Barth, senior assistant dean for faculty affairs and research administration at GU-Q. "They talk about nuclear weapons as if they would be abstract entities pushed around on a chess board. What gets lost in this is that nuclear weapons have massive destructive effects that kill humans in horrific ways, and we shouldn't forget about that."
The academic coursework covered subjects including the political situation at the time, how the decision to drop the bombs was made, the devastation caused by nuclear weapons, and how the conflict is remembered differently by citizens of the U.S. and Japan. Once in Japan, they were able to see the cities they had studied for themselves. 
"To be able to have the opportunity to travel somewhere with the university and gain experience from the professor that was with us… it was just such a good opportunity. We were prepared so intensely leading up it, that when we went there we were able to identify certain themes in the way the bombings were presented," said GU-Q student Amber Faull-Cryan (SFS '18), explaining how events are memorialized differently in the two cities. "The main message you receive from both of them is peace. It happened in Hiroshima, it happened in Nagasaki, but it can never happen again."
"This trip was particularly comprehensive as our group was able to meet with political entities, non-profit organizations, academics, students, survivors, and research institutions," said Jacqui Snell, educational enrichment manager at GU-Q. "Additionally, we were able to study memorialization through the many museums, monuments, and peace parks. Our students were able to hear a variety of different points of view and perspectives, which enriched their learning and experience."
Established in 2008, the Zones of Conflict, Zones of Peace program is one of the many extracurricular opportunities available to students at GU-Q. The program has previously taken students to destinations including Rwanda, Germany, Poland, Northern Ireland, East Timor, Cambodia, Cyprus, South Africa, Bosnia and Herzegovina, Oman, and Zanzibar.