Research, Students
Georgetown Students Host Pioneering Future is Female Conference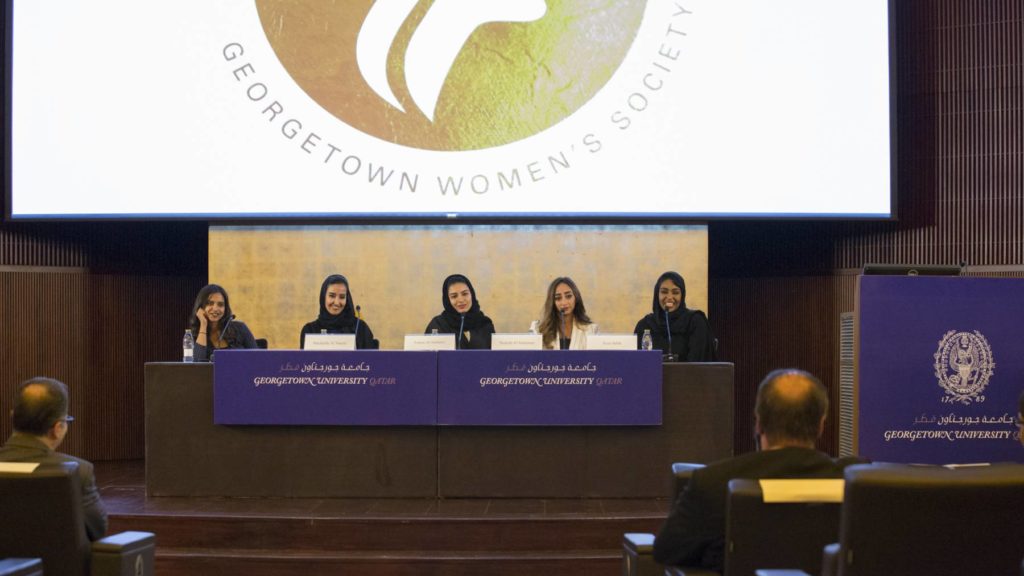 Female industry leaders in Qatar shared their stories at a recent conference at Georgetown University in Qatar (GU-Q). Organized by student club The Future is Female, the conference aimed to inspire the next generation of women to assume prominent roles in the workforce and public sphere.
The Future is Female club seeks to address the disparity between women's education levels and their participation in the labor force in Qatar. It aims to increase the involvement of women by providing mentorship, workshops, and networking opportunities that encourage and ease their transition into the workplace.
"We saw that there was a paradox between women's education in Qatar and their labor force participation; women held two thirds of bachelor's degrees yet constituted a third of the labor force, although their numbers are increasing," explained Asma Al-Jehani (SFS'19), founder of The Future is Female club. "We also wanted to provide a forum for women to discuss issues about gender and society, and to meet other women with the same mindset."
The Future is Female conference, held under the theme 'Shattering the Glass Ceiling: Female Visionaries in the Workforce', featured a keynote speech by Dr. Amal Al-Malki, dean of the College of Humanities and Social Sciences at Hamad Bin Khalifa University. This was followed by panel discussion featuring Machaille Al-Naemi, president of community development at Qatar Foundation; Nourah Al Sulaiman, course administrator at IMF Kuwait; Fatma Al Sahlawi, founder of Atlas Bookstore; and Azza Salah, founder and CEO of Skyclimbers Qatar.
"We hope attendees will learn more about the challenges women face in the labor force and how to overcome them," said Al-Jehani. "Furthermore, we hope to provide a platform for everyone to connect and create a space for women to discuss these challenges."
The conference also showcased the results of two months of recent workshops offered by the Future is Female club, which have been held on topics including negotiation skills, computer science, writing, and art.