Students Share their Museum Passions and Research Projects with H.E. Sheikha Al Mayassa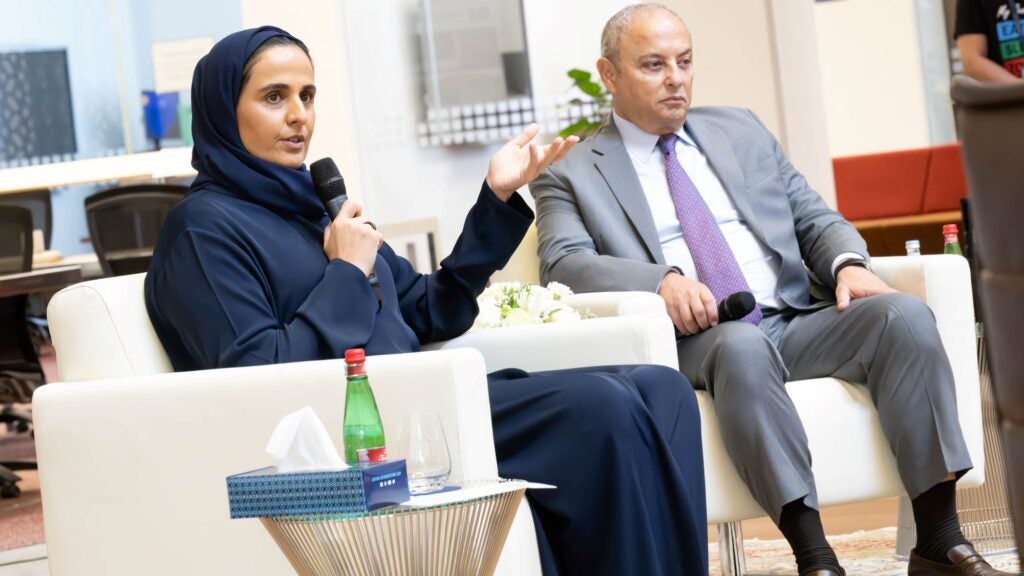 The Chairperson of Qatar Museums, H.E. Sheikha Al Mayassa Bint Hamad bin Khalifa Al Thani, engaged students and graduates of Georgetown University in Qatar (GU-Q) in a vibrant discussion about their vital role as key stakeholders in the continued growth and success of Qatar Museums through their rigorous research and study of politics, economics, history, and culture.
In a conversation moderated by the dean of GU-Q, Dr. Safwan Masri, and held in the university's library, H.E. Sheikha Al Mayassa commended the dean for his efforts in integrating museums into the university's curriculum, particularly highlighting a collaborative class with Qatar Museums titled Theorizing Art in Qatar, which took place at different museums in Qatar each week.
Dean Masri noted, "Our students and alumni shared their ideas, research projects, and experiences about museums in Qatar and were inspired to further the cause of art, heritage, and cultural diplomacy as a central pillar of human development. We are so grateful for our strategic partnership with QM and H.E. Sheikha Al Mayassa's ongoing support for our educational mission."
Alumni and students shared their research projects about cultural diplomacy and art history, and were encouraged by H.E. Sheikha Al Mayassa to share their findings and participate in connecting the dots between cultural institutions, society, the private sector, and educational institutions in order to fully transform Qatar into a knowledge society.
Participants also shared their experiences taking the "Theorizing Art in Qatar" course. For participant Aisha AlMuhannadi (SFS'23), "It was an enriching opportunity…the most amazing part was being able to study in the museums, and touring all the museums that we have in Qatar."
For Benjamin Kurian (SFS'23), the course showed him a new side to a country he grew up in. "I have learned a lot more about Qatar, about the history of this nation and the Arabian Peninsula, and the world in general through my visits to the museums, by looking at each and every piece of art. Having the classes connected to the museum is a change of environment and it enriches your knowledge."
H.E. Sheikha Al Mayassa also discussed the purpose and vision behind the evolution of Qatar's museums, spanning three distinct phases over the past 25 years. She noted that the first phase focused on heritage and identity, with the establishment of the Museum of Islamic Art, Mathaf: Arab Museum of Modern Art, and the National Museum of Qatar.
The second phase concentrated on social development, marked by the recent inauguration of the Sports Museum and the upcoming launch of the DADU Children's Museum. Finally, the third and final phase will highlight global outreach, featuring the Lusail Museum, the Qatar Auto Museum, and other institutions.
In her final words, H.E. Sheikha Al Mayassa encouraged students to think of museums as hubs of learning not just about Qatar, but the world and its interconnections through art, artifacts, and the human experiences they invoke.