Georgetown Students Show Spirit of Service at the World Cup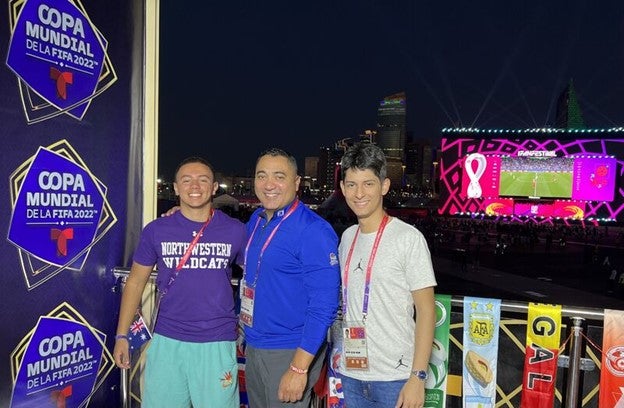 Football is deeply rooted in Latin American Culture. But for Santiago Rubio-Henao, a Colombian international student at QF partner Georgetown University in Qatar (GU-Q), football fever began in Qatar, and the International Politics major is now playing an unexpected role in helping deliver the first World Cup in the Arabic speaking world while furthering his own professional development.
Santiago is a broadcast runner with Telemundo Deportes, the exclusive Spanish-language home of the FIFA World Cup Qatar 2022™ and part of US-based NBC television network's sports division. Since the start of the tournament, he has been providing varied but vital assistance to the production of the network's media coverage, such as liaising between a world-class team of experts and on-air talent, scouting Spanish-speaking fans for interviews, and ensuring that the finer details of operations are running smoothly.
"I've been involved in TV production, interacted with fans from all over the world, and met famous individuals in our studio during their interviews," said Santiago. Covering the tournament for millions of daily viewers means there's no days off, but he says "When you love something, it doesn't matter how much you work. At the end, it's all about that overflowing passion; it's about discipline and flexibility."
That commitment drew the attention of Eddie Maldonado, Vice President of Global Security at NBC Sports, who shared his praise for Santiago and a second student intern from Northwestern Qatar with his social media followers, saying: "I'm always amazed by the dedicated and talented professionals who make up this great team…Both are working with us while on break from their studies in #Doha….What a great start for two future media production professionals."
Santiago is one of many GU-Q students who are contributing to a successful and history-making tournament and giving fans amazing memories that will last a lifetime. Volunteers and interns have taken on roles at FIFA, the Supreme Committee, and with Overseas Networking Group, a partner of Qatar Airways providing VIP experience and an excursion provider for the World Cup Qatar 2022™. They're also gaining hands-on experience managing media licensing and rights for Host Broadcast Services (HBS) as part of FIFA's legacy program, and working at a host of other commercial entities involved in the tournament, including Coca-Cola and VISA.
Students like senior International Economics major Shokhrukhbek Nurmatov have also worked to coordinate Last Mile Cultural Activation activities and programming for the Education City Stadium. "The World Cup has been such an incredible experience for me so far," he said about his work on the Ronaldo Header Challenge and appearing in promotional YouTube shorts and Instagram reels. "Although it was difficult to run the entire activity at times due to the colossal number of fans, the experience has been amazing, with people from different walks of life coming together and sharing the spirit of football."
For Santiago, that experience has also shaped his academic journey. "I was drawn to GU-Q because I knew Georgetown University was an institution with a considerable reputation, but primarily because I wanted to study the Middle East on a small campus where I could engage in solid multicultural exchange. GU-Q ticked all the boxes." Santiago now plans to enhance his studies by pursuing a Certificate in Media and Politics (CMAP), a multiversity program offered jointly with Northwestern Qatar that capitalizes on the strengths of both universities.
"The World Cup has changed my perspective on many things," he said. "Many things that have been said in the media about Qatar are untrue. I live here, so I know they're untrue. Now I want to study how these narratives arise, the interests and factors behind them, as well as to better understand the interconnection between politics, international affairs, and media."