Professional Education
Georgetown to Deliver Custom Master's for MOFA's Diplomatic Institute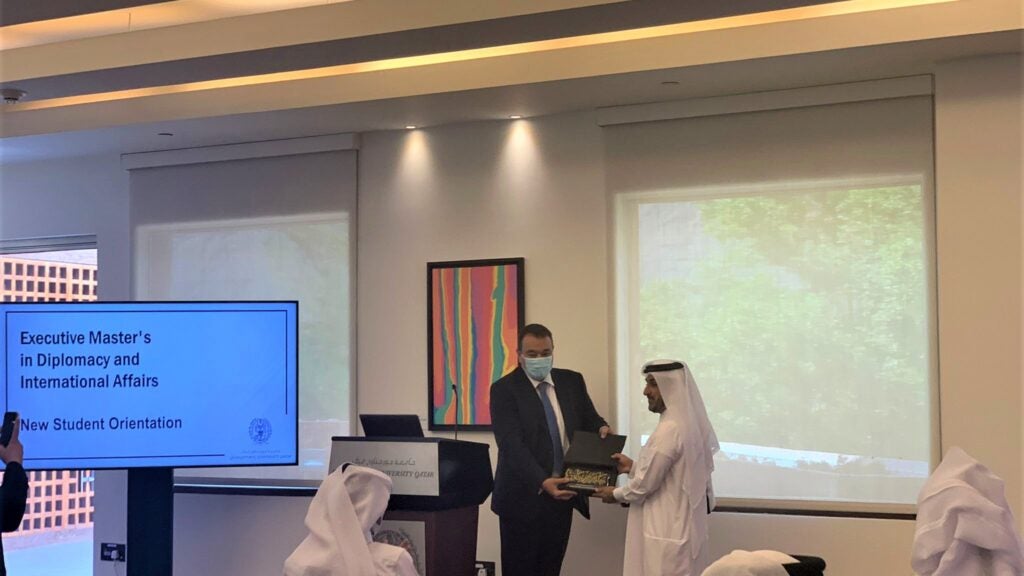 Georgetown University in Qatar (GU-Q), a QF partner, working in close collaboration with the Walsh School of Foreign Service (SFS) at Georgetown University in Washington, DC, and the The Diplomatic Institute of the Qatari Ministry of Foreign Affairs, have pioneered a one-year Executive Master's in Diplomacy and International Affairs (EMDIA). The degree will enhance the ability of MOFA diplomats from Qatar and the Middle East region to formulate and implement effective foreign policy and tackle current and emerging regional and global challenges.
Enrollment in the program is open to nominated Qatari diplomats and officials engaged in foreign or national security policy and other practitioners from the Middle East region. The inaugural cohort of 12 Qatari diplomats have already completed their first residency on Leadership and Crisis Management at GU-Q's Education City campus, taught by Ambassador (ret.) Barbara Bodine, Distinguished Professor in the Practice of Diplomacy and Director of the Institute of the Study of Diplomacy at SFS.
The residency also included a course on "Refugees, Migration, and Humanitarian Crises," taught by Dr. Elizabeth Ferris, Research Professor at the Institute for the Study of International Migration (ISIM) at SFS.
The Dean of GU-Q, Dr. Ahmad Dallal, said: "GU-Q is proud to partner in this collaboration between our Walsh School of Foreign Service and the Diplomatic Institute of the Ministry of Foreign Affairs. This custom designed degree program provides the knowledge, skills, and competencies needed to meet the challenges of global diplomacy and expands Georgetown's academic offerings in support of Qatar's strategic priorities and the Qatar National Vision 2030."
Dr. Abdulaziz Al-Horr, Executive Director of the Diplomatic Institute, said: "Through this customized degree program and partnership with Georgetown, a world-renowned institution of higher learning, the Diplomatic Institute is fulfilling its mission to develop the knowledge and skills of MOFA staff by keeping up to date with current changes worldwide. Through our commitment, we are able to contribute to Qatar's role on the regional and international stage."
The next residency on "Small States and Alliance Diplomacy: Gulf Case Study" will be taught by Dr. Rory Miller, Professor of Government at GU-Q, and Dr. Fahad Al Marri, Adjunct Professor of Government at GU-Q. The residency will also include a course on Development Studies that will be taught by Dr. Shareen Joshi, Associate Professor at SFS.
The year-long program consists of 18 courses taught in ten 3-credit modules, and culminates with a capstone visit to Washington, DC. The first nine modules, each featuring five days of intensive residencies, are taught on campus at GU-Q by scholars, senior fellows, and seasoned diplomats who are affiliated with Georgetown University. The final module in Washington, DC, will include meetings with policymakers and international institutions.