Georgetown University Celebrates 14th Commencement Ceremony in Qatar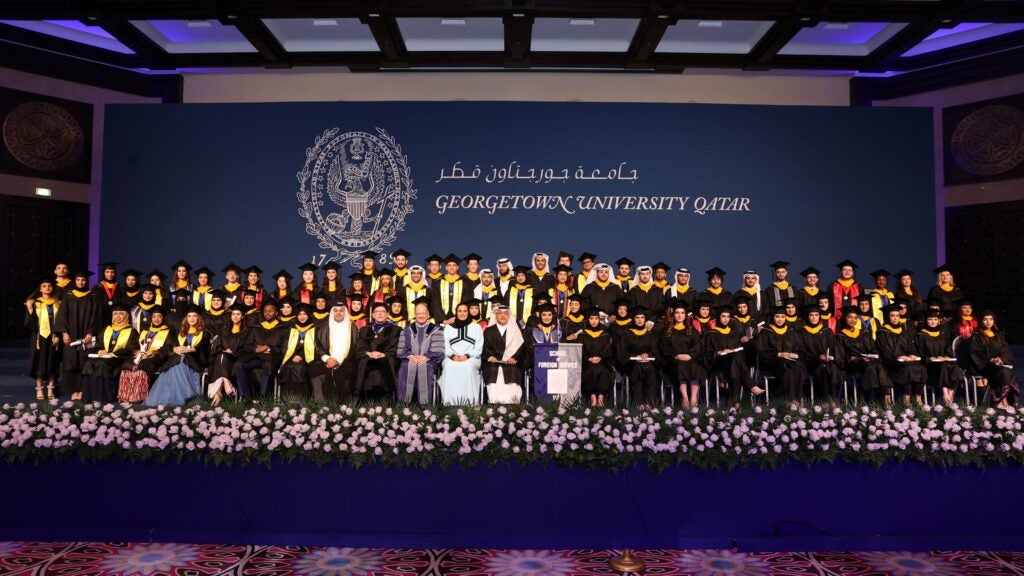 Proud parents and family members gathered at Katara Hall on May 12, 2022 to witness the commencement ceremonies for Georgetown University in Qatar's Class of 2022. The QF partner university celebrated 87 students who joined the more than 600 alumni of Georgetown's Qatar campus, who are pursuing graduate degrees or working in a diverse range of industries including government, business, technology, law, and education.
This year's graduating class included 41 Qataris, as well as representatives from 27 other nations. Graduates earn a Bachelor of Science in Foreign Service, a globally recognized interdisciplinary degree in international affairs which offers students the choice of majors in Culture and Politics, International Economics, International History, or International Politics.
Mr. Ibrahim Jaidah, Group CEO of the Arab Engineering Bureau, and Chief Architect of Ibrahim Jaidah Architects and Engineers, was the special guest at the ceremony. He congratulated the graduates and advised them, saying: "Ambitions and dreams do come true if you have commitment, values and leadership with vision and willingness to accomplish these dreams." He went on to say: "The perfect example is where you are standing, Qatar Foundation; it started as a dream of His Highness and Her Highness and is now a major success. You will be the leaders of the future in politics, economy, history, and academia and your task is to create a better world ecosystem socially, economically, and environmentally. Use the past as a source of knowledge and develop this knowledge to fit future challenges."
Guests at the ceremony included friends and family members, Qatari officials, and members of the diplomatic and international community. Rev. Mark Bosco, S.J., Vice President for Mission and Ministry of Georgetown University gave the benediction, and degree conferral and closing reflections were made by the President of Georgetown University, Dr. John J. DeGioia.
Dr. DeGioia congratulated the Qatar campus's faculty and staff and encouraged the graduates to find their true purpose, saying "It's a great privilege for all of us to be with you at this very special time…Your class will be remembered for the responsibility that you accepted for one another and for those across our communities. The deepest values that shape our community are alive in all of you. You brought out the best in one another. In the tradition that animates our community, we believe that when we seek the best in one another—we will find the very best in ourselves."
The Dean of GU-Q, Dr. Clyde Wilcox, acted as master of ceremony, introducing the guest speaker and congratulating the students on the conferral of their degrees, saying: "Members of the Class of 2022, you richly deserve the congratulations you have just received – you have worked hard, thought deeply, and achieved much during your years at Georgetown. I wish you continued success in your journey."
In addition to the main ceremony, the Tropaia Awards were held prior to commencement to honor major achievements of senior students. GU-Q delivers the same internationally ranked curriculum as Georgetown's campus in Washington, DC. Starting with just 25 students in 2005, this year the number of GU-Q alumni will surpass 700, with graduates representing more than 50 countries, and they join a network of more than 200,000 total Georgetown alumni worldwide.