Research
GU-Q Hosts UNDP Report Country Launch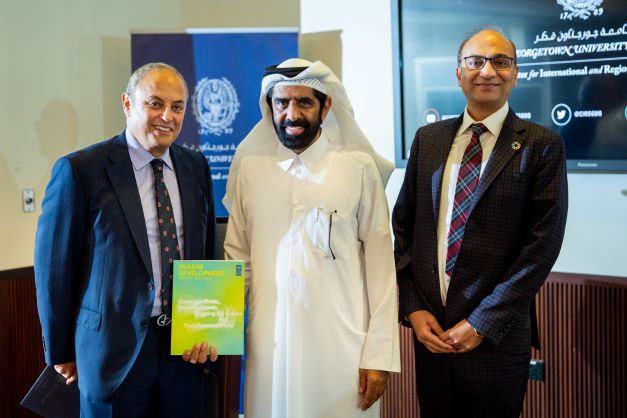 At the country launch of the United Nations Development Program's (UNDP) 2021–2022 Human Development Report (HDR) held at Georgetown University in Qatar (GU-Q), scholars and development experts discussed the unprecedented decline in health, education, and standard of living that has continued into a second year. 
According to the HDR, over 90 percent of nations have fallen backwards in human development in either 2020 or 2021 and more than 40 percent declined in both years as a result of the deepening of multiple crises interacting with widespread social and economic shifts, planetary changes, and spiraling polarization.
During the public event hosted by GU-Q's Center for International and Regional Studies (CIRS), speakers representing the Ministry of Foreign Affairs, UNDP, Qatar Planning and Statistics Authority, GU-Q, and HBKU discussed the findings of the report, titled "Uncertain Times, Unsettled Lives: Shaping our Future in a Transforming World."
Deliberations centered around the meteoric rise in uncertainty and an unsettling of lives stemming from the compounding crises of climate change, political polarization and conflict, societal transformations, and the lasting effects of the pandemic.
Opening remarks were delivered by H.E. Dr. Saleh bin Mohammad Al-Nabit, president of the Planning and Statistics Authority. He drew connections between the report's findings and Qatar's third National Development Strategy currently under development, affirming the importance of "strengthening joint action at the national, regional, and international levels" and reiterating the commitment of the State of Qatar to international cooperation in order to achieve the 2030 Sustainable Development Goals.
This echoes the call in the HDR for a "renewed sense of global solidarity to tackle our interconnected, common challenges" as highlighted by Achim Steiner, UNDP Administrator. Qatar's Human Development Index (HDI), which summarizes the three basic dimensions of human development—a long and healthy life, access to knowledge, and a decent standard of living—showed marginal improvement despite the crisis over 2021, positioning Qatar in the very high human development category of 42 out of 191 countries and territories.
The UNDP report also highlights collective actions to re-establish trust and security and foster human development to regain progress toward the U.N. Sustainable Development Goals. The report recommends a focus on the three I's: investment, insurance, and innovation in its varied forms to respond to future challenges.
Reflecting on the role of education in contributing to the proposed solutions, GU-Q Dean Safwan Masri said: "Education is a critical resource for communities contending with uncertainty. A commitment to lifelong learning improves standards of living through new knowledge and skills that help mitigate unemployment and poverty. Global education also drives the ideals that undergird sustainable development, such as religious tolerance, political and social inclusion, and a just society."
Pedro Conceição, Director of the UNDP's Human Development Report Office and lead author of the report, emphasized that the state of crisis also offers an unexpected opportunity to re-envision a better future. "We argue that uncertainty also provides a context in which people can change the way they see the world and in the way they do things," as well as offering "new reference points for technological breakthroughs, social and fiscal protections, and for altering norms and behaviors."
The panel also featured the insights of Sheikha Hanouf Abdulrahman Al-Thani, assistant director of the International Organizations Department at the Ministry of Foreign Affairs, and was co-moderated by Zahra Babar, associate director of research at CIRS, and Biplove Chaudhary, technical representative at UNDP in Qatar. The event closed with a question and answer session moderated by Mohamed Eskandar Shah, associate dean of academic affairs and associate professor of Islamic Finance at HBKU.