Georgetown University in Qatar Celebrates Class of 2023 Commencement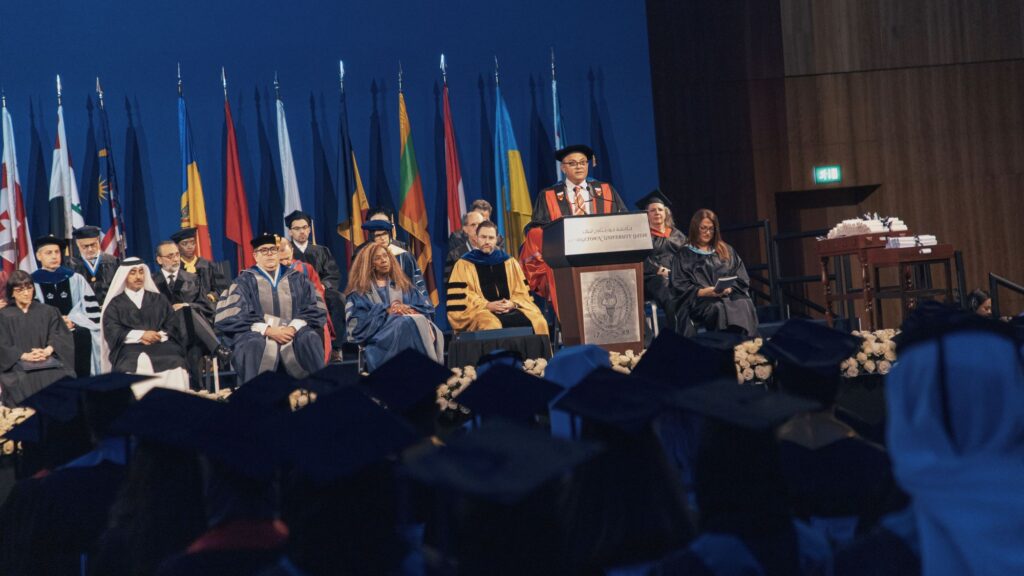 Georgetown University in Qatar (GU-Q), a QF partner, celebrated the remarkable achievements of 105 undergraduate students and 29 graduate students at a commencement ceremony on Thursday, May 11, 2023. The Qatar National Convention Centre (QNCC) served as the venue for the formal event, which drew an esteemed audience of 900 family, friends, university faculty and staff, and dignitaries from both the local community and Georgetown University in Washington, DC.
The keynote address was delivered by Ayman Mohyeldin, renowned journalist and the host of MSNBC's prime-time show, "AYMAN."
"Graduation is not about celebrating the degree you earned or the courses you passed," he said. "It is about remembering how you feel because of what you experienced, what you touched, what you felt, the relationships you made, the way you opened your heart and expanded your mind. In short, you will remember how you felt during graduation because you and only you know the journey you experienced."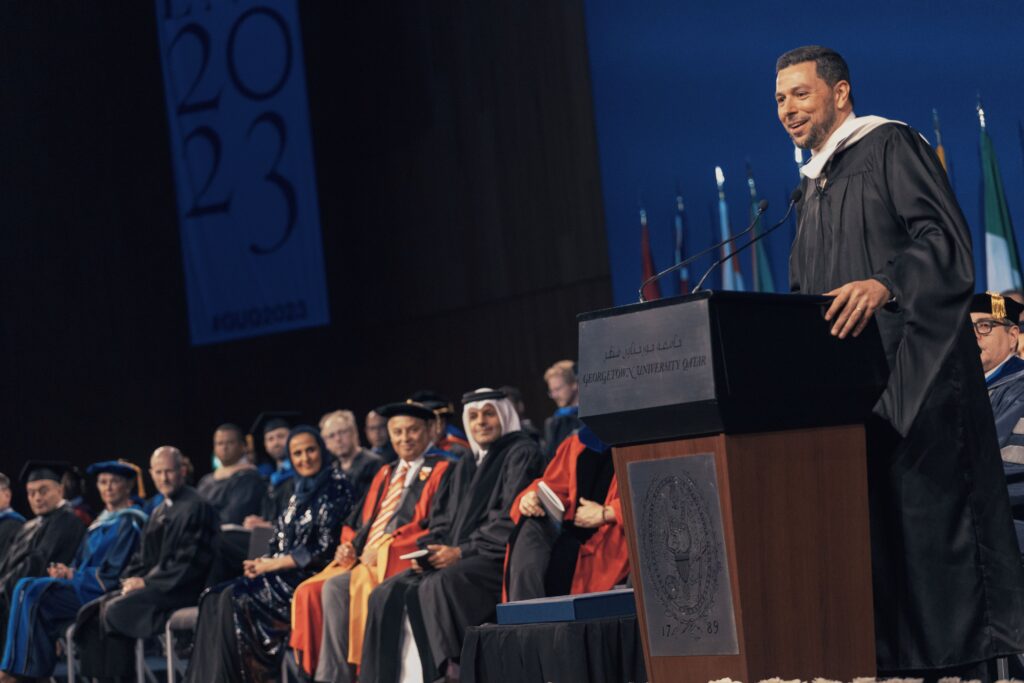 Dr. Safwan Masri, the dean of GU-Q, expressed his pride in the Class of 2023, remarking, "Commencement is more than a celebration of the valuable degree students receive—it's a recognition of the countless hours of hard work and dedication that went into earning it, the many small victories along the way, and the great contributions to our world in the years ahead."
The Secretary of the Board of Georgetown University Marie A. Mattson represented the Washington, DC, campus and conferred the degrees at the event, with Dean Masri opening the ceremony, presenting the degree candidates, and offering closing reflections. His inspiring words were followed by Rev. Mark Bosco, Vice President for Mission and Ministry who offered the closing benediction.
In addition to the 105 ceremony participants receiving a Bachelor's of Science in Foreign Service, Dean Masri also recognized graduates of Georgetown University's Executive Master's in Diplomacy and International Affairs program. He noted that the 11 graduates of the Class of 2022 and 18 graduates in the Class of 2023 have excelled in their respective fields and are now equipped with advanced knowledge and skills to navigate the complexities of international diplomacy.
Established in Qatar in 2005, GU-Q empowers students and builds human capacity to meet the needs of the 21st century, providing a holistic educational experience built upon the highest academic standards. GU-Q's Bachelor of Science in Foreign Service is the same program and curriculum offered at Georgetown University's Edmund A. Walsh School of Foreign Service (SFS) in Washington, DC, with majors in International Economics, International Politics, Culture and Politics, and International History. The Executive Master's in Diplomacy and International Affairs is offered through the Institute for the Study of Diplomacy at SFS, and was custom-built to meet the needs of the region.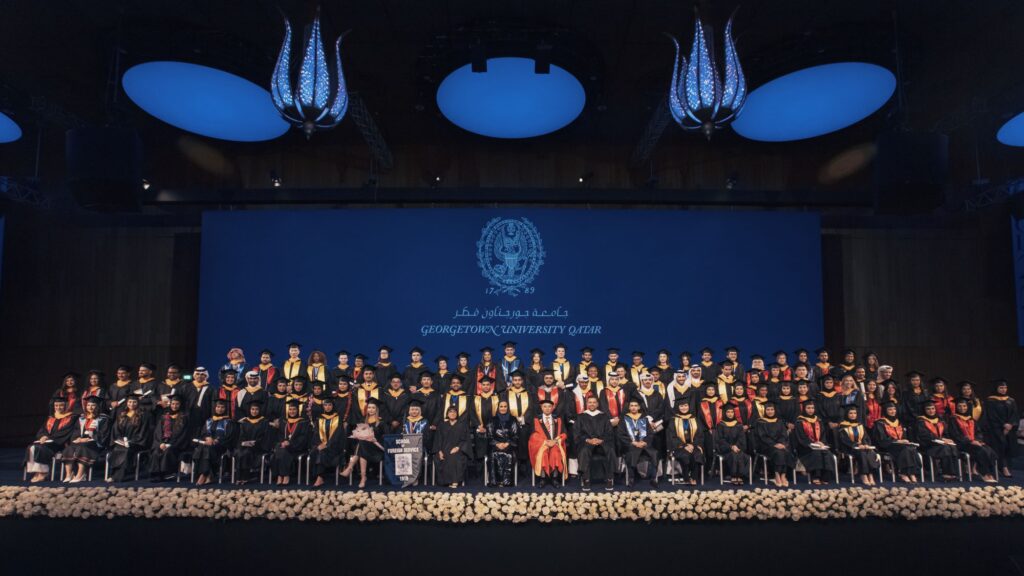 Bachelor's of Science in Foreign Service Class of 2023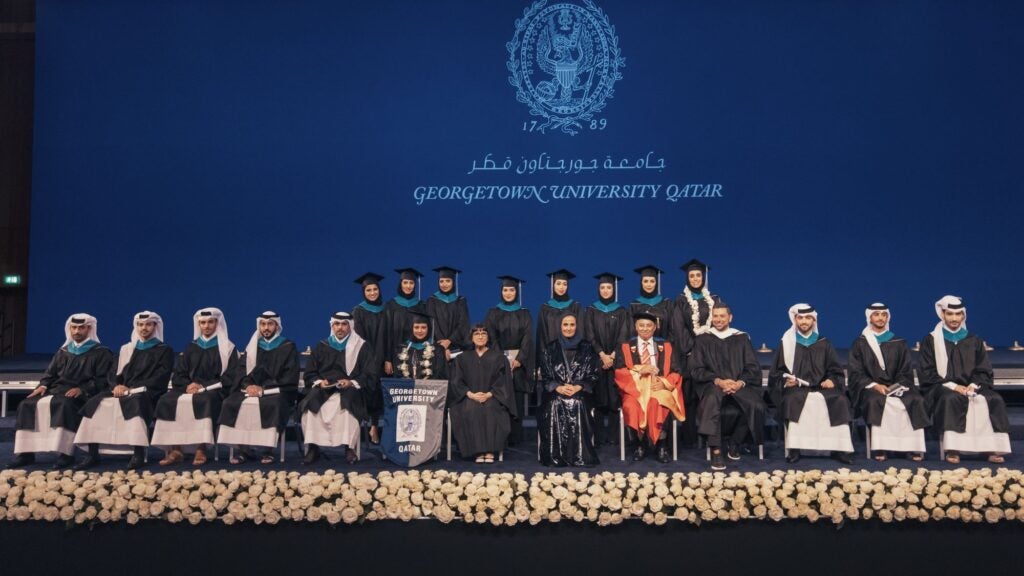 Executive Master's in Diplomacy and International Affairs Class of 2023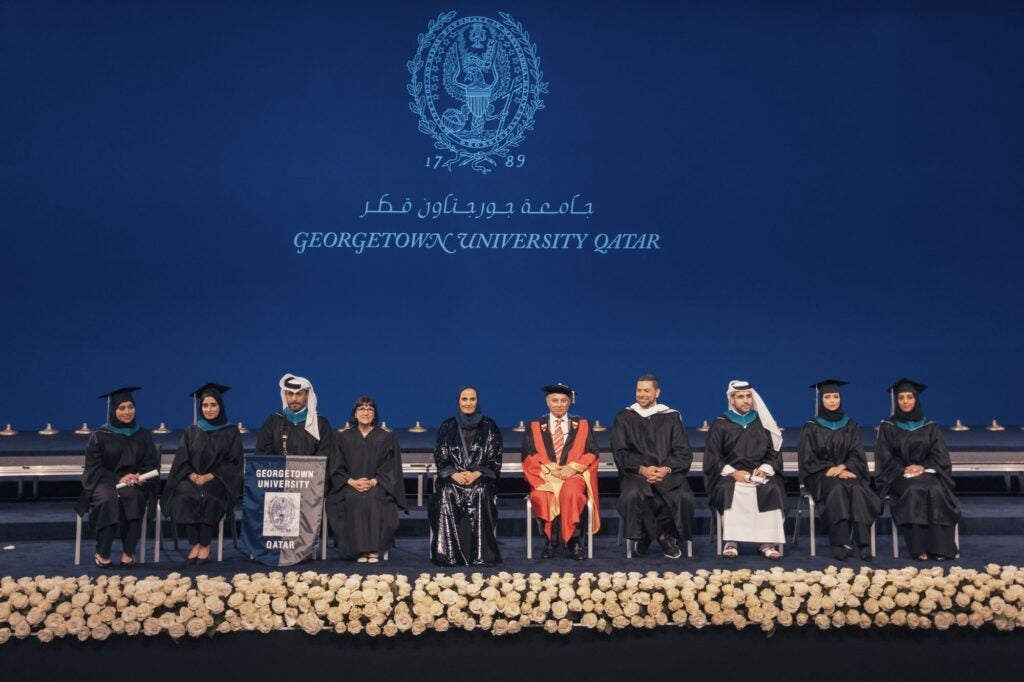 Executive Master's in Diplomacy and International Affairs Class of 2022