Georgetown University Qatar Hosts Potential Students at the First Annual Admissions Open House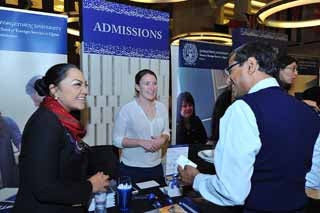 Georgetown University School of Foreign Service in Qatar (SFS-Q) hosted its annual Admissions Open House from 5pm – 7pm on the 10th December at SFS-Q. With demand for places at SFS-Q rising year over year, the event opened the doors of the university for one night, and provided potential students and parents the opportunity to come to campus and engage with SFS-Q staff, faculty, students and alumni to experience first-hand what the university has to offer in a welcoming and informal atmosphere.
Joseph Hernandez, interim director of admissions said, "During various school visits throughout Qatar and the region this fall, it was clear that more students were interested in our program than ever before, and this is something we're proud of. We're now ready to host those students and their families on campus. The Admission's Open House is organized to give those potential students interested in studying at SFS-Q a unique insight into what that experience is like in a transparent and interactive manner. It's an opportunity to hear from our staff, faculty and students on studying, socializing and being part of the SFS-Q community in a relaxed and informal environment, and we encourage all those interested to attend."
The Admissions Open House began with a reception followed by a series of SFS-Q faculty and staff presentations; these provided an overview of the admissions process, student life, and curriculum offered at the university, as well as an indication of career prospects following graduation by the SFS-Q career development manager. The presentations concluded with alumni providing an insight into their experience of studying at SFS-Q, what it was like to graduate from the elite international affairs university, and what it was like to enter the workforce after graduating.
A fair then was held in the atrium in which guests were able to visit booths set up and run by the various departments in SFS-Q, in order to have the opportunity to ask questions and engage personally with the SFS-Q community. Tours of the campus were offered during which visitors saw the state-of-the-art facilities; including classrooms; stunning library recognized as the best in the country; and superb recreational facilities.
""SFS-Q is not only growing in the number and diversity of our students and faculty members, but also strengthening our research activities to contribute to both Qatar and the region at an even more significant scale, and to help foster future leaders in international affairs" Hernandez concluded