SFS Announces New Executive Master's in Diplomacy and International Affairs for Qatari and Middle East Region Diplomats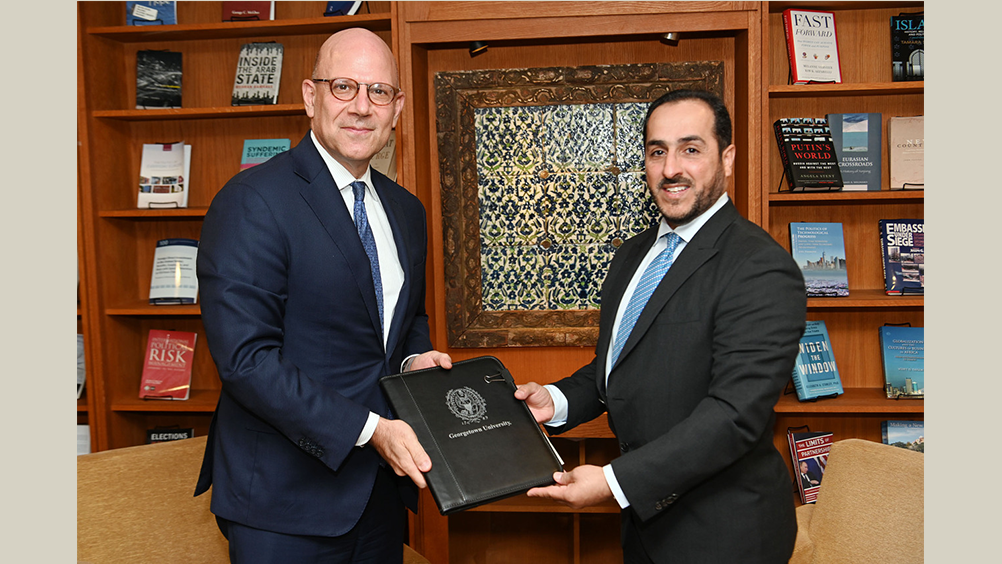 Dr. Joel Hellman, Dean of the Walsh School of Foreign Service at Georgetown University, and Dr. Abdulaziz Bin Mohammed Al-Horr, the Director of the Qatari Ministry of Foreign Affairs Diplomatic Institute, met in Washington, DC on October 22 to inaugurate a new one-year Executive Master's in Diplomacy and International Affairs degree program (EMDIA).
The EMDIA is open to highly qualified Qatari diplomats nominated by the Ministry of Foreign Affairs, Qatari officials engaged in foreign or national security policy nominated by their other government ministries, and other practitioners from the Middle East region nominated by their governments.
The year-long program consists of nine modules — each consisting of two intensive courses — and one capstone visit to Washington, DC.
Travel and health conditions permitting, the modules will be taught onsite at the Georgetown University in Qatar (GU-Q) campus by faculty affiliated with Georgetown's campuses in Washington and in Doha during five-day intensive residencies. The capstone visit to Georgetown's campus in Washington, DC will run for four days and include sessions with Georgetown faculty members and meetings with policymakers and representatives of international institutions.
The degree is interdisciplinary and focuses on significant challenges in global politics and economics facing diplomats, critical thinking skills related to the major tools of statecraft, and areas of strategic importance to Qatar and the Middle East region.
"This exciting new degree program significantly expands the role of SFS in the field of executive education and allows our faculty to engage with, educate and learn from diplomats and other practitioners in a vitally important part of the world," Dean Hellman said.
Dr. Al-Horr noted that "it was so important that Georgetown listened as we developed the curriculum and incorporated topics — such as small state diplomacy and conflict resolution — that are really relevant to our young diplomats and critically important to Qatar's role in the world."
The modules cover conflict resolution and negotiation, international trade and development, science and technology, human security, geopolitics and approaches to foreign policy, regional studies, soft power, culture and diplomacy, transnational security challenges, international law and institutions, and policymaking and international institutions.
Other participants in the day's event included Dr. Victor Cha, SFS Vice Dean for Faculty and Graduate Affairs, Ambassador (ret.) Barbara Bodine, Director of the SFS Institute for the Study of Diplomacy (ISD); Dr. Carol Benedict, Chair of the School of Foreign Service faculty; Dr. Anthony Clark Arend, Chair of the Georgetown Government Department, and Dr. George Shambaugh, Director of the Master of Science in Foreign Service (MSFS) program.
Ambassador Bodine, who travelled to Doha in September for the opening module to teach a course on Leadership and Crisis Management — at the same time Qatar was playing a major role in the evacuation from Afghanistan — said, "The first cohort of students in the program – six women and seven men — is outstanding. Mostly diplomats – as well as one official from the Amiri Diwan – they prepared seriously for class, engaged intensively on this very relevant topic, and learned concepts and skills that will enhance their ability to lead and manage crises."
This program builds on SFS' strong existing relationships in Qatar, highlighted by the GU-Q campus. Dr. Clyde Wilcox, dean of GU-Q, said, "We are delighted to partner with the Diplomatic Institute of Qatar's Ministry of Foreign Affairs, for this custom Executive Master's program that seeks to enhance the ability of practitioners from Qatar and the region to devise and execute meaningful foreign policy. We hope the program will have a lasting impact because it takes into consideration the current geopolitical challenges faced by the diplomats and helps them hone their skills further in the art of statecraft."
Rodolph Boughaba, Associate Dean for Executive Education at GU-Q, echoed his comments: "We worked collaboratively with the Diplomatic Institute to create a program finely tuned to the specific needs of the current diplomatic corps in order to address present and future challenges."
For more information, please contact Marie Harf at Marie.Harf@georgetown.edu or visit https://isd.georgetown.edu/academics/new-executive-masters-in-diplomacy-and-international-affairs/.
The Walsh School of Foreign Service, founded in 1919, is a premier school of international affairs. SFS provides a rigorous education grounded in both theory and practice while instilling the Jesuit value of service.