Faculty
H.E. Hamad bin Abdulaziz Al-Kawari Discusses Qatari Cultural Diplomacy at Arabic Book Club Event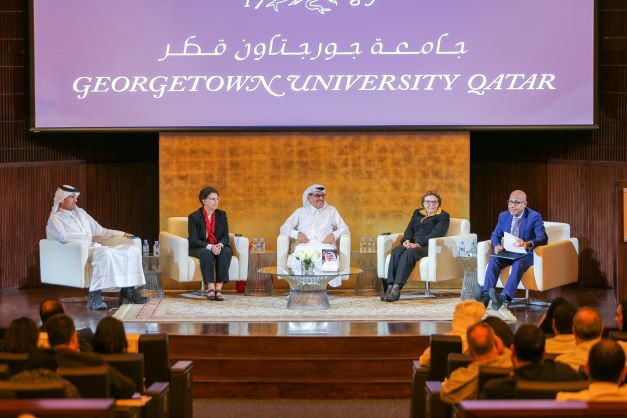 The Arabic Book Club at GU-Q hosted a public discussion and book signing with the author of "Ala Qadir Ahlilazim," H.E. Hamad Bin Abdulaziz Al‑Kawari, a State Minister with the rank of Deputy Prime Minister and the current President of Qatar National Library.
Held at GU-Q, the event was organized in collaboration with the Doha Institute for Graduate Studies and HBKU Press, and featured a distinguished panel of speakers who took part in a discussion of Dr. Al-Kawari's career highlights and reflections on the future of Arabic culture, language, and heritage.
In his opening remarks, the dean of GU-Q, Dr. Safwan Masri, warmly welcomed the author and statesman, and highlighted his special connection to the university. "We are honored to welcome His Excellency Dr. Hamad Al-Kawari, whose impressive career in the field of diplomacy also includes his role as the first Ambassador in Residence at GU-Q," said Dr. Masri. "His contributions to student understandings of real-world diplomacy was an invaluable experience for future change-makers who will find themselves navigating an increasingly interconnected world."
His Excellency previously served as the Minister of Culture, Arts and Heritage and is the former Ambassador of Qatar to France, to the United States, and to the United Nations. Dr. Al-Kawari was also a leading candidate for the post of UNESCO Director-General in 2017.
Drawing on those experiences, Dr. Al-Kawari highlighted the role of Qatar's cultural diplomacy efforts, and stressed the importance of dialogue on cultural matters as Qatar prepares to host one of the largest sporting events in the world in only a few short weeks. "This is an opportunity for cultural diplomacy that has a positive impact in boosting the positive image of the country, society, and civilization, in the minds of visitors," he said.
The event was moderated by club founder and Associate Professor of Arabic at GU-Q, Dr. Yehia Mohamed, who said: "Arabic literature represents the richness and diversity of Arab society, language, and culture. So as part of our efforts to engage the Qatari public, the book club was pleased to host a public figure who is a leading figure in both the field of diplomacy in the Arabic-speaking world and the Arabic literary world," he said.
Panelists included Dr. Amira El-Zein, Associate Professor of Literature and Director of the Arabic Language Program at GU-Q, Elizabeth Kassab, Associate Professor of Philosophy at the Doha Institute for Graduate Studies, Dr. Loqman Meho, Library Director at GU-Q, Bashar Chebaro, Executive Director of HBKU Press, and Qatari journalist Ali bin Tuwar Al-Kuwari.
The Arabic Book Club is an initiative of the Arabic Language and Culture Program at GU-Q. Since 2016, the club has been bringing Arabic-speaking audiences together with the aim of promoting cultural and intellectual life in Doha.