Georgetown's Pre-College Summer Gives High School Students a Competitive Edge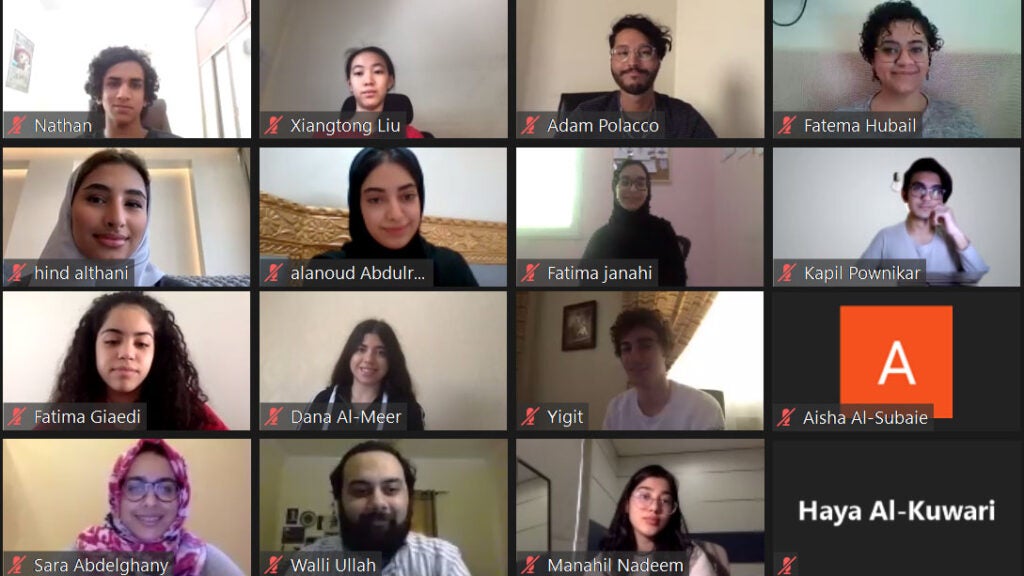 Despite the lockdowns and quarantines of the global pandemic, Qatar's high school students were still able to prepare for their future college plans through Georgetown University in Qatar's annual Pre-College Summer (GPS) program, where GU-Q students and graduates have been volunteering their time to provide valuable study skills and guidance for 24 enrolled participants.
Every year, Georgetown, a QF partner university, offers GPS's unique preparatory program for local students seeking a competitive edge in the university application process during their final years of high school. This year, the program runs online July 4 – 23, and features full-time classes in English, international relations, global politics, world geography, and college entrance exam preparation, giving students experience developing and practicing the academic and personal skills necessary for university-level success.
The program is led by Jibin Koshy, Educational Enrichment Manager at GU-Q, who said "Rather than cancel such an important enrichment resource for the community due to the pandemic, we modified the program for an equally transformative online experience that would ensure that youth in the community have the chance to prosper academically and become successful lifelong learners."
Through discussion-based seminar sessions, the GPS program also introduces students to the degrees offered at GU-Q, which include International Politics, International History, International Economics, and Culture and Politics, as well as recently added minors and several concentrations of study in various topics within the field of international affairs.
Participating high school student Suhaim Hamad Al-Thani, said: "The GPS program is an extremely interesting and useful experience as I got to learn about various fascinating topics. The expert instructors have inspired me not only to join their field of study but also to be a professor in the future. Furthermore, through the exposure to different sessions and activities within the program I got the chance to discover my hidden skills and improve others such as critical reading and writing.
For Fatima Giaedi, the experience has also been a useful introduction to college life. "The courses have been so thought-provoking, and they have enhanced my writing skills. And the GU-Q student volunteers have cleared up any uncertainties I had on how to tackle a college essay. Having that guidance and mentorship makes a big difference when you're getting ready to apply for college."
One of these peer tutor volunteers is International Economics major Adam Polacco, who said "As a senior at Georgetown, I thought that it would be great for me to be able to assist these students in this transition and to be able to work with some of the staff, alumni and current students to make this year's program one of the best."
GU-Q offers a wide range of academic enrichment offerings for high school students every year. Due to the ongoing crisis, they also recently designed and delivered the tuition-free Global Leadership Summer (GLS) program for over 70 enrolled local students in grades 9-12 to help them develop the knowledge, confidence, and practical leadership skills required to achieve their goals and to take on leadership roles in their communities.