Georgetown's Research Raising Profile of Qatar's World Cup Legacy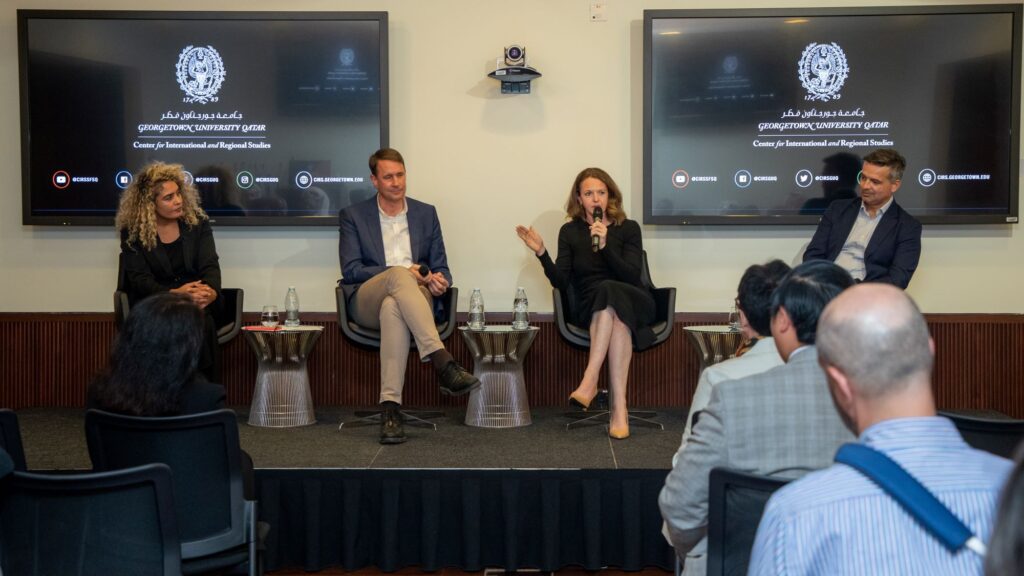 The fans have long gone home and posters of a beaming La'eeb have been taken down, but the FIFA World Cup Qatar 2022™ research continues at QF partner Georgetown University in Qatar (GU-Q), in order to study its impact on Qatar's politics, society, and future development.
Most recently, the university hosted a public event titled "Reflections on the World Cup 2022 and the Role of Sport in Qatar's Future Development," featuring a panel of distinguished experts representing the key institutions involved in the organization and support of the tournament.
Hosted by the Center for International and Regional Studies (CIRS) at GU-Q, the panel was moderated by Suzi Mirgani, Assistant Director for Publications at CIRS, and included Danyel Reiche, a visiting research fellow at CIRS and a Visiting Associate Professor at GU-Q, Alexandra Chalat, the director of World Cup Legacy at Qatar Foundation, and Zaid Mosawy, Strategic Advisor to the Secretary General at the Supreme Committee for Delivery & Legacy.
Reiche, who has led a CIRS research initiative on the FIFA World Cup Qatar 2022, said: "Continuing to conduct research and events related to the World Cup is crucial for evaluating its legacy, sustaining Qatar's international profile, promoting sports development, and fostering collaboration and partnerships. These efforts can help ensure that the World Cup's impacts are positive and long-lasting and that Qatar continues to benefit from hosting such mega sporting events."
Mosawy shared the findings of an impact study conducted after the tournament that captured the impressions of tourists and sports fans. "We were really keen for people around the world and people visiting to understand Qatar, " he said. With many media outlets contributing inaccurate narratives for a global audience in the run-up to the games, he explained, "The World Cup was our opportunity to tell our own story."
The impact study looked at Qatar's investment in the tournament, the economic return of that investment, and some quantifiable social impact. "We can talk about Generation Amazing, just for an example," shared Mosawy, "They impacted and supported over one million people from around 70 different countries around the world."
Chalat described QF's substantial role and commitment to supporting the Supreme Committee's tournament goals and strategies, by leveraging "our assets, our resources, our amazing students, our brilliant professors, the facilities that we have, and the knowledge that we have produced for over 25 years in research." QF also used the platform to promote institutional priorities, including sustainability and innovation, culture and heritage, preserving the Arabic language, and accessibility and inclusion, making the World Cup accessible to many for the first time.
A video recording of the panel discussion and details about GU-Q's Building a Legacy research initiative can be found on the university's website.