HBKU and GU-Q Host Inaugural Lecture of Newly Launched Multiversity Lecture Series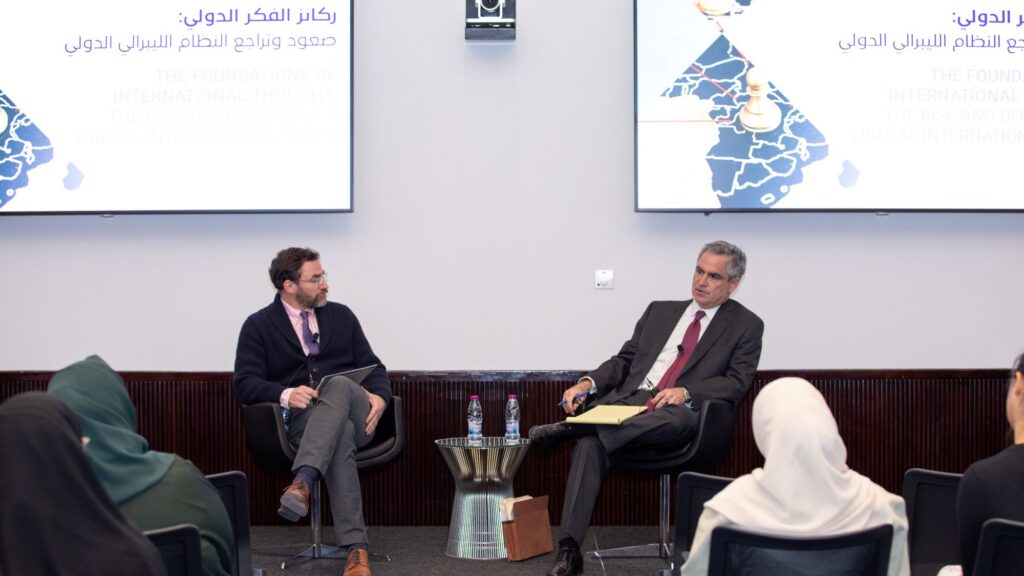 The liberal international order, which has been underpinned by the military and economic power of the United States and its allies since the Second World War, is facing global competition and decline. But the age of Western liberalism was likely "a giant historical fluke" to begin with, said Associate Professor of History at Georgetown University in Qatar (GU-Q), Dr. Edward Kolla.
His provocative remarks challenged an audience of students, faculty, and members of the Qatari public to rethink historical assumptions during the "Foundations of International Thought" lecture series jointly organized by GU-Q and Hamad Bin Khalifa University's College of Law (HBKU-CL). The inaugural event in the series featured Dr. Kolla and speaker Dr. Richard H. Steinberg, Professor of Law at the University of California, Los Angeles (UCLA) and Visiting Professor at HBKU-CL.
The expert in international law argued that the current liberal international order marked by a rise in multinational institutions, implementation of international law, and a wave of democratization around the world, is in decline. In its place, Steinberg said, is an increase in nationalism, protectionism, and rising geopolitical tensions. "The order is actually fractured and overlapping," he said. "International organizations continue to persist, but now face a lot more deadlock."
This decline, he added, is the result of blowback from US military operations, hyper globalization and a loss in US global market share, and the rapid development of countries in the Global South. "We only have to think back to the war in Iraq to remember when people were renaming french fries, freedom fries, to show these splits in the liberal Western Alliance at the heart of NATO," agreed Dr. Kolla, who is also Faculty Chairperson at GU-Q.
In his remarks, Dr. Kolla countered with a narrative that decentralizes the West and frames their ideological supremacy as a historical outlier driven by European colonialism and the violent takeover of flourishing Asian markets, such as cotton production. "So we could flip this idea of the rise and decline of a liberal International order, and instead talk about the brief decline and then rise of Asian economic hegemony, with that brief interruption caused by Western capitalism."
The "Foundations of International Thought" lecture series gathers globally respected experts to provide multidisciplinary perspectives on fundamental issues in the fields of international law and international relations. The series is part of a larger initiative led by Dr. Kolla and Professor George Dimitropoulos, Associate Professor of Law and Associate Dean for Academic Affairs at HBKU-CL, that involves co-teaching and cross-institutional student engagement.