Latin American Diplomats Converge at GU-Q for Student-led Event on Modern Diplomacy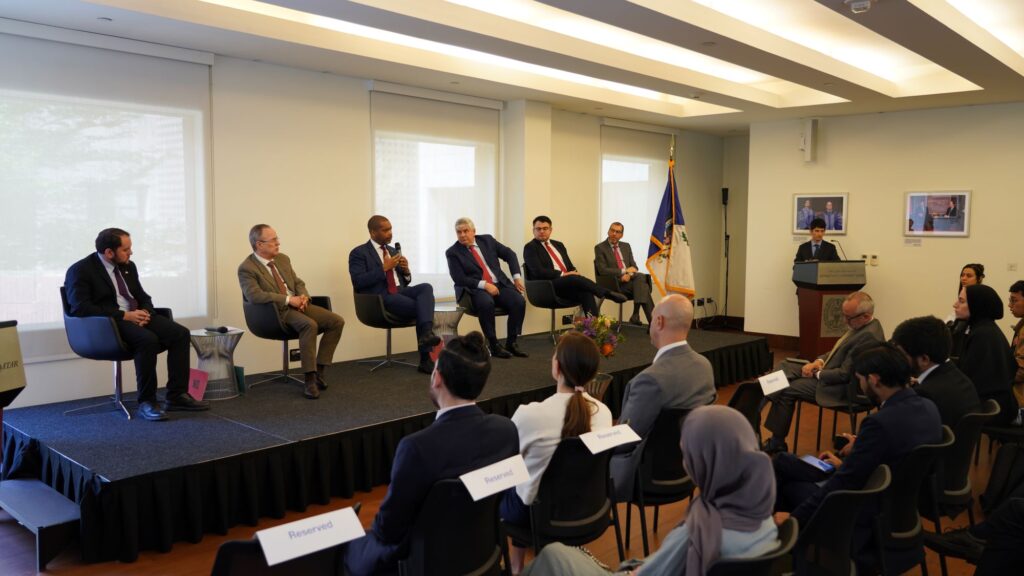 The Latin American and Caribbean Society (LACAS GU-Q) recently hosted a student event titled "A Chat with the Ambassadors: Diplomacy in the Age of Globalization" at GU-Q that brought together diplomats, students, and heads of institutions, to discuss how globalization is affecting modern diplomacy, and what it means to be a diplomat in today's interconnected world. 
The distinguished guests included ambassadors and consuls stationed in Qatar from different Latin American countries, including H.E. Ambassador Guillermo Nicolas, Ambassador of Argentina, H.E. Ambassador Francois Guillaume II, Ambassador of Haiti, H.E. Ambassador Jose Guillermo Ordorica, Ambassador of Mexico, Mr. Jairo Lopez Bolaños, Minister Counselor of Costa Rica, Mr. Juan Martin Benavides, Consul of Uruguay, and Mr. Kirvyn Vargas, Diplomatic Attaché of Panama
The representatives from the world of diplomacy examined the requisite proficiencies for promoting cooperation and advancing the interests of their respective nations, and stressed the critical role of communication skills, including word choice, timing, and setting in achieving diplomatic objectives.
Club co-president and International Politics major Santiago Rubio-Henao (SFS'25) and club public relations officer and Culture and Politics major Mariana Pereira-De Souza (SFS'26) served as the masters of ceremony at the event. "The event was a great opportunity for attendees to hear from diplomats with vast experience in the field and to engage in a lively exchange of ideas," said Santiago.
The diplomatic gathering was attended by students, staff, faculty, and VIP guests, including Dr. Francisco Marmolejo, Higher Education President and Education Advisor at Qatar Foundation, and Sheik Suhaim Althani, Manager of International Business Relations at Qatar Free Zones Authority.
"As an aspiring diplomat myself, I am grateful to be able to say that this event has had a lasting impact on me, since the ambassadors shared valuable insight on what it is like to be a part of the diplomatic field," said Alannah Felix (SFS'25).
"This event was a perfect example of the value of learning outside the classroom," said Sinphaxay Thongsombath (SFS'26). "The ambassadors' experiences in the field of diplomacy and insights into international relations and personal journeys of the ambassadors were truly inspiring and provided me with a deeper understanding of global affairs."
The diplomats applauded the initiative of the Latin American student club for organizing the event and thanked the GU-Q community for their interest in learning about their careers, perspectives, and the Latin American and Caribbean region.
The Latin American and Caribbean Society at Georgetown University in Qatar is dedicated to expanding the GU-Q community's political, social, and cultural understanding of Latin America and the Caribbean. By creating a space for open discussions and exchange of ideas, students can apply what they learn in the classroom to social, political, and cultural contexts beyond the region.