New Students at GU-Q Bring Fresh Perspectives and Energy toEducation City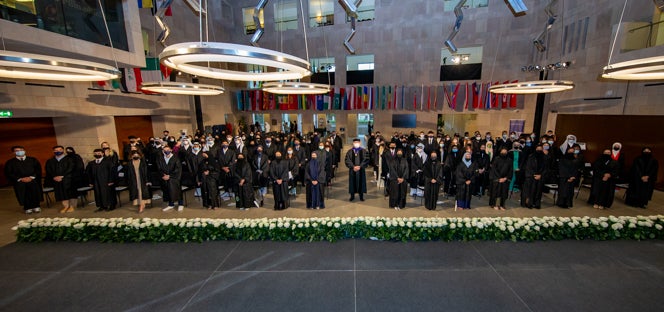 Georgetown University in Qatar inducted its first-year students to university life at its annual New Student Convocation, a formal ceremony witnessed by friends, family, and members of the GU-Q community.
Hailing from more than 40 different countries, the 124 incoming students in the Class of 2026 proudly represent diverse academic experiences and cultural backgrounds, but share a common passion for scholarship and service to their communities.
In his official address to the incoming students, the dean of GU-Q, Dr. Clyde Wilcox congratulated the incoming class on the start of their higher education journey, and reflected on the special significance of this academic year marked by the culmination of Qatar's plans to host the FIFA World Cup, and a shift in the attention of the nation towards its next stage of development. "Think of your time here as a critical incubation period for developing your character, maturity, and identity, a chance to engage in the types of inclusive dialogue and analysis which will allow you to contribute ideas which will lead to more just societies in the future."
With words that conveyed the university's firm commitment to supporting each student's academic journey ahead, the president of Georgetown University in Washington, DC, Dr. John J. DeGioia, said: "Our way of life is characterized by values that bind us together, a commitment to academic excellence and the pursuit of knowledge, a commitment to engagement and dialogue, a commitment to our communities of faith, and a commitment to service, to serving each other, our communities, and our world."
The ceremony included a faculty welcome, delivered by Associate Professor and Director of International Economics, Dr. Alexis Antoniades and a welcome from the student body was delivered by Jood Ikram Sheikh and John Ewotu. The event, which included a procession, national anthems, and the reading of the university charter, was the culmination of a week-long student orientation program. With the celebratory singing of the university's alma mater that dates back to 1894, the students donned their academic robes and joined the academic community of Georgetown in a time honored tradition.
After his experiences as a high school participant in GU-Q's Model United Nations conferences and other enrichment programs, Ali Nasir knew which university fit his interests. "I would love to study and learn more about different cultures and languages as I have felt that by doing so you are able to connect with people on a greater scale."
For new student Salman Abdulla Al-Emadi, a love of debate has led him to consider pursuing a major in International Politics. But college isn't only about academics, he says. "I am really looking forward to getting to know the students of GU-Q, especially the students of the Class 2026 as I believe each individual has their own story to tell. We will be together for the next four years so we should make sure we enjoy the journey as we go along."
With the semester just beginning, the Class of 2026 will complete a liberal arts foundation program before choosing a major. The Bachelor of Science in Foreign Service (BSFS) degree is offered in four majors: Culture and Politics, International Economics, International History, and International Politics, with an option to pursue a minor in Arabic, Africana Studies in association with Northwestern Qatar, and Indian Ocean World Studies.
Students may also complement their major field of study through specialized coursework that deepens their understanding of a particular region by pursuing a Certificate in American Studies, Arab and Regional Studies, or Media and Politics, offered in association with Northwestern Qatar.