Qatari Diplomats in Georgetown Degree Program Gain Insights Through Dialogue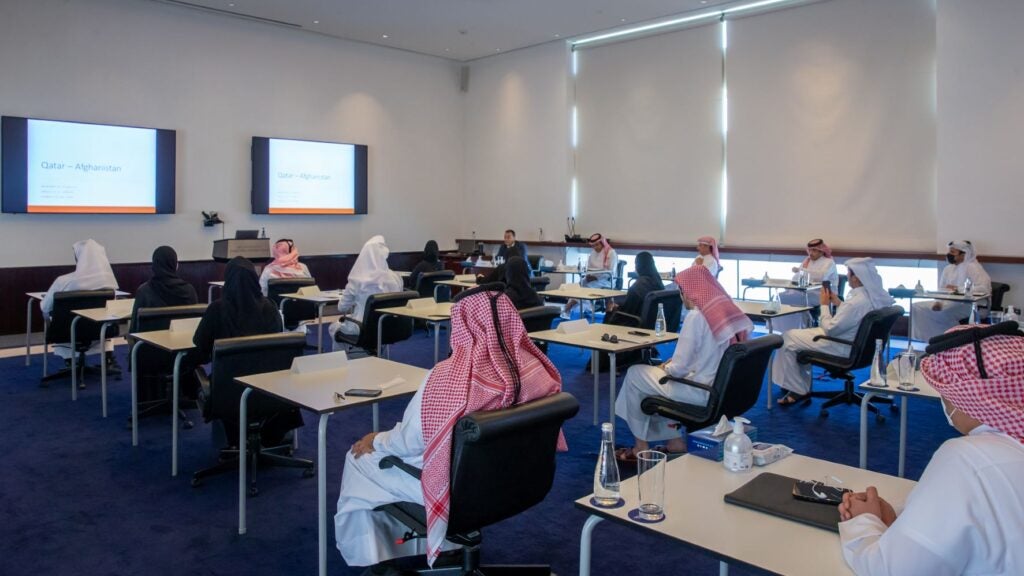 Qatari diplomats and government officials enrolled in Georgetown University's Executive Master's in Diplomacy and International Affairs (EMDIA) degree program held at GU-Q learned about contemporary geopolitics through an exercise conducted in dialogue with key figures in Qatar's foreign policy establishment.
Titled "Global Political Map: Geopolitics for Practitioners," the in-person session was part of the fifth module of the EMDIA degree program, which was custom-designed by Georgetown's Walsh School of Foreign Service in Washington, DC, in collaboration with GU-Q and the Ministry of Foreign Affairs for the State of Qatar. The program aims to enhance the ability of diplomats from Qatar and the Middle East region to formulate and implement effective foreign policy.
For the session, participants created and delivered a hypothetical policy response to a real-world scenario facing Qatar to a panel of senior officials, who offered constructive feedback based on their experiences with foreign affairs policymaking in Qatar. The experiential learning exercise encouraged students to apply the latest theories and empirical knowledge of geopolitics they learned in the class to explore methods of maximizing opportunities and overcoming challenges for small states under the practical guidance of experts in the field.
"We were very honored to host such esteemed members of Qatar's diplomatic community to offer our students real-world insights and perspectives from seasoned diplomats. This was a wonderful opportunity for them to hone their skills, and provide a solid foundation for their professional careers," said Dr. Rory Miller, Professor at GU-Q and the course instructor.
"Diplomatic readiness is critical for advancing Qatar's national interests and national security. This dialogue was a valuable and engaging contribution to the program, and helped further our students' critical thinking and analytical skills and capabilities," added Dr. Fahad Al-Marri, Adjunct Assistant Professor at GU-Q, co-instructor of the course, who works on international politics.
The guest panel featured a diverse panel of experts, including H.E. Mr. Saad Bin Mohammed Al-Rumaihi, Former Secretary of the Father Emir for Follow-Up Affairs, Chairman of Qatar Press Center; H.E. Major General Abdullah Bin Mohammed Al-Dosari, Chief of the Intelligence and Security Authority; H.E. Dr. Mutlaq Bin Majed Al Qahtani, Special Envoy of the Minister of Foreign Affairs for Counterterrorism and Mediation in Conflict Resolution; H.E. Brigadier General Sheikh Nawaf Bin Mubarak Al-Thani, Former Senior Defense Official and Defense Attaché of the State of Qatar to the United States of America, Mexico and Canada, and Former Official Spokesperson for the Ministry of Defense for the State of Qatar; and Lieutenant-Colonel Mohammed Bin Seif Al Nuaimi, General Command.
The fifth module in the EMDIA program offered a wide-ranging examination of geopolitics in a way that applied scholarly thinking to priority issues of concern for practitioners. The course examined the major theoretical underpinnings of the international system and the role of actors inside the system. The tenth and final module will be a capstone visit to Georgetown's campus in Washington, DC, and will include sessions with Georgetown faculty members and meetings with policymakers and representatives of international institutions. The program is currently accepting applications and nominations for next year's cohort through May 31, 2022. Visit https://isd.georgetown.edu/academics/new-executive-masters-in-diplomacy-and-international-affairs/ to learn more and apply.