Alumni, Other, Students
Qatari Students at Georgetown Share Traditions with Community at National Day Festivities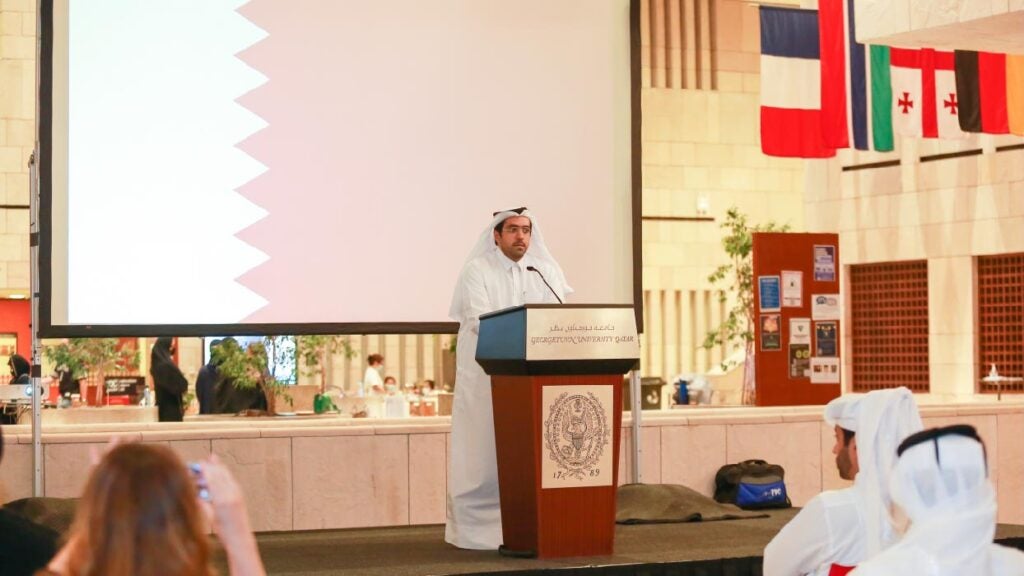 In the warm and welcoming spirit of local tradition, the Al Liwan Qatari Students Association at Georgetown University in Qatar (GU-Q) organized a Qatar National Day event that treated their university and Education City guests to food, fun, and an array of immersive experiences in celebration of national history, pride and identity.
The annual QND event at GU-Q is fully student-organized, and co-sponsored by the Office of the Dean. Commenting on the significance of this year's program, GU-Q Dean Dr. Clyde Wilcox said: "Our annual QND event is a cultural highlight of the year, and we are particularly grateful to the Al Liwan Student Association for bringing us together for this celebration of Qatar's rich cultural heritage and traditions. It is symbolic that we are celebrating a day of national pride and history in Education City, which has become the training ground for the future leaders of Qatar committed to investing their education gains back into their country to ensure a better and brighter future for all."
The event kicked off with a warm welcome from the organizers, Al Liwan president and Culture and Politics major, Shaikha Al-Obaidan, and Vice President and International Economics major, Asmaa Al-Kuwari. Their welcome was followed by remarks from the dean, a Quranic recitation, and a talk by keynote speaker and GU-Q graduate, Abdulrahman Al-Thani (SFS'17).
"Al Liwan is committed to promoting our culture and encouraging community connections. And after so much time apart, we wanted to revive Qatari cultural life at GU-Q," explained Shaikha. "For many international students who are new to the country or who began their higher education journey online, this is really their first immersion into our culture, which is such an important part of their university experience."
With booths set up inside the GU-Q building and just outside in Oxygen Park, the gathering offered up samples of traditional Qatari street food, delicious desserts, and fragrant coffee swirling with the spices enjoyed by generations of Qataris. Replicating a time when the public market was the center of social life, a vintage market stall offered bins of old fashioned candies.
Outside, a colorful tent recreated the traditional dwellings of the region's nomadic Arab tribes. A hooded falcon proudly perched on a post outside the tent, its trainer nearby, completed the scene and showcased one of the most respected and celebrated sporting traditions in Qatari society.
In the arts program of the evening, guests enjoyed an art display featuring the work of Qatar Foundation graduates, an oud performance, a poetry recital by Ali Al-Kuwari, and a traditional sword dance which continues to represent tribal honor and strength today. Demonstrating the club's commitment to Georgetown's values of cross cultural exchange and community building, Asmaa said they also encouraged international students to play a role in organizing the event. "QND is important for Qatari students to celebrate their culture, but it's also a celebration of Qatar's multiculturalism and diversity. At GU-Q, our entire community is contributing to making Qatar, and the world, a better place."