Faculty, Research
Research on Revolutions Named One of 23 Highly-recommended Books for Understanding Today's Complex World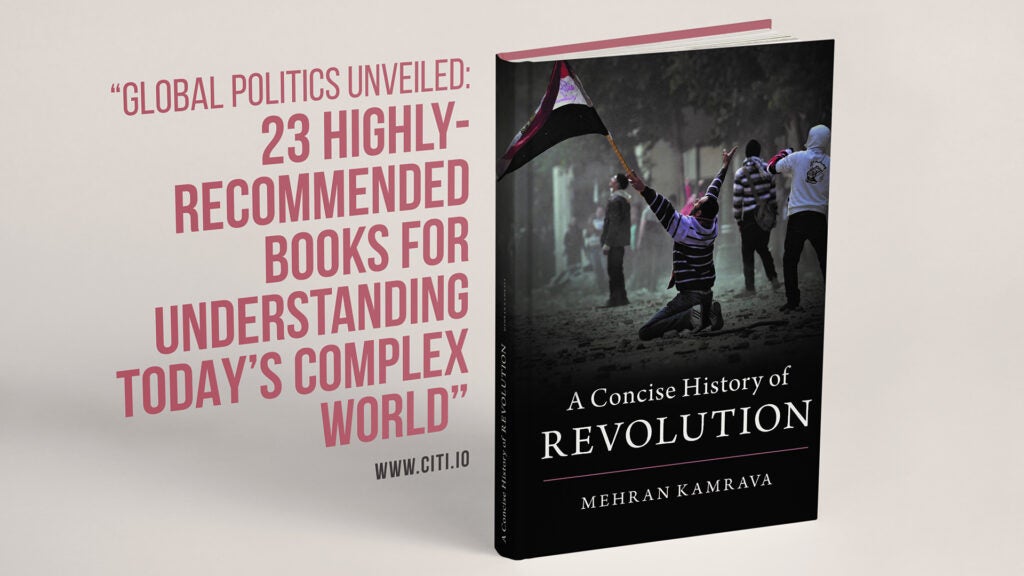 A book that provides a more nuanced understanding of contemporary conflicts and their geopolitics published by Professor of Government, Dr. Mehran Kamrava, has been listed as one of 23 Highly-Recommended Books for Understanding Today's Complex World by CITI I/O, a web-based platform that specializes in analyzing complex global issues.
Published by Cambridge University Press, A Concise History of Revolution is a groundbreaking work that presents a new framework for the study of revolutions. The innovative exploration of French, Russian, Chinese, Vietnamese, Cuban, Iranian, South African, and more recent Arab revolutions, provides a theoretically grounded and empirically comprehensive demonstration of how revolutions mean more than mere state collapse and rebuilding.
Through the examination of multiple historical case studies, and use of extensive historical examples to explore a range of revolutions, Mehran Kamrava reveals the range and depth of human emotion and motivations that are so prevalent and consequential in revolutions, from personal commitment to sacrifice, determination, leadership ability, charisma, opportunism, and avarice.
The book is timely for its provision of a new and innovative perspective on the study of revolutions, which has important implications for scholars and researchers, as well as policymakers and practitioners around the world grappling with a resurgence of social and political upheaval.
Commenting on the award, Professor Kamrava said, "My hope is that this book will provide a useful framework for scholars, students, and anyone interested in global affairs. It offers a way to understand the complex nature of revolutions, which are often obscured by competing narratives and vested interests, issues that we routinely cover in our international affairs curriculum at GU-Q."
Kamrava is also the author of a number of journal articles and books, including, most recently, A Dynastic History of Iran: From the Qajars to the Pahlavis (Cambridge University Press, 2022); Triumph and Despair: In Search of Iran's Islamic Republic (Oxford University Press, 2022); and Troubled Waters: Insecurity in the Persian Gulf (Cornell University Press, 2018). He is also the Series Editor for the "Contemporary Issues in the Middle East" series of Syracuse University Press, and the "Iran and the World" series at Hurst Publishers and Oxford University Press.