Tech Innovations Can Accelerate Equality Say Experts at Women's Day Panel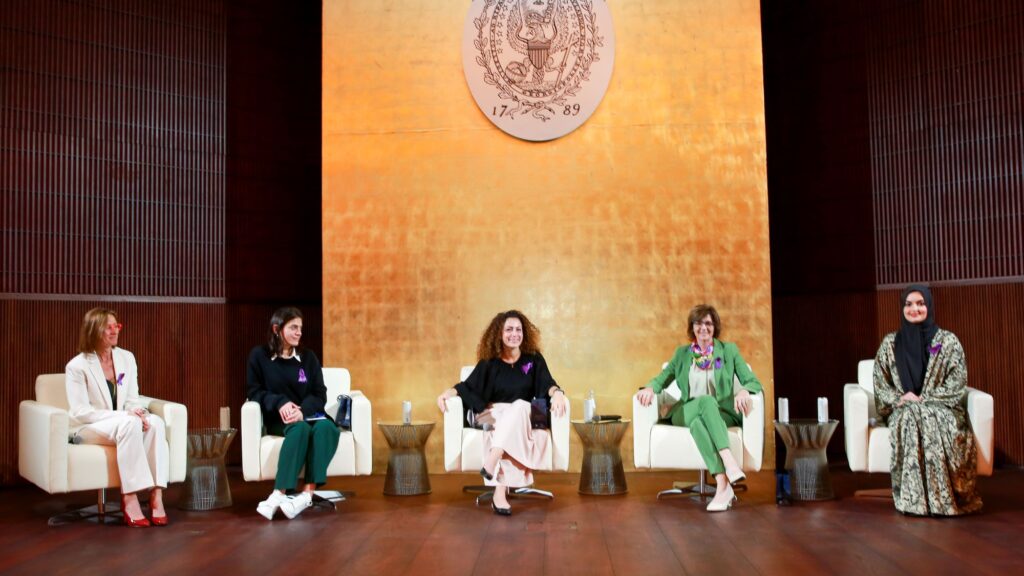 The immense potential that digital transformation holds for accelerating gender equality and women's empowerment was the focus of a panel discussion hosted by Georgetown University in Qatar (GU-Q). Organized in collaboration with Georgetown Women's Alliance Qatar (GWAQ), Northwestern Qatar, and Hamad Bin Khalifa University, the multiversity initiative celebrated the United Nations International Women's Day theme "DigitALL: Innovation and Technology for Gender Equality."
Panelists included prominent experts from various fields, including Maia Henley, Senior Azure Core Specialist at Microsoft, Luigia Ingianni, Commissioner of the Employment Standards Office at Qatar Financial Centre and Adjunct Professor at the College of Law at Hamad Bin Khalifa University, Lamis Katttan, Assistant Professor at GU-Q, and Claudia Kozman, Assistant Professor in Residence in Journalism at Northwestern Qatar.
The panelists discussed how technology can be a powerful tool to promote gender equality, but noted that more representation of women in the field is needed. They also highlighted some of the innovative solutions that have been implemented around the world, and addressed the challenges and risks including issues related to privacy, security, and the digital divide.
Dr. Nadine Ghamloush, who co-leads the GWAQ with Dr. Christine Schiwietz, underscored the need for a collaborative approach to address the complex and multifaceted challenges facing women's empowerment. "Inspiring and preparing women to drive technological innovations and improve digital access for all is critical for the future of equality for women, and by extension, all of society."
The panel discussion was moderated by Maryam Abdulaziz Al-Thani, a senior at GU-Q majoring in Culture and Politics. She noted the added significance of the event coinciding with Qatar's hosting of the Fifth United Nations Conference on the Least Developed Countries (LDC5), which ended with member states committing to measures to deliver on the Doha Programme of Action, a ten-year plan to put the world's 46 most vulnerable countries back on track to achieving the Sustainable Development Goals (SDGs).
She noted, "Seeing the importance of digital equity, particularly when it comes to the digital access of women, has been refreshing. World leaders from all over the globe have come to convene on the need to give women better access and opportunities in the STEM field. This will only come as a result of these conversations, which are often difficult, but necessary."
As an undergraduate student, Maryam founded the Women's Wellness Alliance at GU-Q, which aims to empower women, and is currently working on two research projects that seek to uncover barriers to women's participation in Qatari society.