Other, Students
The Doha International Center for Interfaith Dialogue receives a delegation of undergraduate students from Georgetown University in Qatar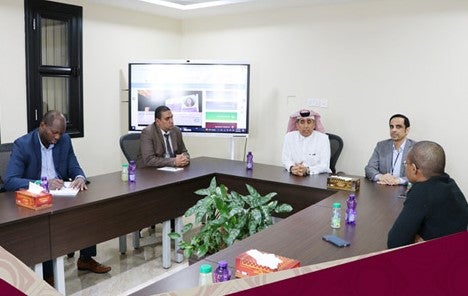 A student delegation from Georgetown University in Qatar (GU-Q) visited the Doha International Center for Interfaith Dialogue on February 23, 2023. They were received by H.E. Professor Dr. Ibrahim Saleh Al-Nuaimi, Chairman of the Board of Directors along with the Center's staff.
Heading the delegation of ten GU-Q students was Professor Josef Meri, a historian and specialist in interfaith relations in the Middle East at Georgetown University in Qatar, and at the College of Islamic Studies at HBKU.
They were welcomed by H.E. Dr. Al-Nuaimi, who talked about the Center's interest in involving university students and researchers in center activities including conferences, seminars, and academic publications in the Center's Adyan Journal.
He said: "In light of the presence of many centers and institutions promoting hatred, violence and Islamophobia in the world, it is of great importance combat hatred and misinformation through scientific institutions and cultural centers. The Doha International Center for Interfaith Dialogue serves as a model on how to combat Islamophobia, terrorism and extremism. It is also committed to the principles of Islam and considerate of the culture and heritage of local communities."
GU-Q student Muhammad Bashir asked why there was so much hatred between followers of different religions, and Professor Al-Nuaimi answered: "There are many factors causing problems between religions, the most prominent of which are prejudice, hate speech, ignorance about the origins of religions and their teachings, and extremism. Misunderstanding is one of the most prevalent factors,and we seek to resolve these misunderstandings with a modern methodology and engagement with partners. 
Nour Shadeed, another participant, asked about the main challenges faced by the Center, to which H.E. Dr. Al-Nuaimi responded: "No doubt there are internal and external challenges facing the center… including understanding the Western mentality. Qatar and its youth, its citizens and residents, must be prepared for these challenges that may increase and diversify, especially after the great success achieved by the World Cup, subsequent reverse migration, and the increased popularity of Qatar as a tourist destination.
At the end of the meeting, H.E. Dr. Al-Nuaimi, presented souvenirs to the delegation and invited them to participate in the activities held by the Center on a regular basis to promote a culture of dialogue and coexistence between people of different cultures and religions.