Other, Sports, Students
The GU-Q Community Unites Through a Shared Passion for Football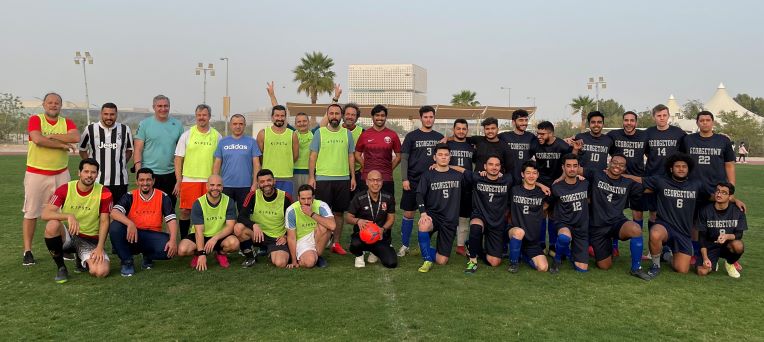 As the World Cup approaches, a focus on football has infused the campus community from the classroom to the pitch. But the unique potential of sports to develop and reinforce positive values and life skills had an even more important role to play when the community needed it most.
As the pandemic restriction began to be lifted in Fall 2021, a few GU-Q students took the initiative to organize intramural football matches for teams of students at the HBKU student center and invited the faculty to play in a tournament and to serve as referees in the final game.
"As a starter, it was an exciting and joyful chance to be able to rapport with students outside the campus walls within Qatar Foundation in a fun and energetic environment," said Mohammed Shehada, Associate Director for Student Professional Development.
For Dr. Yehia Mohamed, Associate Professor of Arabic, the student initiative was an unexpected way to re-engage with students. "My introduction to the men's football team began the year prior, in my role as a volunteer coach. This intramural initiative was a wonderful way to open bridges and create connections outside of the classroom with students, and a reminder of the outstanding sports resources and facilities we have access to as part of the Multiversity in Education City."
"Staff, students, faculty and their families coming together and sharing a fun evening outside the walls of the campus greatly boosted the sense of community," said Anwaar Malik (SFS'24), who is also the president of the GU-Q Football Club.
Match attendee Associate Professor of Government Sonia Alonso came to support her colleagues on the faculty team, but says the game "was really fun, even though the faculty team lost the game! Sport activities such as football tournaments remove us from our roles on campus and allow us to enjoy each other's company and have fun together. This is what we need to build a sense of community".
In Spring 2022 a faculty versus students grudge match leveled up the competition by including customized jerseys and an audience of students, staff, faculty, and family members who cheered on their favorite team from the sidelines. The student team dominated, winning against the faculty team 6-2. "It's a really nice feeling to be able to engage with the professors outside the classroom, especially in something that we are all really passionate about," said International Economics major Hamza AlSioufy (SFS'24).
The semester of activities culminated in a three-hour long "festival of football" which saw four teams composed of students and one member of faculty or staff compete for the winning title. After six intense matches, the team captained by Visiting Associate Professor Ramon Cobo Reyes Cano nabbed the victory, with the team led by Associate Professor Omar Khalifah garnering second place.
Fans cheering on players included Dean Clyde Wilcox, and Visiting Professor and cruciverbalist Leonard Williams. "I genuinely loved watching my students play football in Education City, and they clearly appreciate faculty and staff who care enough to join in the fun," said Dr. Williams.
For his on-field performance, Dr. Cano was also named Best Player, with faculty and staff participants Dr. Alexis Antoniades, Associate Professor, and Alessandro Di Muro, IT Specialist sharing the top scorer trophy. Devashish Regmi (SFS'24) claimed the best goalkeeper trophy after conceding just once in three games.
Dr. Yehia Mohamed says future plans include ensuring opportunities for women's football competitions and activities as part of a regular football calendar of events that will bring the GU-Q community together. The upcoming World Cup tournament has also inspired plans for a diverse array of events and activities to connect the games to the key issues in international affairs students study in the classroom.
Enisha Sharma (SFS'24), International Economics major and head of public relations with the Football Club, summed up the significance of the intramural activities that emerged in response to unprecedented circumstances. "With different cultures, finding an event that unites the Georgetown community could be a challenge. With football, we've been able to overcome that barrier, allowing us to develop a sense of a well-knit community despite the challenges that had kept us apart."