Undoing Islamophobia and Reframing Muslimness: Connecting Global Perspectives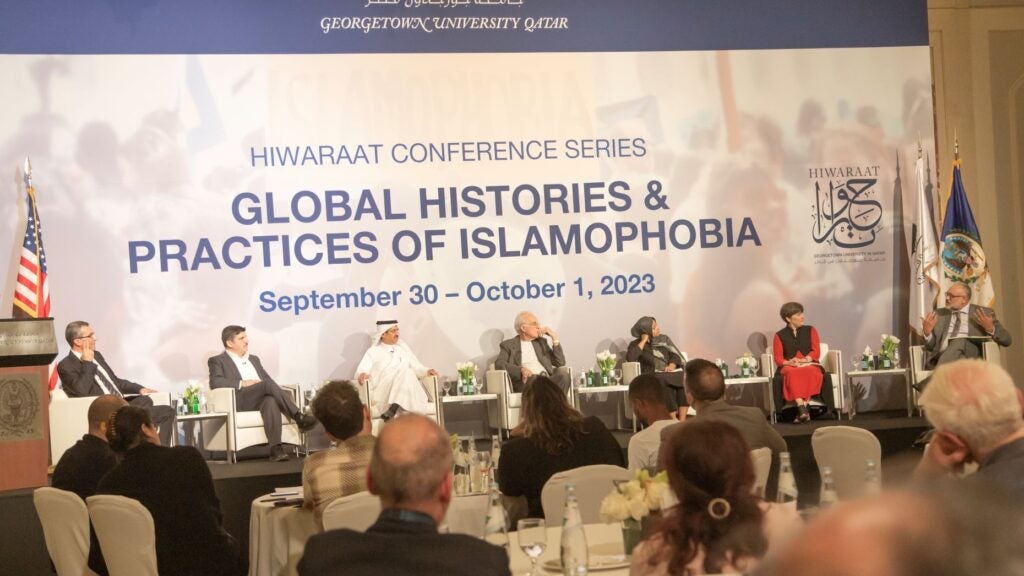 With Islamophobia gaining widespread attention for its alarming rise all around the world, a pivotal conference hosted by Georgetown University in Qatar (GU-Q) explored the complex power dynamics that drive the phenomenon and its intersections with xenophobia, misogyny, and systemic, institutionalized forms of racism, bigotry, and dispossession.
Held under the theme "Global Histories and Practices of Islamophobia" from September 30 to October 1, the conference underscored the importance of relentless scholarship, dialogue, collaborative efforts, and solidarity to dismantle harmful prejudice, bias, and discrimination.
Co-organized by GU-Q faculty, it brought together highly influential scholars, practitioners, and journalists, among them Georgetown alumni and GU-Q students, to contribute their insights.
Delivering the closing remarks, the Dean of GU-Q, Dr. Safwan Masri, said: "Our host country, Qatar, has taken the lead with a global initiative to address global racism, including anti-Muslim hate and Islamophobia. The broad multifaceted efforts include education, public dialogue, policymaking, and convening of experts and policymakers to facilitate collective action," adding: "Our conference has been a contribution to the efforts to call attention to Islamophobia and respond to it, challenge its destructive impact, and engage the impactful work of activists, educators, and artists."
While the global "war on terror" has been a defining feature of the 21st century and had profound repercussions for Muslim communities worldwide, the conference set out to explore the various global, historical, religious, and political factors that are driving Islamophobia.
Speaking during a panel titled "Intellectual Roots of Islamophobia," Dr. Salman Sayyid, Professor in Rhetoric and Decolonial Thought, University of Leeds, argued that there is nothing rational about Islamophobia, but rather it is one of the oldest forms of racism. Linked to power relations, it is often marked by the idea that Muslims cannot be contained in the nation-state.
"Islamophobia is a type of racialized governance that governs expressions of Muslimness, though you don't have to be Muslim to be subject to Islamophobia. You just have to be Muslim adjacent or confused for being a Muslim." He argued that undoing Islamophobia requires not simply recognizing its intellectual roots, but also preserving and cultivating Muslim identity in all its expressions.
Thought-provoking discussions over the two days explored how anti-Muslim bias affects lived experiences of Muslim communities around the world, the role of media in constructing Islamophobic narratives, and the impact of those narratives on public attitudes and policies that have real effects on people's lives. Speakers highlighted the need to undo these narratives and bring in new best practices, guidelines, and standards while deepening Muslim representation in the media.
With a focus on "Qatar, the World Cup, and Islamophobia," a panel of senior journalists and academics analyzed the negative patterns of Western media coverage with the swell of Islamophobic attitudes and colonial stereotypes before and during the mega-event.
The conference culminated in a high-level roundtable discussion exploring potential solutions, the intersection of research and decision-making, and partnerships that promote tolerance and understanding to combat Islamophobia.
"I think that the value of this conference is that it underscores the extent to which there has been a globalization of Islamophobia…Islamophobia is not something that's going to go away soon, the situation has gotten worse and worse," said Dr. John Esposito, Professor of Religion, International Affairs, and Islamic Studies at Georgetown University in Washington, DC, and founding director of the Alwaleed Center for Muslim-Christian Understanding and The Bridge Initiative. He praised the conference as the best he'd ever attended on the topic and emphasized its importance in bringing together people from around the world and encouraging them to continue to fight Islamophobia wherever it occurs.
In addition to the engaging academic sessions, the conference featured forums designed to engage students and the broader community. In collaboration with student clubs and organizations, one such forum addressed the impact of Islamophobia on university campuses. Participants discussed the measures universities can take to combat Islamophobia and create inclusive environments.
The next conference in GU-Q's Hiwaraat Conference Series will be "Confronting the Impasse: Doha Symposium on Afghanistan and the Region," taking place from November 11. It will be followed by "Sustaining the Oasis: Envisioning the Future of Water Security in the Gulf" from November 12–13. Learn more and register.
Conference Examines Islamophobia's Growing Impact on the Global Muslim Community
Georgetown University in Qatar (GU-Q)'s "Global Histories and Practices of Islamophobia" conference began with a resounding message to build solidarity in the global fight against Islamophobia and other forms of discrimination, bigotry, and racism. In response to the growing global apprehension surrounding the surge in anti-Muslim bias and hate-related incidents, the conference is examining Islamophobia and its rampant discourse in political,…